Todays post is sort of a public service announcement.
For I have discovered really good cake by post.
You've probably heard of Betty's Tea Rooms? It seems most people have, they're pretty famous with 6 branches across Yorkshire. A proper old style Lyon's Tea House type of tea room with fancy silver and nice crockery and waiters in waistcoats to bring you your tea and a scone. The original Betty's opened in Harrogate in 1919, and Mr Chick and I took a stop off there for our Wedding Anniversary last year. It's the kind of place that makes you want to fingerwave your hair and wear gloves and a hat, and possibly solve murder mysteries because almost all period dramas seem to be murder mysteries, or the ones I watch are anyway.
While we were there we had one of their famous Fat Rascals, and looked longingly at some pretty darn gorgeous looking cake. They have a little shop attached, so you can take some home, but we were away for the whole weekend, so we didn't, and I've wanted to get the chance to go back ever since.
Well, recently I discovered that the 1st August is Yorkshire Day. How did I discover this? I discovered this because Betty's Tea Rooms sent me an email that said "Hey, did you know it's Yorkshire Day? Want some Yorkshire cake?". If there's one thing I never turn down it's a free cocktail, but if there's 2 things I never turn down then the second one is cake. As long as its good cake, there's nothing worse than wasting calories on bad cake, but I figured I was in pretty safe hands with Betty's who are, after all, famous for cake.
In the same email I also discovered a very exciting fact, that is forming the basis of today's public service announcement, and that is that Betty's will deliver their cake to your door.
And so it was that on Wednesday this week a little parcel arrived full of, well, CAKE, but also tea and a cute little mug, so I immediately treated myself to a Fat Rascal and a cup of Betty's Tea House Blend tea (which was really nice, I am fussy with tea and my current favourite has been Twinings Everyday tea, but this is possibly better)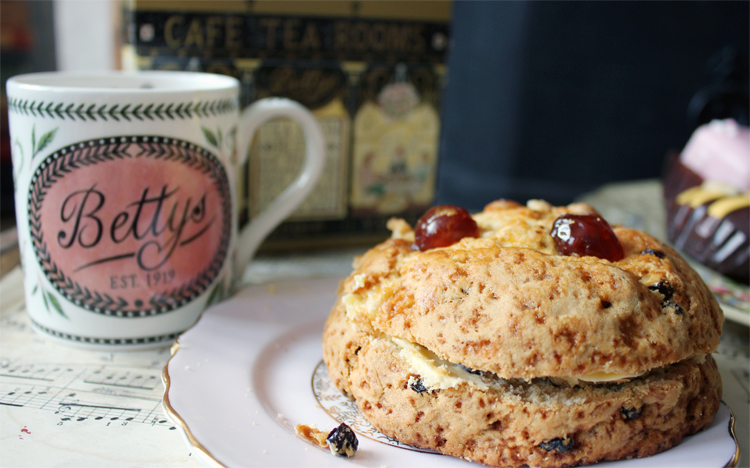 Also in my parcel were some chocolate ganache cakes shaped like Bees, fondant fancies, macarons and Florentines, all of which I have saved for a fancy afternoon tea with Mr Chick, because he has been away this week.
Now, I'm not saying I deserve a BEST WIFE EVER award or anything, but I have had 8 gorgeous squishy looking cakes and 6 macarons in the house for 2 days and haven't eaten any so I can share them with my husband. Though I did count the macarons in the secret hope that there would be an odd number of them and I could eat one to even it out. There weren't, there were 6.
I am writing this on a Thursday afternoon, however, so how many macarons will be in the box by the time Mr Chick gets back on Friday afternoon is anyone's guess.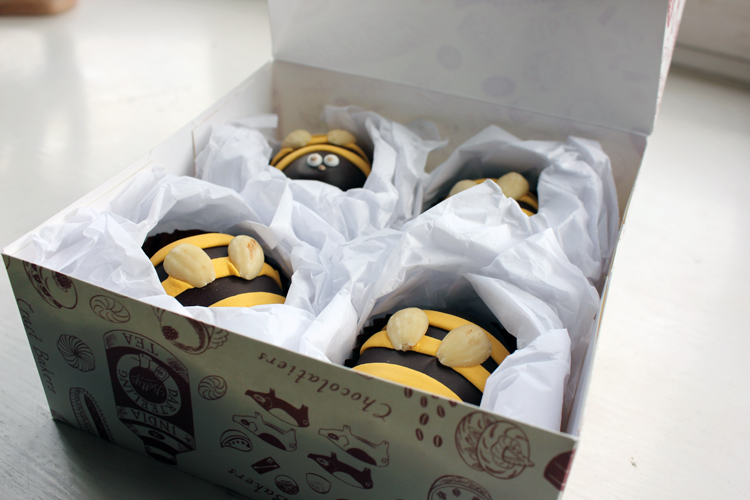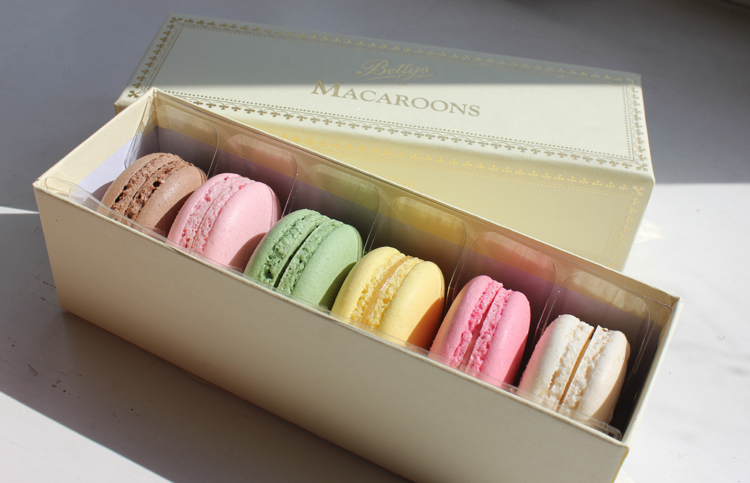 I'm not suggesting that I will be ordering weekly cream teas to my door, mostly because none of my clothes will fit, but I'm certainly book marking the Betty's site for a potential order of Christmas treats, and if I was ever organising a fancy party for someone I liked enough to not buy cakes from the supermarket having them all delivered beautifully packaged to your door seems like a good option, they also do little ready-made hampers which would make a nice gift.
I'm potentially planning a trip to York a little later in the year, so I'm hoping to visit another Betty's as there are 2 in York, hopefully I can visit this one as I'd love to see Betty's Mirror, on which airmen stationed near by engraved their name with a diamond pen (which is a somewhat fancier way to do things than the Eagle in Cambridge where they burnt their names into the ceiling with a lighter)
If you fancy some Yorkshire day treats of your very own then visit the Bettys Website.
Have you ever visited a Betty's Tea Room?