People ask me about Cocktails a lot more these days than they used to.
Probably because I went and decided Norwich needed a Cocktail Week. When they ask me what it is that I like about Cocktails, I always say that it's because there's something for everyone.
Cocktails can be long and fruity and refreshing drinks for lounging on a tropical beach, or they can be short strong and warming for sitting around the fire in the winter. They can be the sort of drink you make for a romantic evening, or fill up jugs full of to share with friends. Surely anyone who drinks alcohol, there will be a cocktail out there for them.
I've also always been a bit obsessed with the paraphernalia around cocktails. Drinking them from the right glass and serving them properly is all part of the fun. Cocktail paraphernalia is one of the things I just can't walk past in Charity Shops and at Boot Fairs, and I have more Cocktail shakers than I could possibly have Cocktails to shake.
Homebase recently got in touch and asked me if I would be interested in their latest range of glassware to serve my Cocktails in, and spotting any opportunity to fill my house with more stuff,  I said yes.
So here's my weekend as told by a variety of very different Cocktails.
Friday Night
Bang on 5pm, work is over and it's time for Cocktails in the garden while the sun is still out. I opted for an Aperol spritz, which is a refreshing aperitif with a slightly bitter flavour.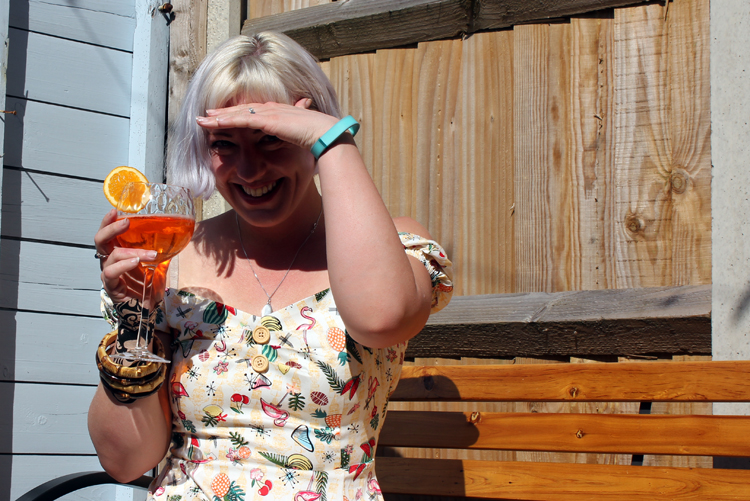 As you can see, it's also a pretty gorgeous orange colour and looks rather nice served in a selection of different wine goblets garnished with half the fruit bowl! I was particularly fond of the dimpled glasses that sparkle when the light catches them.
(Side note! The lovely flowers you can see in the back of a that photo were a gift from Blossoming Gifts, you can get a whole 33% off their range with the code BGIFTS33.)
Recipe
1 part Aperol
3 parts Prosecco
Splash soda water
Pour all ingredients into a large wine glass full of ice and garnish with an orange slice (or half the fruit bowl)
Saturday Night
On Saturdays I spend all afternoon at Roller Derby practice, so in the evening if I'm going out it tends to be quite late by the time I've made myself look like a human being again, had something to eat.
It's nice to have a drink while I'm getting ready, and a Frozen Margarita is not only nice and refreshing for Summer, but also lasts ages and stays cold.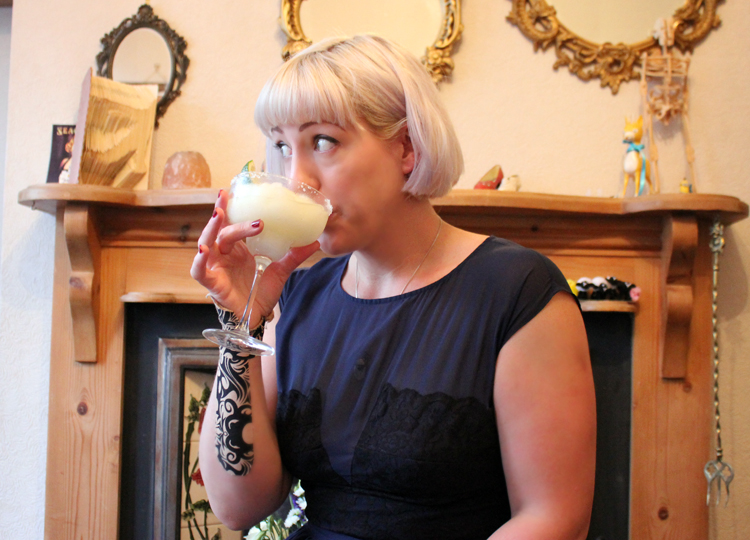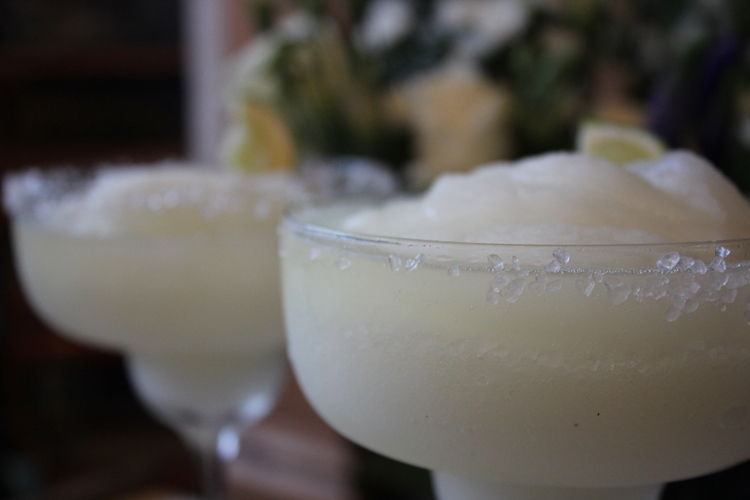 It's nice to do these in proper Margarita glasses, I've never had any before so I felt quite swish! I also attempted to do a proper salt rim, but I think there's a knack to that and I obviously don't have it!
I used a Nutri Ninja, which also came from Homebase to make the Frozen Margaritas as it chops up ice nicely, see, I knew I could manage to make something that was designed for healthy smoothies into something to make booze in!
Recipe
3 parts White Tequila
1 part Triple Sec
2 parts Lime Juice (I used the stuff in a squeezy Lime!)
Ice
Coarse Salt
Lime Wedge
Put the salt in a saucer, rub the rim of the glass with the lime wedge and then dip the glass in the saucer and hope some of it sticks.
Fill your blender cup with crushed ice, add the tequila, lime juice and triple sec and blend until slushy.
Pour into Margarita glass and garnish with a lime wedge.
Sunday Afternoon
Yes, that's right THREE DAYS of cocktails, and when the sun is shining on a Sunday you can't beat a lovely refreshing jug of Pimms with lots of ice, but no mint, because I forgot to put the mint in as I was far too keen to get to the Pimms.
I took photos of this in the garden, but actually there aren't any photos of me drinking it because I was actually wearing my pyjamas and watching series 8 of 24 which I am way behind the times in watching.
They weren't even pretty pyjamas. The silver striped glasses are very pretty, however, and I can confirm equally as nice to drink whisky and ginger and cider in!
Recipe
1 part Pimms
3 parts Lemonade
Ice
Fill a pitcher with ice, strawberries, cucumber slices and orange slices, and mint if you don't forget it.
Pour over the Pimms and lemonade, stir and pour into a tall glass to serve.
And that, lovely, readers, is how you do cocktails all weekend, without (necessarily) turning into a big drunken mess that has to crawl home.
This post was produced in collaboration with Homebase, where you can find all the lovely glassware, but all Cocktail concoctions are my own!