When I was in my 20s I used to wear heels all the time.
I would walk miles into town on a Friday night to go to the pub in the most ridiculous of heels and scoffed at dire warnings that I'd suffer for it later.
Of course, the dire warnings were correct, and these days I love my heels, but I have to take flats if I'm walking far, and if I end up spending too long stood up in them I pay for it with a terrible burning in the balls of my feet.
I mostly stick to a lower and sturdier heel for every day, but oh how I love my ridiculously high heels for a night out! At 5'4″ I know I'm not *really* short, but I feel taller and more imposing in heels, and I love that little click clack noise they make when you walk across a room.
So, I was rather intrigued when my latest sponsor, Airpufs, promised me they could make heels feel like I was walking on clouds.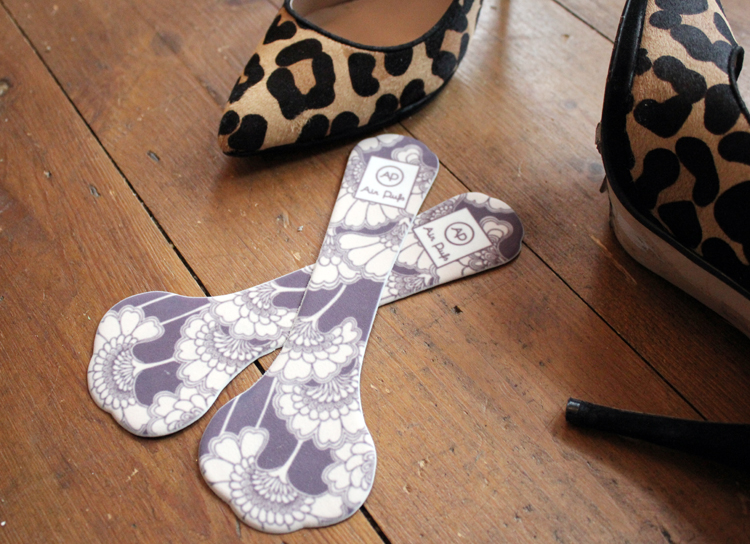 Airpufs are an insole designed especially for high heels and made from a shock absorbent foam material that was previously only used for medical purposes like diabetics and recovering athletes. They come in a variety of pretty prints, and I opted to try out the Art Deco Florals in a pair of my very tightest and least comfortable heels!
The insoles have a layer of sticky down the back that you peel off. As high heels often have shaped and angled insides I suggest unsticking the section over the ball of foot area first, lining up the insole in the shoe so that it covers the ball of the foot and checking that the straight section will run straight to the heel and then peeling off the rest of the backing.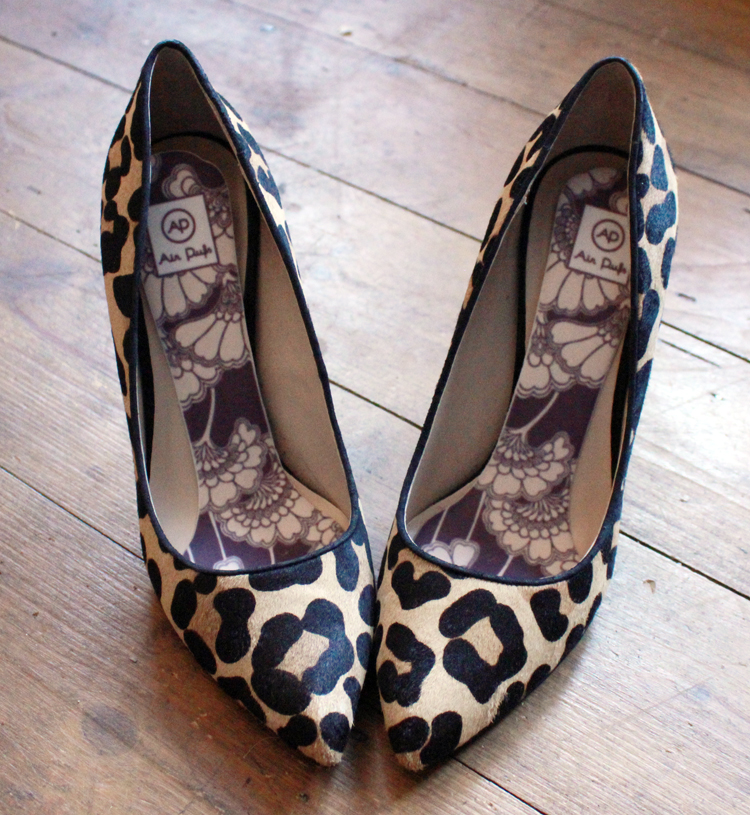 I have, of course, tried those silicone gel cushions for the balls of your feet in the past, and I found these had 2 advantages. One, was that they actually did feel like I was walking on clouds.  Not that I know what walking on clouds feels like, basically I'm saying they were pretty comfy. With gel pads I've always felt like they're a soft layer over a hard surface, so the longer you wear them you still start to feel that burning feeling, with these I felt the material rebound so it was soft with each step, and the longer I stood still, the more I could feel my feet sinking into a pillowy softness. Number two is that they're pretty, so if you do have to take your shoes off they still look good!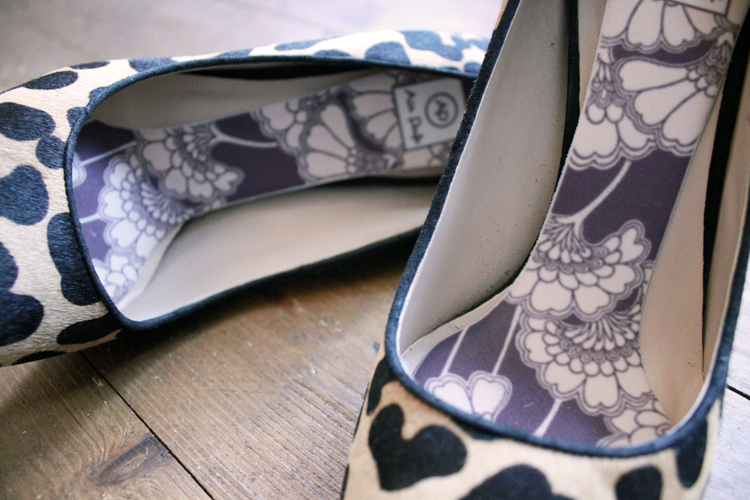 I can't promise these will solve all your high heel woes, you are, after all, still standing on tip toes all evening when you wear them, but I'd rather stand on tip toes on a cloud than on sandpaper, which is how I normally end up feeling after a long night standing in heels!
Prices are in dollars, but they work out about £14 a pair including postage costs, though it gets cheaper if you order several pairs (approx £10 per pair, plus £3.20 postage and an extra 65p for each pair ordered! Or free shipping for more than 6 pairs.)
Visit Airpufs.com to see the full range of prints!
Just for completeness sake, I have a few more tips to make your heels more comfortable.
Too Tight?
This works on leather shoes, I haven't tried it on synthetics, but it may not work as well. If your shoes are too tight then put on a pair of thick socks and wedge your feet into the heels. Then grab your hair dryer and give your feet a blow dry, focusing on any tight spots. Keep the socks and shoes on till the leather has cooled and the shoes will stretch.
Rubbing?
Soften up new shoes that rub by massaging vaseline or baby oil into the heel to soften up the material. I've also heard that soap works as well.
Too Late?
If I'm wearing heels out and I think they might rub I always keep a pack of Compeed blister plasters in my bag. They are AMAZING, like an extra layer of skin and have saved my feet on many an occasion!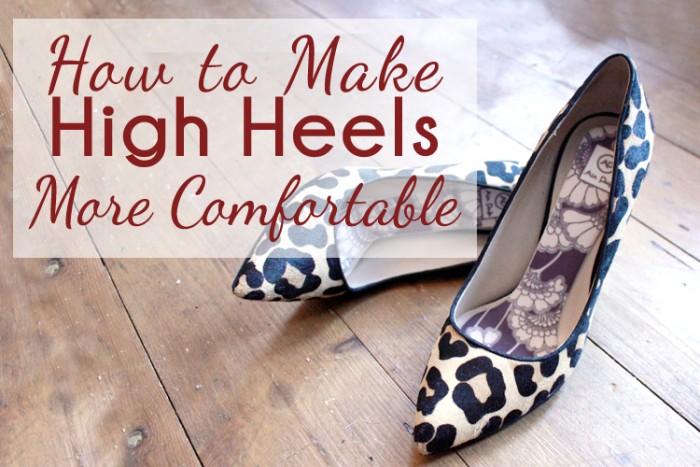 Related