o this is like an advance sneak peek at what I'm planning to wear this weekend.
In December one can't simply fling an outfit on and take a photo on the way out like one does in August. Especially when ones on board flash is broken and one doesn't want to bore ones readers with any more photos in front of their fireplace.
No, in December I plan ahead. If I'm wearing something I want to photograph I try it on in advance and then nag Mr Chick to take some photos of me outside while I shiver slightly and attract odd looks from passers by. I mean, I could photograph my day time outfits, but it's Christmas and I want party frocks, and besides, mostly I only leave the house in daylight to go to the gym or the corner shop.
So, here's this weekends party frock.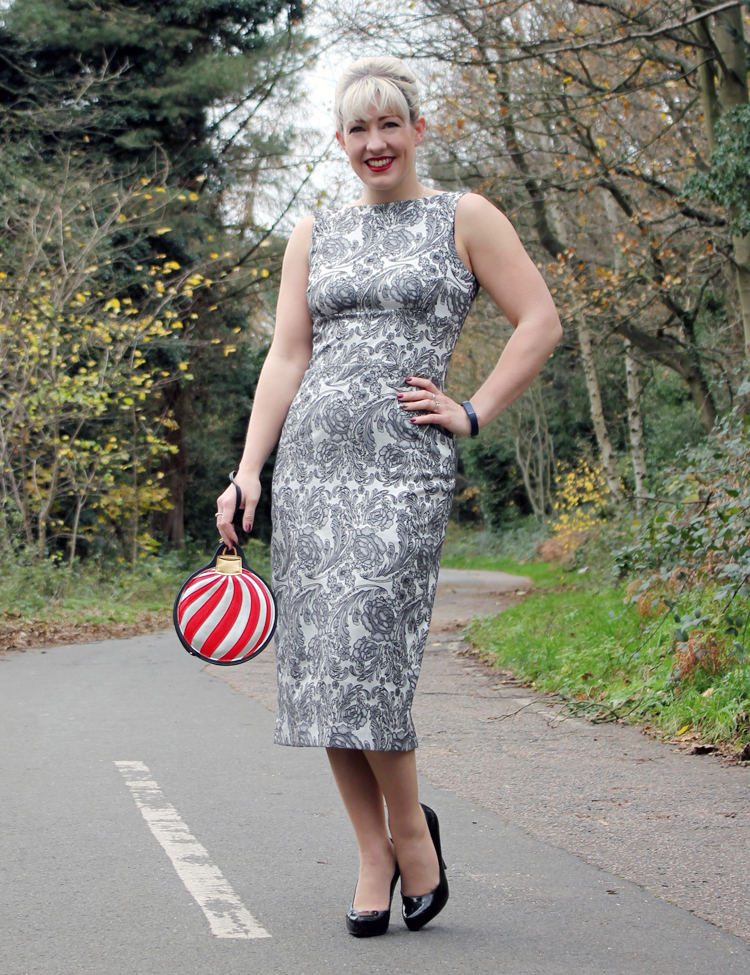 This amazing wiggle dress is courtesy of House of Foxy, one of my favourite repro brands. I did a little squeal when they became a blog sponsor, and squealed even more when they asked me to pick a dress. This dress is the Betty dress in Silver Brocade. It also comes in Emerald Brocade and black, and it was a tough choice, Honestly it was a tough enough choice that I had to post on Facebook for opinions, which I then completely ignored and got the silver, because I was feeling festive. I also thought it would match up well with different colours. Like red, here.
Of course, in December it's not festive enough to just wear a silver dress, oh no. I have Christmas accessories to wear. Having mentioned the disturbing amount of Christmas themed clothing I have in my wardrobe at the weekend, I have since realised that I also own a Christmas clutch, at least 3 Christmas hair clips, a Christmas headscarf and several pieces of festive jewellery and I'm starting to wonder if I have some kind of Christmas disease.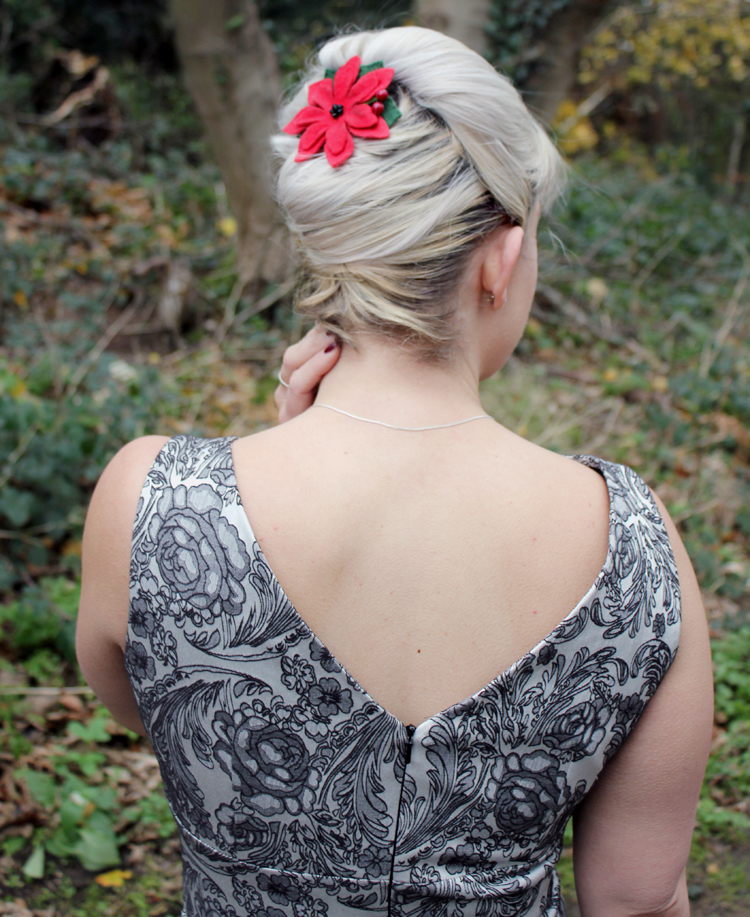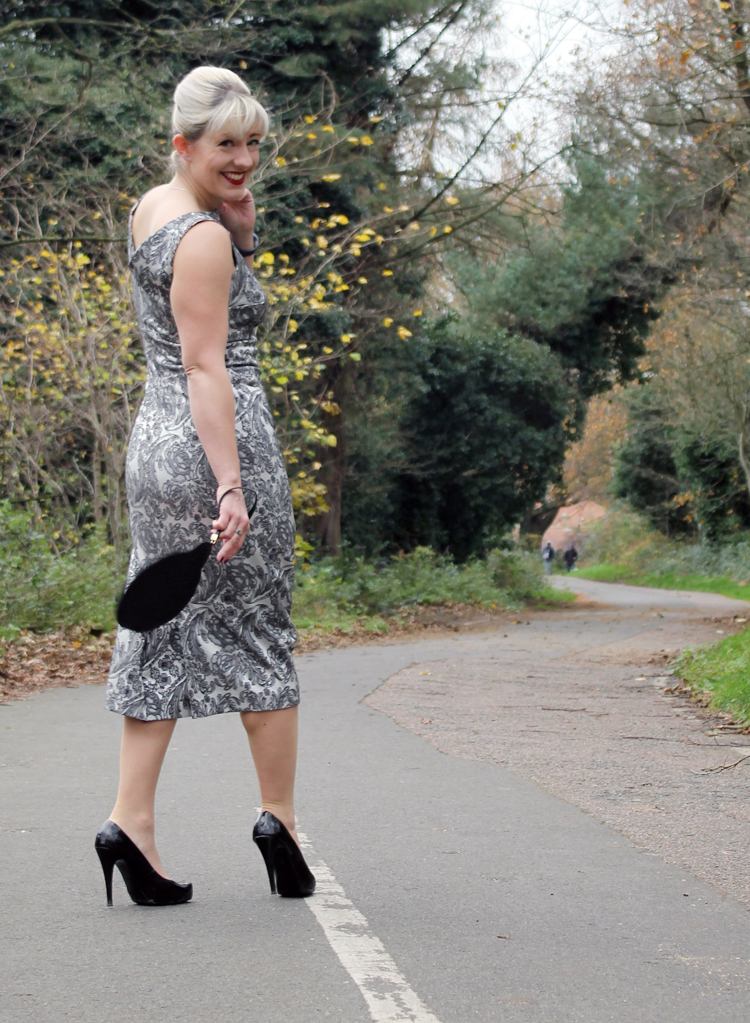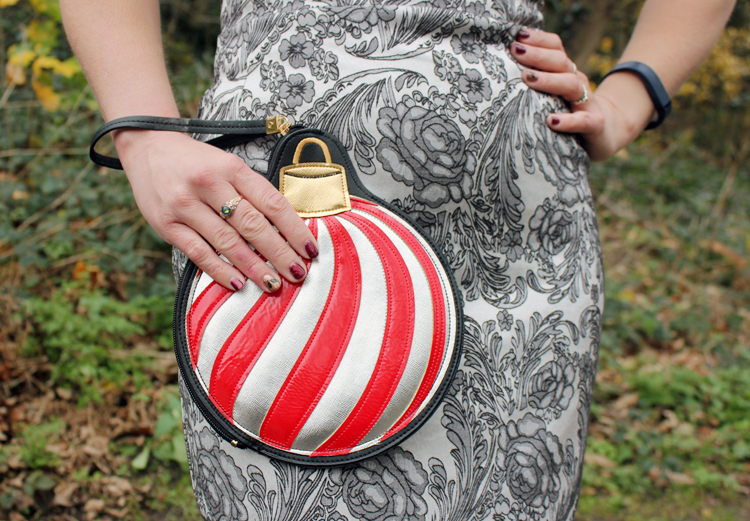 The bauble bag was bought in the ASOS sale in March and has been patiently waiting its festive moment, while the Poinsettia hair clip is from Siofra Connor Millinery.
The dress has such an Audrey Hepburn feel that I had the urge to go for a bit of an elegant 60s look. My hair is in desperate need of a hair cut (booked for Friday!), at which point I promise I will also do my roots, but it means at the moment it's long enough for a little beehive. This is actually a super quick hair do, and needs no back combing, as I know some people are a little nervous about back combing their hair too much, especially if it's bleached. If I get time before my hair cut I'll try and film a tutorial!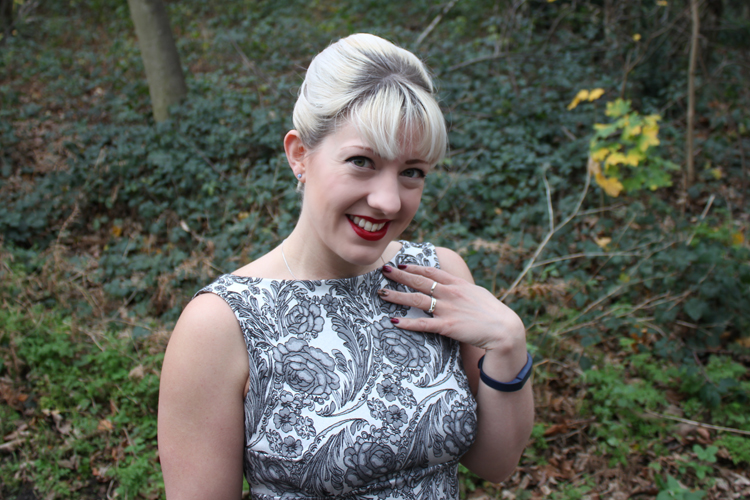 And that is the fascinating story of what I'm planning to wear out for dinner this weekend. I wish I had something more interesting to add, but I'm afraid I don't. Still, I'll make up for it with the wonderful news that House of Foxy have donated a gorgeous 1940s Grable Tea Dress as the prize behind door 9 of the Advent Giveaway. It comes in sizes 8-24 and is pretty darn gorgeous.
♥ Dress c/o House of Foxy ♥ Poinsettia Hair Clip – Siofra Connor Millinery
♥ Bauble Clutch – ASOS ♥ Shoes – Faith ♥
Related