And on the third day of Christmas outfits I finally pull out a Christmas Jumper.
This particular Christmas jumper is of the modern slogan sort, rather than the traditional cheesy picture sort and was sent to me by New Look last Christmas. It says "Jingle All the Way", they have similar this year that say "Sparkle All the Way" or "Kiss Me Under the Mistletoe"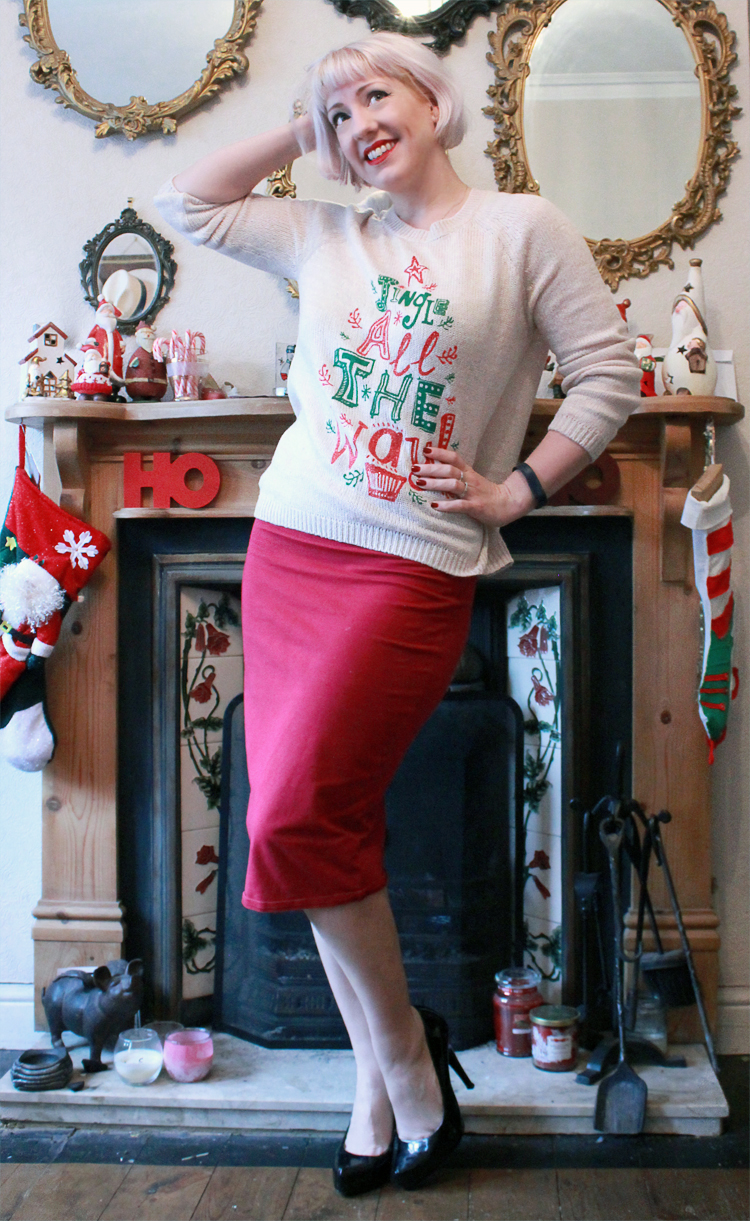 Last year I found it incredibly difficult to style. It's kind of baggy and finishes at what can be a very unflattering length, right on the hips. This year I've actually found it a lot easier and have worn it a few times. I think that's because of the weight I've lost. It's turned it from just unfitted into actually baggy, so teamed with a slim fitting bottom half and high heels it actually looks kind of cool. Well, it does in my head anyway, it makes me feel like those pictures of effortlessly elegant celebrities wearing sequin pencil skirts and baggy cable knit jumpers, like that's perfectly normal.
Hmm, revisiting that paragraph I realise I've just managed to suggest that a sparkly jumper with "Jingle All the Way" written on it might be effortlessly elegant, and thus we are back to the world when I have to accept that I have absolutely zero taste, at least not in December,
The pencil skirt is just one of those cheap stretchy ones, probably from Primark, and the shoes are Faith ones that I can only walk in without tights or otherwise they just fall off my feet, and I've tried heel grips too, but I love them so much I keep wearing them anyway!
♥ Jumper – New Look ♥ Skirt – Primark ♥ Shoes – Faith ♥
Similar