I really do love a good monochrome stripe.
When I first got this particular monochrome stripe dress the first thing I thought is "What the hell do I wear it with?". So I spent some time on Pinterest, and my first outfit with it was all clashing brights.
Since then I've realised that monochrome stripes are actually really versatile. They're a lot more dramatic than a Little Black Dress and a great way to make an impact, and actually you can wear them with pretty much anything, except, possibly, more patterns because then you might make peoples eyes go funny and they will hate you.
This particular striped dress is a few years old now, but there are plenty more out there very similar!
In case any of the rest of you need some tips on how to style some funky monochrome stripes, today I am sharing 4 different ways I like to style mine.
1. Colour Clash
The first way I wore this dress, and one of my favourites. You can pretty much stick as many bright colours as you like with monochrome stripes and it will look great, as long as the colours themselves go together of course. I like bright pink and green, you could go electric blue and yellow maybe as well.
I've gone for a pink ribbon in my hair with a pink hair flower, pink lips and green shoes. I would have worn a pink or green belt with this too, if I had a pink or green belt, why don't I have a pink or green belt?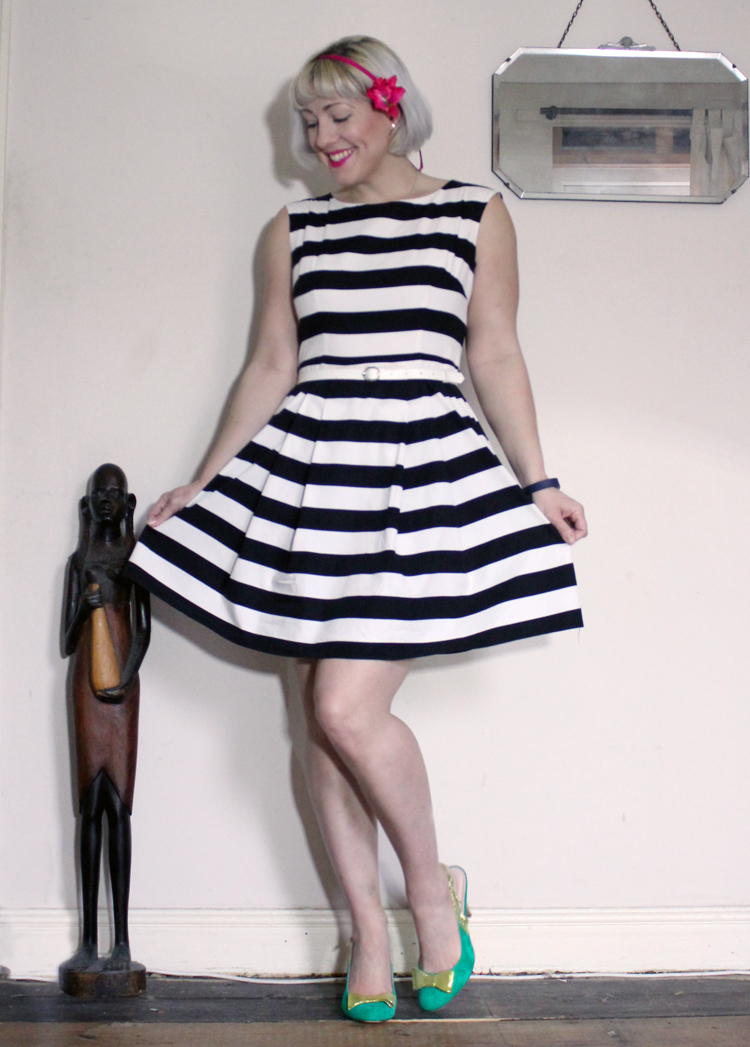 ♠ Pink Hair Flower – Lady Lucks Boutique ♠ Green Shoes – Dessine Moi Un Soulier* ♠
♠ White Belt – Vintage ♠
2. 60s Monochrome
The strong graphic style of black and white stripes can look very 60s. Keep the theme going with monochrome accessories and a bit of a bouffant!
I love perching that little bow on the front of a beehive like that. I wish I could tell you where I got it from, but I actually found it. I can't even remember where now!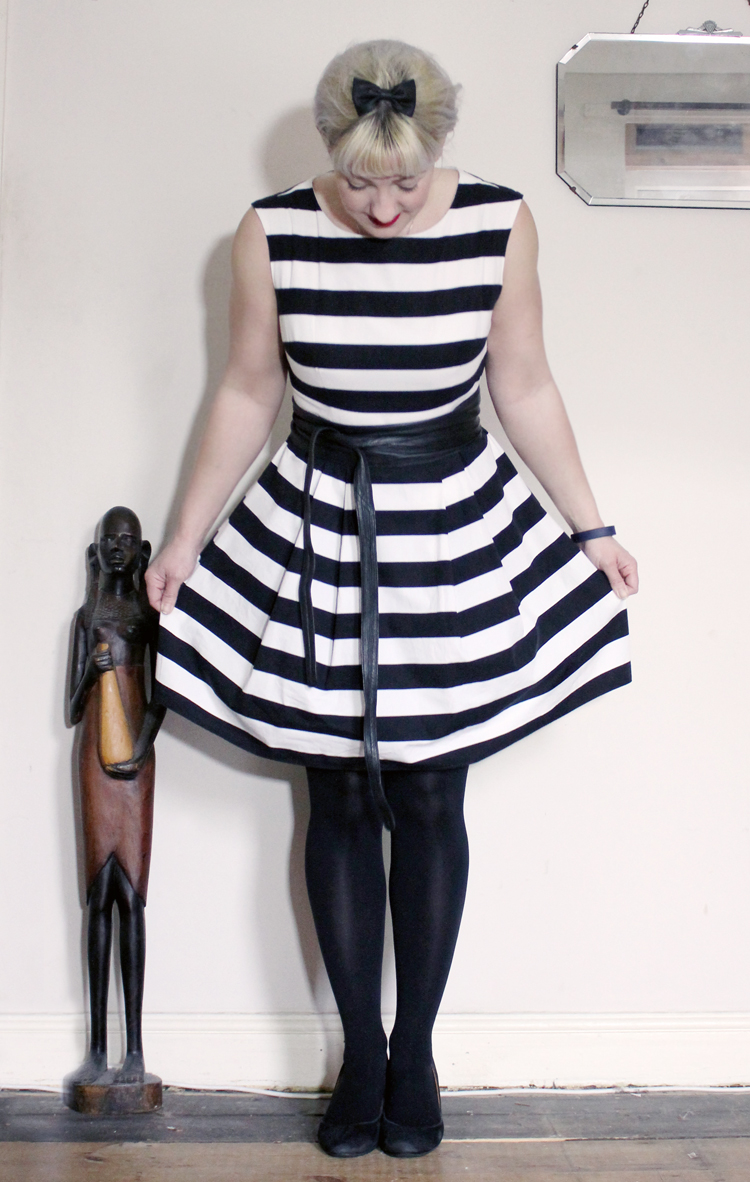 ♠ Hair Bow – Found! ♠ Leather Obi Belt – ASOS ♠ Shoes – Charity Shop ♠
3. Romantic Red
Seeing as Valentines Day is coming up, black and white stripes look fabulous teamed with a deep dark red.
A red belt, red velvet rose hair flower, red shoes and red lipstick pull it all together nicely. When I was putting this one together I realised I have 3 wide red belts, but no green or pink ones. Go figure.
♠ Red Velvet Rose – Lady Lucks Boutique* ♠ Red Belt – Vintage ♠ Red Shoes – Chie Mihara* ♠
4. Rock 'n' Roll
Please try not to laugh too hard at my "Rock n Roll' pose. I'm not really a Rock n Roll person. I'm a bit too smiley and a bit too silly. Still, I had to try, right?
Toughen up stripes with a leather jacket, boots and far too much eyeshadow and pretend you're Courtney Love.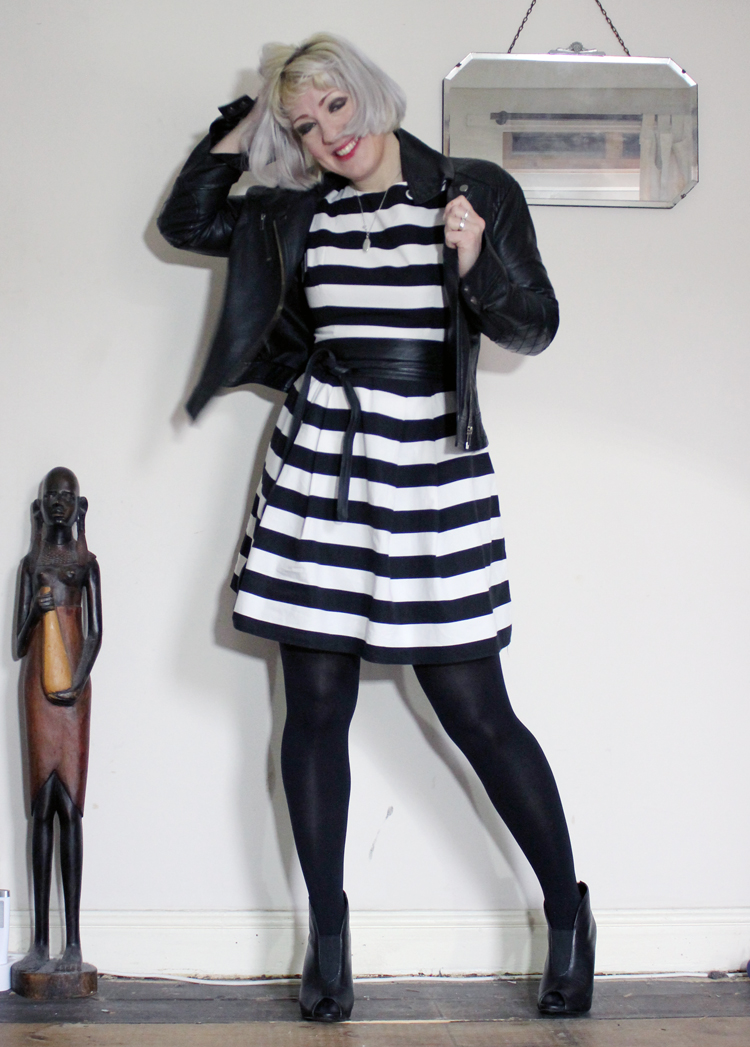 ♠ Leather Jacket – French Connection* ♠ Shoe Boots – Guess ♠
How do you wear yours?