A good pencil skirt is something I have rediscovered a love for.
There were many years when I had basically given up on pencil skirts, they were either so tight on my hips that sitting presented a very real risk of busting a seam and displaying my pants to the world, or so loose on my waist that they nearly fell down. With a boom in retailers cutting to a more curvy silhouette and more of an understanding of my body shape it's a style I've started to come back to.
I've discovered that wearing a wide elastic belt with a high waisted pencil skirt can solve many flappy waist band problems, but I've also discovered that if you're curvier in shape the best place to shop for pencil skirts is in Charity Shops or Vintage Shops.
This particular one is a vintage pencil skirt and it fits like an absolute dream, though it does have 2 weird large flappy string belt loop things at the waist that I've been promising to cut off for 2 years.
The skirt might be an old favourite, but the top is NEW. It fell into my basket along with that stripy bodycon skirt whilst I was in Primark buying pyjamas. It was in the sale and cost a whole THREE POUNDS.
It has a bardot neckline and long sleeves, meaning it's perfect for working a bit of breton striped chic on chilly winter days. Though I rarely keep long sleeves long, and always end up pushing them up to the middle of my forearms where I have for some reason decided they look better. I had planned a whole outfit with it around a pair of black cotton capri pants that I ordered in the Tara Starlet sale, because I am determined that this year I WILL find some trousers that look awesome. Except the size 12 trousers I ordered turned out to be a mislabelled pair of size 8s, so they didn't fit, obviously, and now there are no size 12's left *sob*.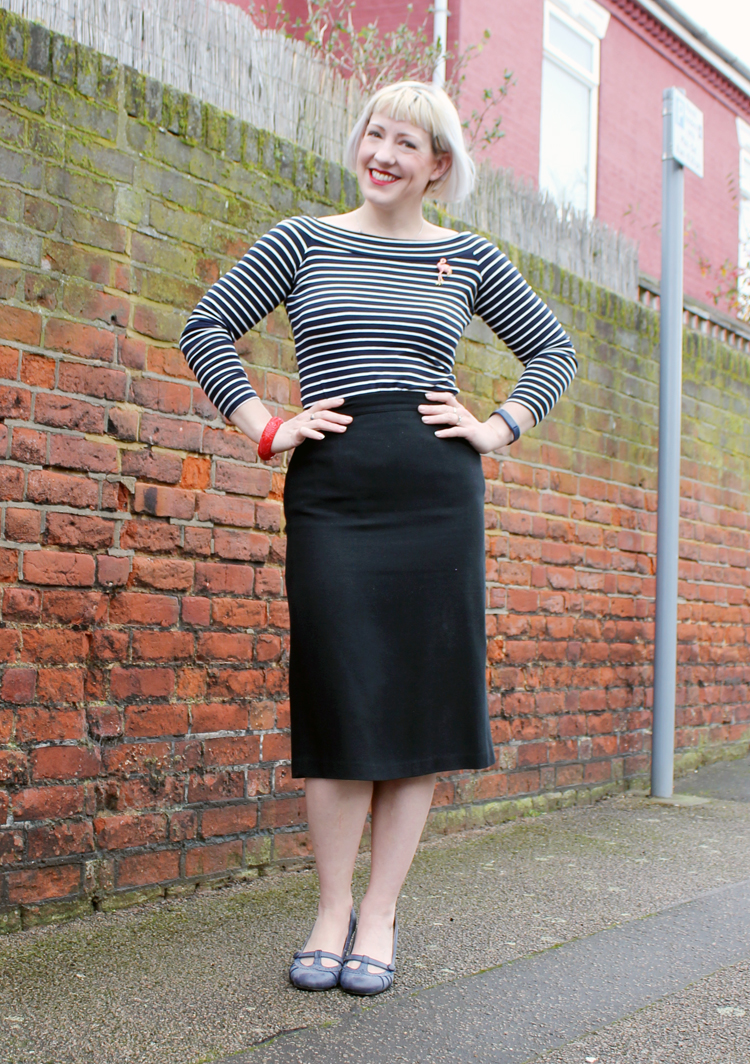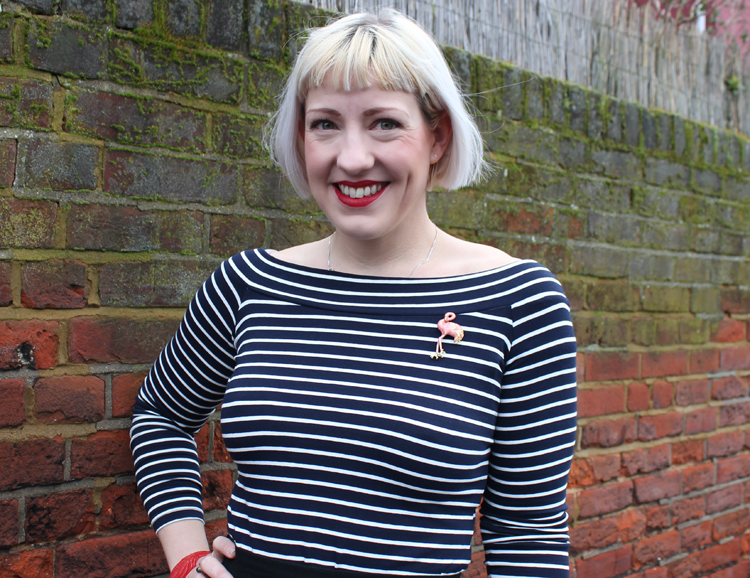 I decided that February stripes needed jazzing up with a Flamingo brooch, because why not?
When I put my leather jacket on with this outfit I feel totally rock n roll, in a chic, beatnik kind of a way.
And that, is one super speedy outfit post for a February Friday!
Have an awesome weekend!
♥ Bardot Top – Primark ♥ Pencil Skirt – Vintage ♥
♥ Flamingo Brooch – Vintage ♥ Shoes – Stylist Pick* ♥
Similar: