Morning lovely people! Todays guest blogger is the lovely
Miss Kittenheel
, a plus size vintage blogger from Germany. We share a deep affection for novelty prints, but most of the time when I write about them I share things in "standard" sizes, because that's what I wear and what I do all my fantasy shopping for! Today Miss Kittenheel is going to share some fabulous novelty animal prints from her own wardrobe that are available in plus sizes and where you can buy them!
Animal print makes most of us think about leopards, zebras and tigers.
more often than not the fine line between classy and twee or outrageously tacky.
The sight of me in a leopard printed coat does not make you think about Grace Kelly. I look like I run a brothel and a cheap one at that. Anything but the darkest leopard does that to me. Accessories fulfil my cravings.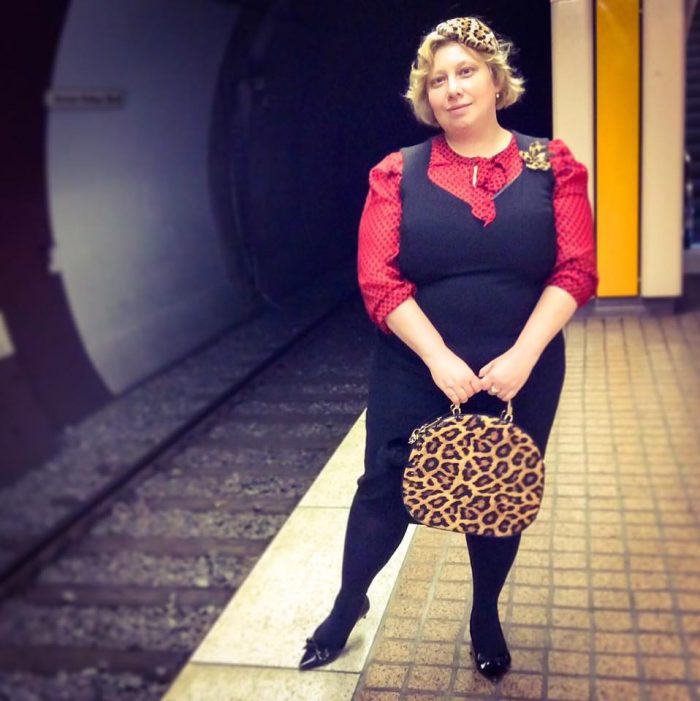 However there is the kind of animal prints I really love. That make me look fun. The novelty ones. And no, I am not talking about the tiger lurking in the jungle with a few sequins printed on T -Shirts as if the 90s are still strong in the plus size department (which is usually a few sad racks anyway, if we even get a space in store – the high street seems to prefer their fat customers out of sight. Not the money though).
Serious dress envy.
I did the "aaaah, but that isn't available in my size, it's way too cute for that", only to realise it is. And then the patterns flooded in: novelty prints with landscapes, cats and squirrels. I do like my prints of animals.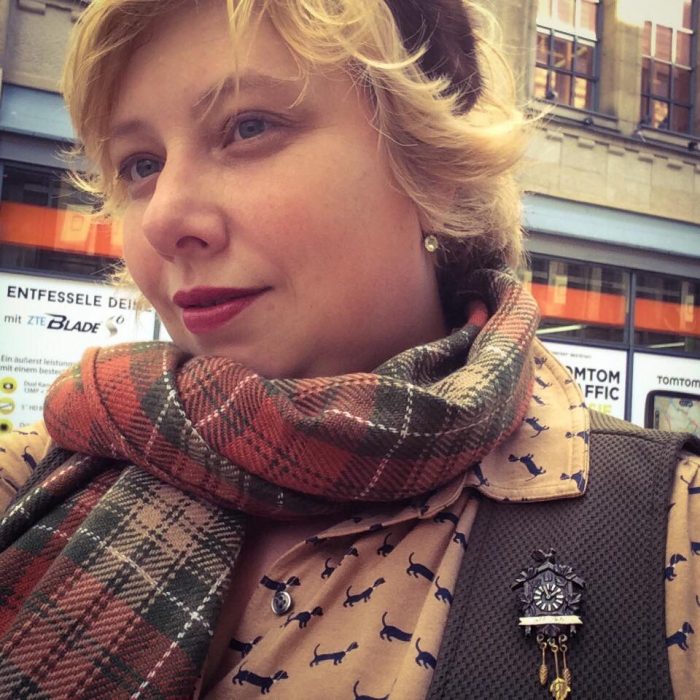 These days I have (or had) dresses with cats (three),
swallows
, squirrels,
owls
, dogs and flamingos. A skirt with stags, bunnies and foxes, a sweater with larger sausage dogs and
a shirt with little ones
. Though I am very much a scarf girl I only have two horse scarves, for the races, ducks and
pheasants
. No cats here.
Recently on a trip to a great zoo in my area. The flamingos got their fair share of attention. The dress is by
Silly Old Sea Dog
. I also wore this dress to a historic fair's rockabilly night. A flamingo in a blizzard of polka dots. The pattern is a bit tricky to combine and one of my loudest prints. The flamingos are orange and coral. Not the dress to remain unnoticed.
One of last seasons most coveted patterns in my timeline was the Hermeline from Hellbunny  – available as a shorter and a midi dress and this skirt (Editor – Sadly now out of stock!). Despite the roses and the sunflowers it's best for autumn and winter. The entire pattern looks like something out of a Victorian scrapbook on a black background. Probably the pattern with the most positive reaction rate.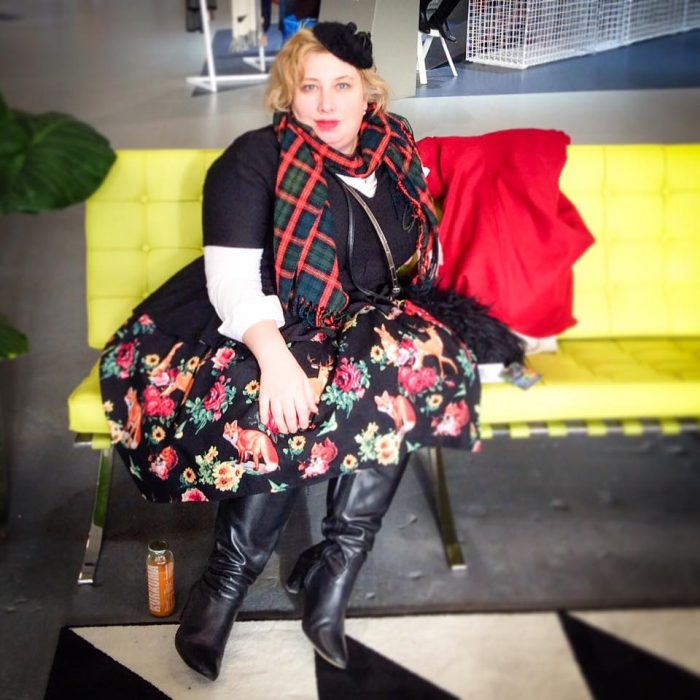 Cat dress number one –
pretty in pink by Voodoo Vixen
and still available there. The cat silhouettes are on a stylised 1950s atomic background. The scale of the pattern is a good medium size and the pattern not obviously directional. I love their green one too – a pity they don't do the wiggle dresses in my size.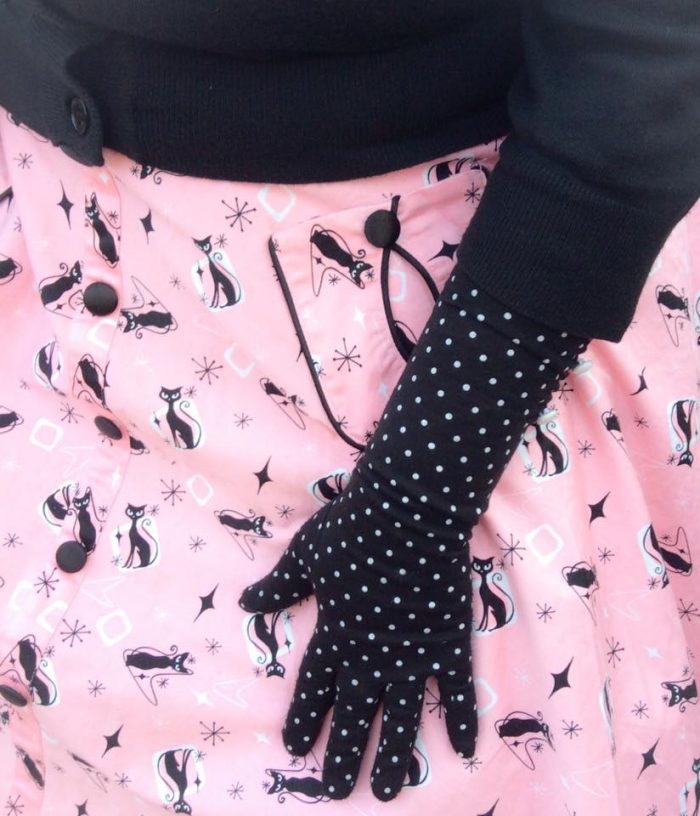 The doggie dress is wonderfully vibrant. I bought it from another blogger. Unfortunately its top is in a style that doesn't allow me to wear it without further cover, a seam runs straight across my chest. This pattern isn't directional and honestly bags of fun.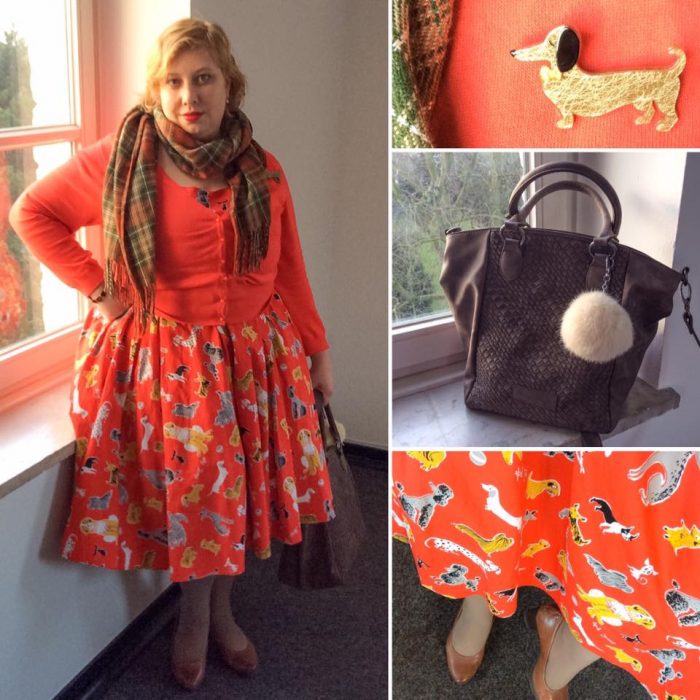 Cats and frames is loud and bold. A favourite with kids. Even in Germany random people comment upon it (which is actually something that happens here less than in the UK!). I love the pattern but the cut is a bit disappointing for its 80 dollars at Modcloth. Fun though. It'll get a wacky "fez" fascinator in autumn. Think red velvet with embroidery and a golden tassle.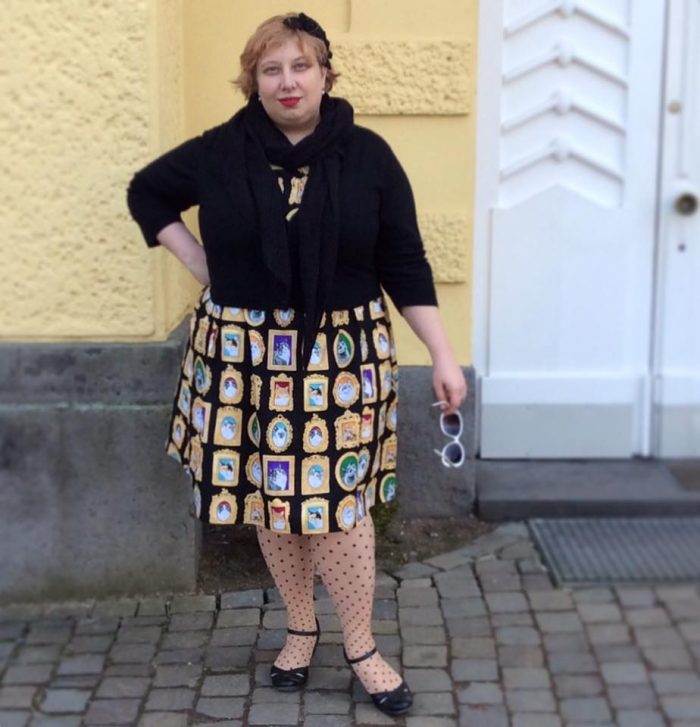 Same quality is the Kitty Chronicle print, like the frame one a Retrolicious dress for Modcloth. It is a fun print and you can even read it. The articles are grand, silly nonsense. This dress gets its fair share of mileage. I love to pair these patterns with matching brooches. More than just twice the fun, especially since in my size vintage is usually limited to accessories.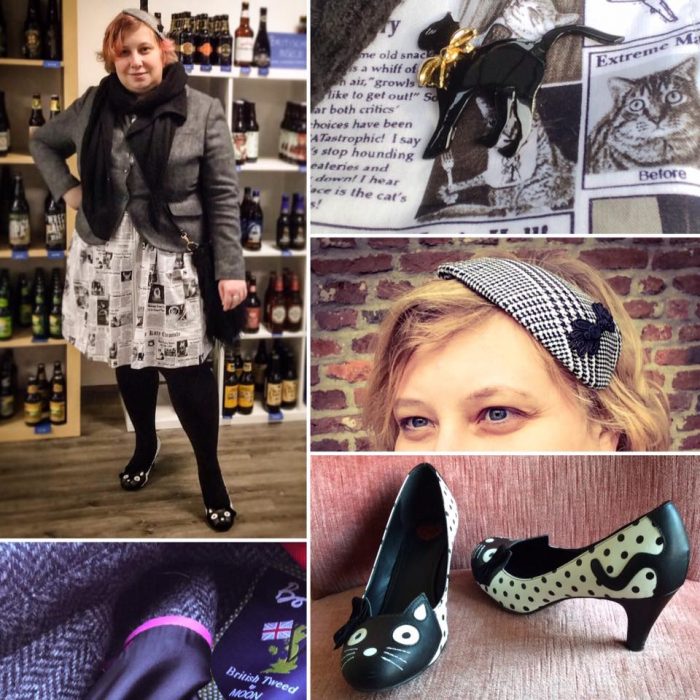 I still wonder if I should get this peacock dress from LindyBop. Any other suggestions?