So, obviously I've been fantasy shopping for summer playsuits now.
Now I have rediscovered the forgotten playsuit I have acquired a taste for them and have spent the last 2 days hunting down others I like.
I'm kinda fussy. I don't want anything too smart, as I really can't see myself tripping off to a nightclub in it in 6″ heels. I also don't want anything with spaghetti straps or too much bare skin that would make me feel a bit exposed with shorts. I'm also not too sure about anything too fitted, though a few fitted ones have made it onto my wishlist.
My ideal playsuit is baggy, but not too baggy, casual, but not too casual, and covered up, but not too covered up.
Yes, I am the fussiest clothing wearer in the world.
Still, I have managed to track down quite a few summer playsuits that fit most of my exacting requirements to varying degrees.
So here we go!
Ok, so obviously I first fell in love with this one which looks completely perfect. I love the print and I could see it with wedges or Keds.
Sadly it's a bit out of my budget, so I'll just have to look and dream.
This is kind of similar to the Reiss playsuit, but a lot cheaper (and in the sale). I'm not quite as in love with that print, though.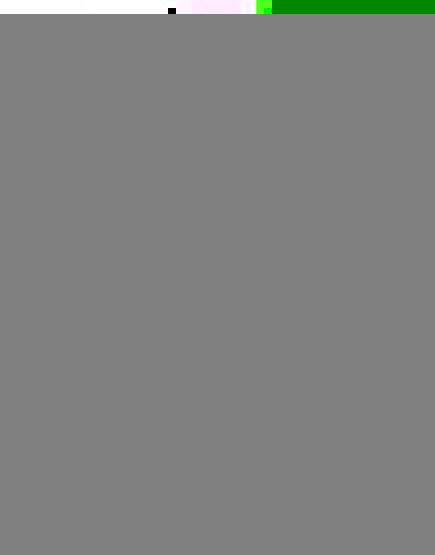 Another one with a light background and an AMAZING cactus print. It's a little more fitted, but I really like that high necked 60s style, and I could see it looking cute and casual with a pair of white keds and big sunglasses.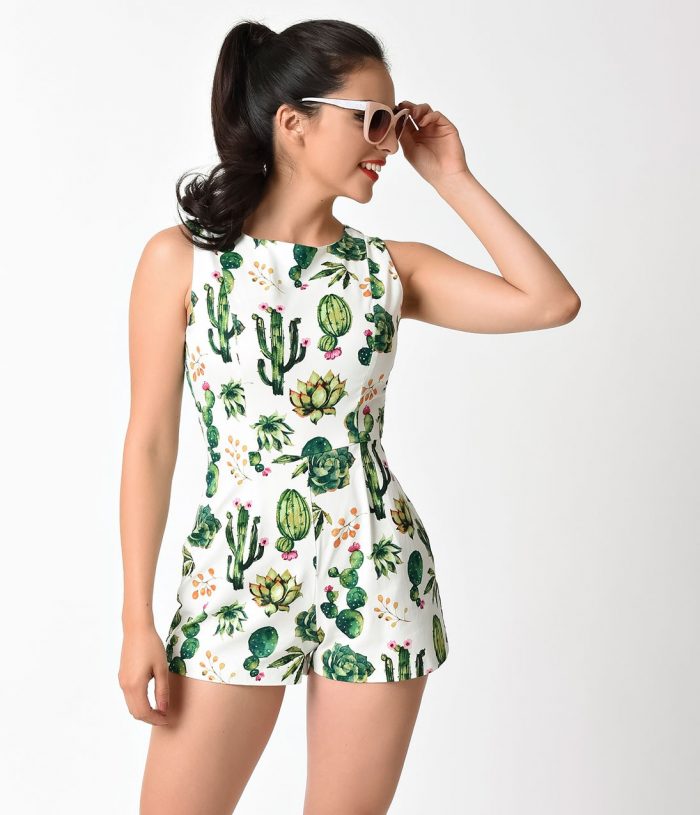 I'd probably open a few buttons at the neckline, but the dark background and sleeves on this make it nice and wearable for every day.
Again a dark floral background. The 3/4 sleeves make me feel it's less appropriate for Summer and might be a bit warm, but in reality, how often is it too warm for 3/4 sleeves in the UK?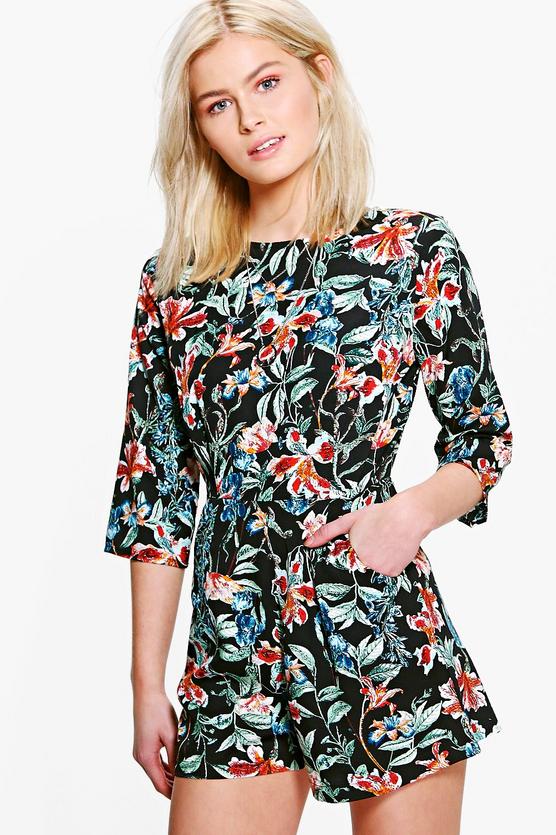 This is cute and casual, and I love the retro embroidered swallows on the chest. Plus, it's only £12, which definitely makes it one worth trying even if I only ever wear it to the corner shop!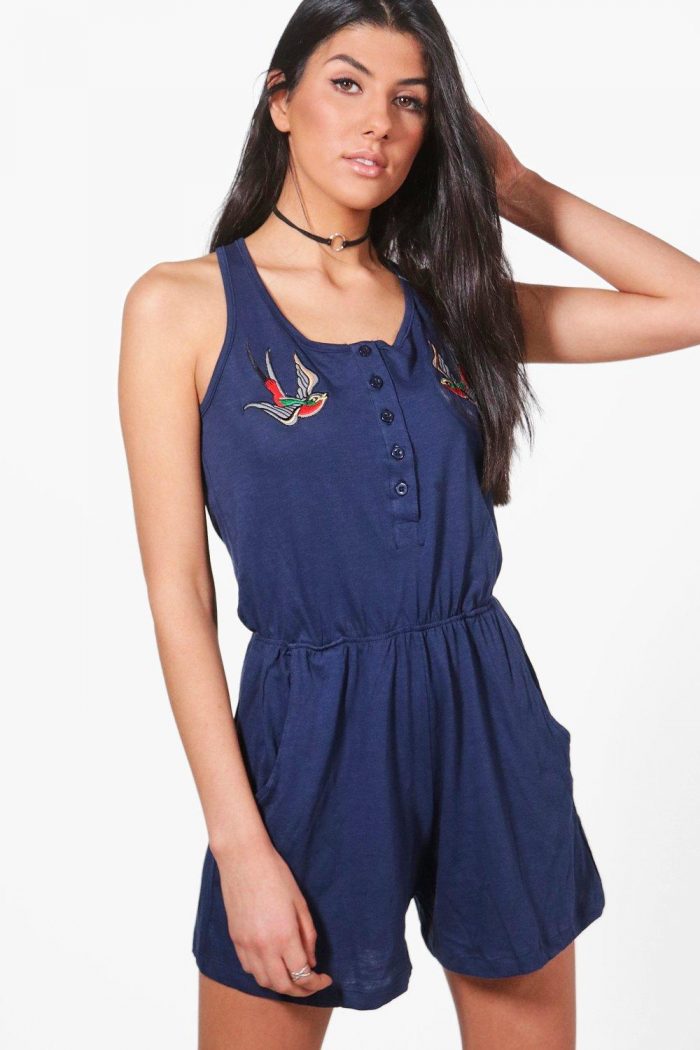 This is probably one of the smartest playsuits I've featured, but it's definitely wearable for every day. If you like red. Which I do, sometimes, maybe.
This is actually a very similar style to the playsuit I already have, except without the side cut outs. It's very bright, but it's also in the sale and I think could be really cute with wedges.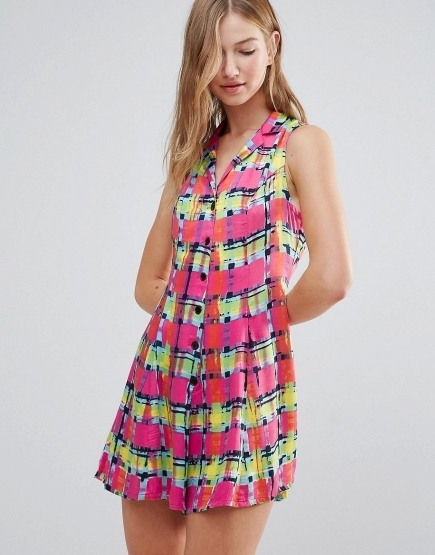 Ok, this ones a bit of a curve ball. After saying I didn't want anything that flashed too much flesh, this one not only has a strappy top but also a huge cut out mid-riff.
I can't see myself wandering round the shops in this, but it's got such a cute 1940s pin up beach wear style, while not being too skin tight, that I could see myself lounging on a beach in it. If I were going to the beach, ever.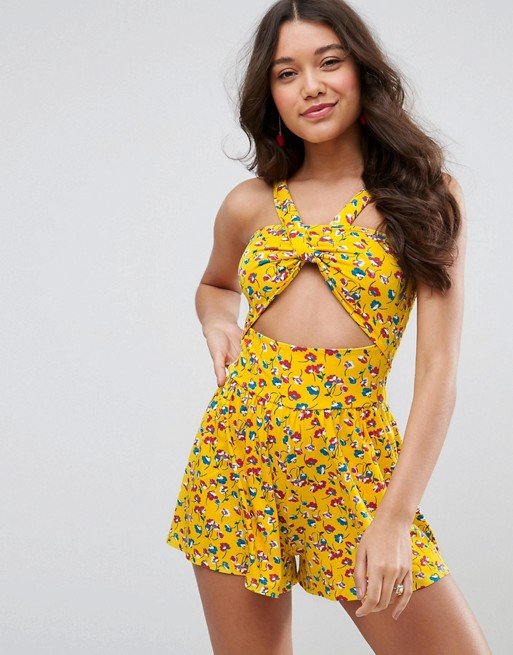 Are you a playsuit fan?