Hello there!
Welcome back, I hope.
I guess this is my first "proper" blog post on the new and (hopefully) improved Lipstick, Lettuce & Lycra.
I feel like it should be something epically amazing and awe inspiring. But it isn't. It's the end of the month, and at the end of the month I do a scintillating round up of any new things I've tried in the month just gone.
In the past those were all health and fitness things, but in this whole new world of talking about STUFF there might be other bits creeping in too. Make up, shops, restaurants, booze, who knows what the future holds?
But in the mean time, lets just start with some fun stuff I tried in June.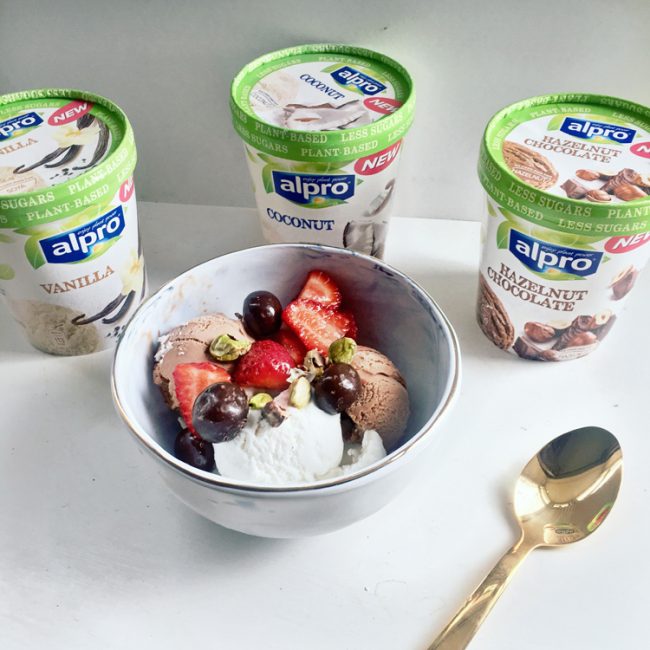 Recently I was reading an article about "Reducetarians". People who aren't vegetarian or vegan, but are taking steps to reduce the amount of animal products they consume. Apart from the fact that it's a stupid name (I'm thinking Lessetarian) I think it's the sort of bracket I fall into.
I was vegetarian for a while in my teens, but I'm not any more, for various reasons (including laziness and "I don't want to", but some others as well). I have, however, been trying to reduce the amount of unnecessary dairy and animal products in my diet. My husband and I share the cooking, doing 3 meals a week each, and I always ensure one of mine is vegetarian, I've also started swapping out a lot of dairy products where there are alternatives available that don't cost the earth. I've worked with Alpro a few times, and each time I've found new alternatives to swap things out for that I can barely tell the difference from the "dairy" original.
This time it was ice cream. Alpro ice cream comes in 3 flavours, vanilla, coconut and chocolate hazlenut, and I was sent vouchers to try them out (and some yummy toppings to put on it!). Personally I couldn't tell the difference from regular ice cream, and they were all blooming delicious and really rich.
Sumo Deadlifts
I know, that's a bit of a random one, but it's definitely something I tried in June!
I have been having endless problems with my back doing deadlifts. No matter how much back strengthening and stretching I do, or how much I work on my form, I get up to around 90-100kg and then do my back in and have to drop all the way back down and start again.
I read that Sumo deadlifts are easier on the back, so I tried them, and they certainly seem to suit me better! In a regular deadlift you have feet hip width and hinge your hips backwards to reach the weight with your hands outside your legs. In a sumo deadlift you adopt a wide stance (like a sumo wrestler, see!) and your hands are inside your legs at the start.
I like them, I shall be doing them again.
While we're here, another thing I tried in June was those leggings in the picture. Simply Be also do sportswear from a variety of brands, which I didn't realise. These ones are Reebok, they're a little low rise for my liking, but there are some really nice high waisted Puma ones in there too that I have my eye on and some from Pineapple that are reduced to £8.50 at the moment!
Nutri-Bombz are basically snacks by post. Which sounds good to me. A little like a Graze box, which I used to get delivered weekly, these are a variety of little protein or energy balls, many of which are vegan and gluten free.
You can set up a recurring delivery so tasty snacks will regularly drop through your door. They cost £5.49 a box and you get 4 packs of 3 bombz per box, so they're about 45p per ball.
I recommend the Salted Caramel whole-heartedly.
I have to put this one here as otherwise the next thing I tried will make no sense.
Earlier in June I downloaded an app called Sweat Coins, which "pays" you for the amount of steps you do each day.
You earn .95 sweat coins for each 1000 outdoor steps you do up to 5000 steps. You can also upgrade your subscription (by paying in sweat coins) so that you can get paid for more steps each day.
You can then use those sweat coins to pay for special offers.
It only counts outdoor steps, so all that walking in the gym doesn't count, sadly. The offers are varied in how good they are, but essentially it's walking you were going to do anyway, so it's worth just waiting for a good offer.
So far there has been a free months subscription to the Calm app, money off Gousto boxes (which I nearly got, then noticed it was only £20 off if your box cost over £34.99) and a selection of running kit. Then there was the next one, which I bought.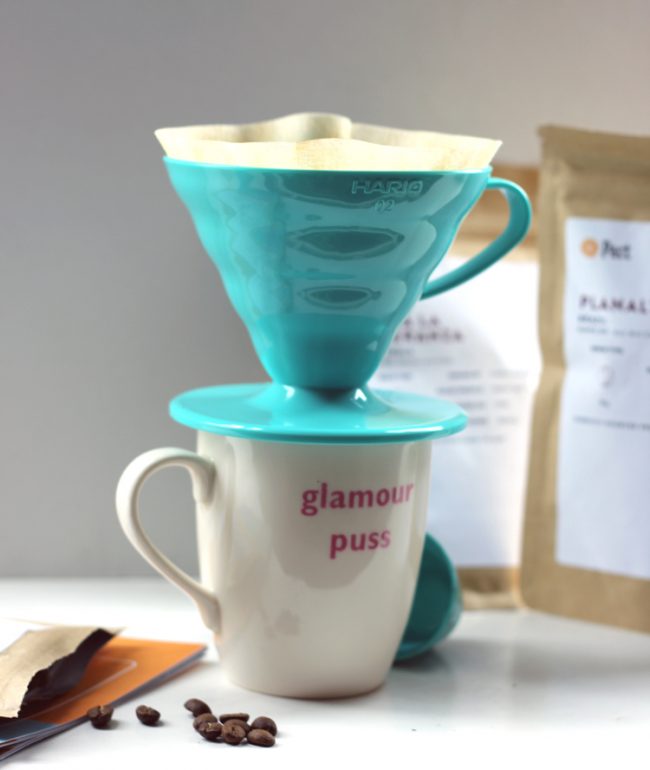 I do like coffee, coffee is nice. In our house you don't have any of that instant stuff, we have a coffee bean grinder and a cafetière and we feel very fancy.
I used to have an espresso maker but it was cheap, rubbish and leaky and took up lots of space, so I got rid of it.
One day one of the sweat coin offers was for a Pact coffee introductory pack. Pact are another one of these subscription services, only this time they send you fancy coffee every month. The pack I got was a welcome pack containing 3 80g bags of coffee beans (they will grind it for you if you prefer) and a rather attractive looking Hario V60 brewing kit that you can use to make single cups, or over a jug to make multiples.
The coffee is really good, and it comes with a little booklet telling you why it's so good and why you were a fool to ever buy your coffee from the supermarket and expect it to taste nice. If you want to continue your subscription they then send you a bag each month for £6.95, or you can opt for a "house coffee" subscription for £5 a month.
I have not opted to subscribe yet, in the spirit of thriftiness, but I'm certainly bearing it in mind for when I feel rich (ha!).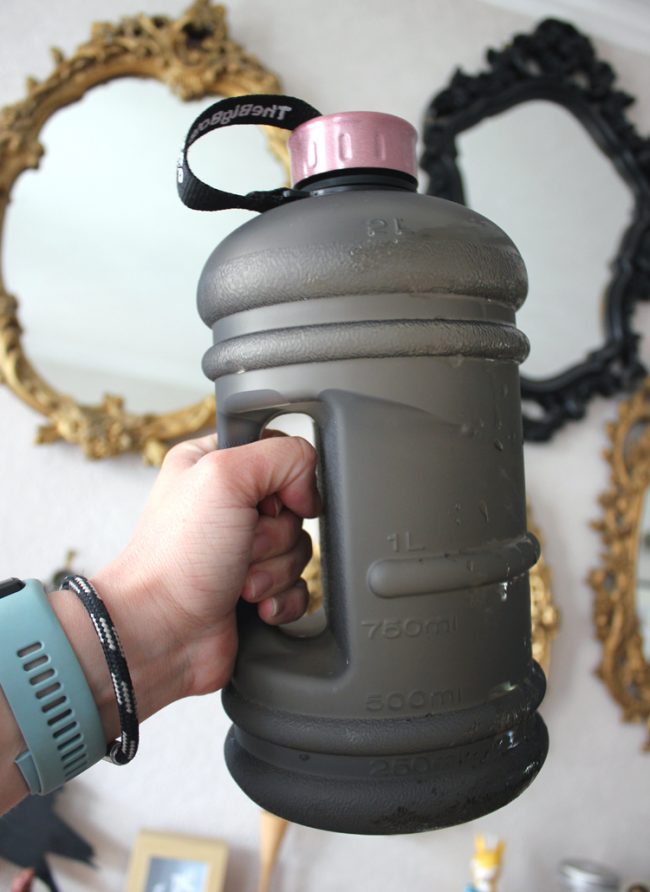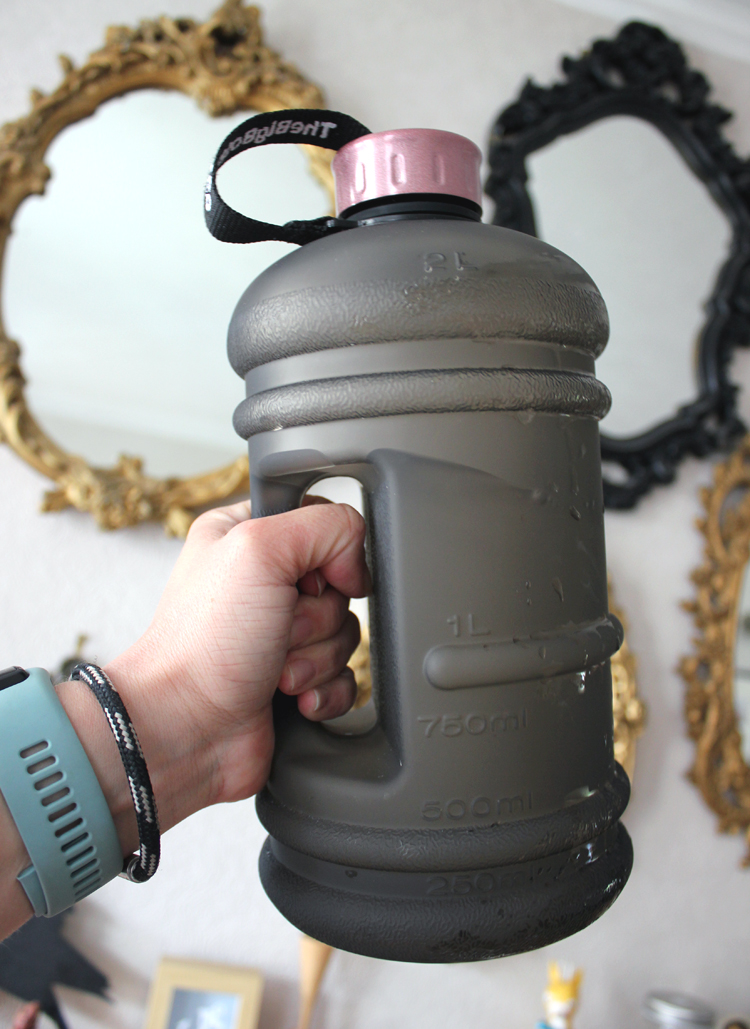 Last, but certainly not least, The Big Bottle Co sent me, well, a big bottle.
It's in sexy matte black with a rose gold lid and I LOVE IT. It holds 2 litres of water and has an easy to hold handle so it doesn't go everywhere.
On weekdays it stays on my desk, in keeping with those promises I made myself in May, making sure I stay hydrated. At the weekends I can fill it up and take it to Roller Derby practice with me. I get through a lot of water at practice, and the only place to refill my small drinking bottle is from the bathroom taps, which is always slightly warm, blurgh. I can take the Big Bottle with me, and top up from nice chilled water from home during the session. You can, obviously, drink straight from the bottle, but I often use electrolyte tablets in my water, so it's easier to dilute them in a smaller bottle.