This post was produced in collaboration with Moshulu.
I love colourful shoes.
I love my green ankle boots in winter, and my pink and black stiletto heels for nights out (ones with lots of sitting at least). I have green and gold slingbacks, yellow wedges and navy kitten heels and I wear them all the time.
So when Moshulu asked me if I would demonstrate 5 ways to wear coloured shoes with an item from their A/W collection I was like, er, ok then!
I have to confess I hadn't heard of Moshulu at all before I got the email. Turns out they are based in Devon and make good quality, comfortable but fun shoes.
On visiting their website I have formed the opinion that they are the Boden of the shoe world. There are lots of fun design features and cool colours, but with a strong focus on practicality and wearability. You will be pleased to know that I wore these shoes to walk a full mile into Norwich, and then home again (via Tesco, if you're interested) and they were still comfortable. I have wide, flat feet and too often even "comfortable" shoes pinch across the front of my foot and make the balls of my feet burn. While these weren't exactly hiking shoes, they felt supportive and sort of "hugged" my feet without pinching.
You can get 10% off full price items with the code MYMOSHULU_GEMMA which is valid for 2 weeks, so get yourself some nice Autumn shoes!
I picked out the Isle slip on shoes in cranberry. They also come in navy and a sensible black, if that's more your style.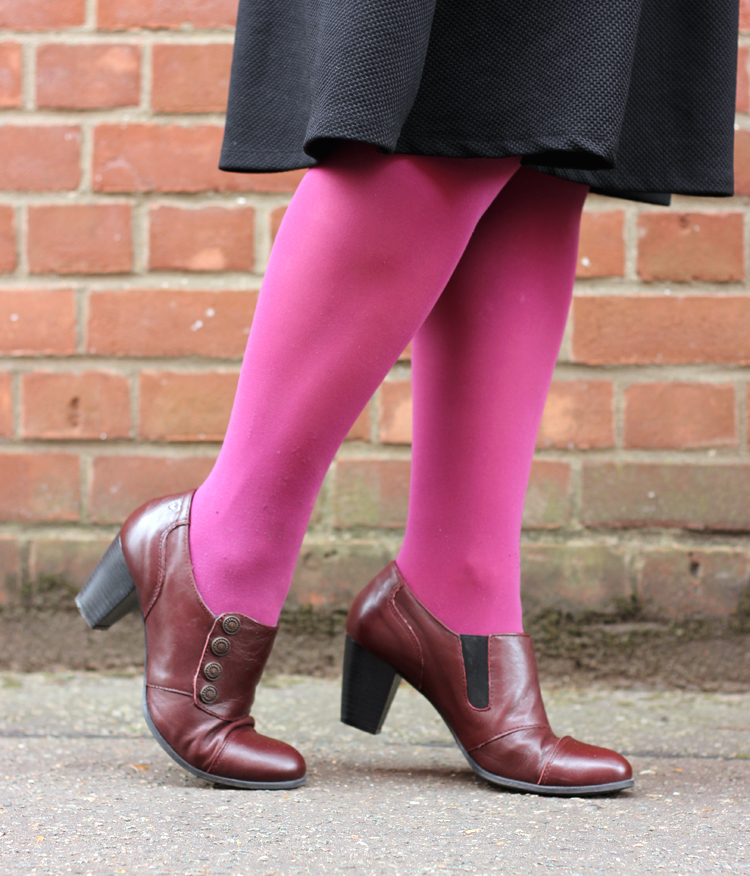 The challenge I was set was to style them 5 different ways to show colourful shoes can be versatile.
I wanted to make each of my ways as different as possible, while still being "me".
So here goes. 5 ways to wear one pair of shoes.
The Bold Tights
If you're going to wear colourful shoes, why not match them with your tights. Cranberry shoes call for Cranberry tights with a little black dress.
The tights are actually a better match in real life for the shoe colour. The way the light falls on the different fabrics makes them look different on camera.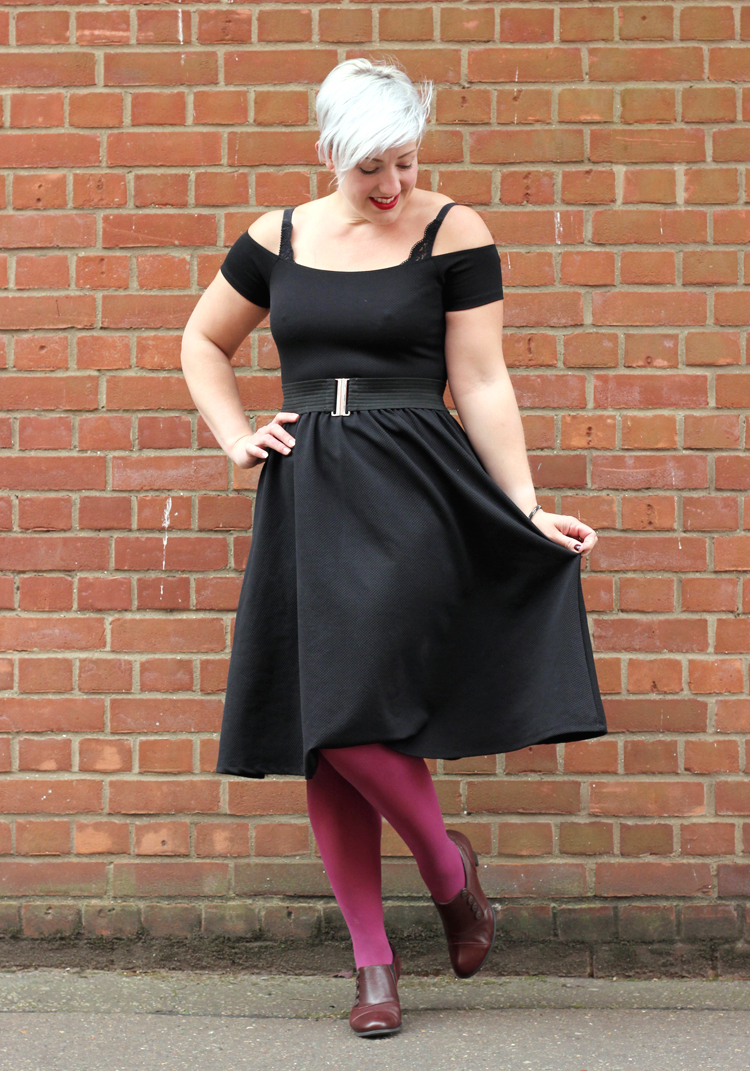 ♥ Bardot Midi Dress – ASOS (similar) ♥ Tights – New Look (v old!) ♥
♥ Belt – eBay ♥
The 1930s Day Dress
Ah, it's been a while since I've done a full on 1930s look. It's one of my favourite style decades and this Stop Staring dress is one of my favourites for day and night. The dress is navy, so I wore it with a navy beret, but the leather clutch that I often wear with it is an almost perfect match for the cranberry leather Moshulu shoes.
The shoes have a perfect 1930s feel with the mid heels and the little buttons up the side. I love this look.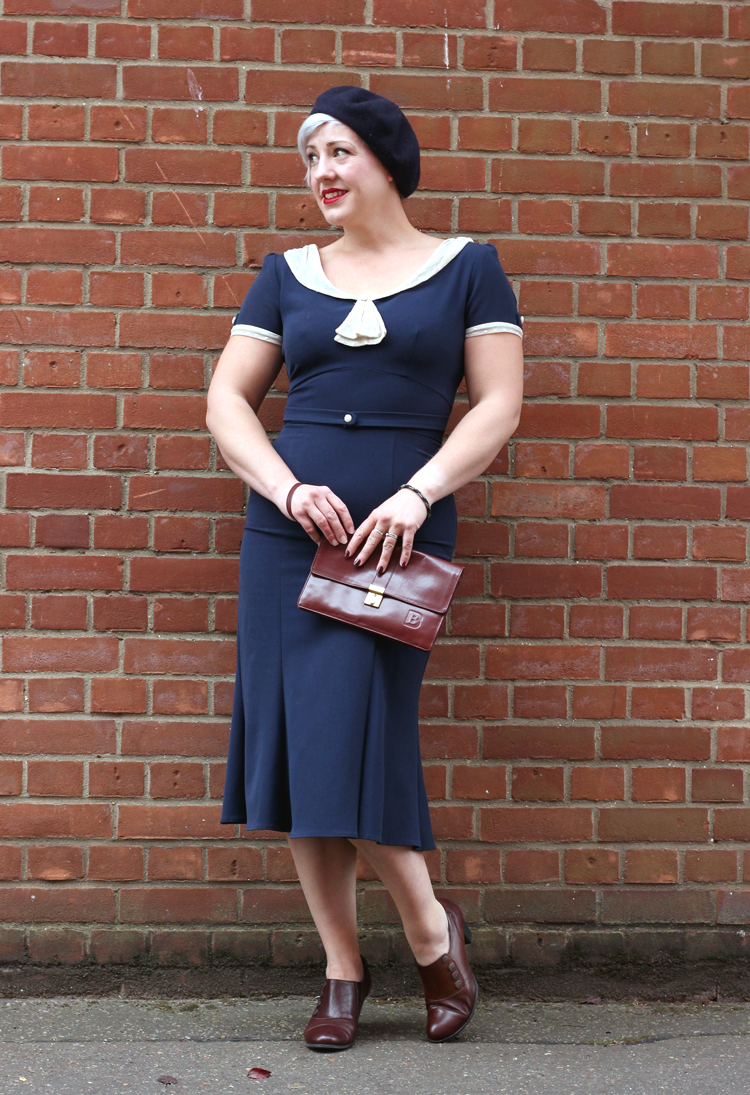 ♥ Raileen Dress – Stop Staring* ♥ Beret – eBay ♥ Bag Vintage ♥
Match Your Dress to Your Shoes
If you're wearing coloured shoes, a great way to make it work is to pick up on a colour in your outfit.
The deep burgundy dress here picks up on the colour of the shoes and brings it together with the black tights and biker jacket.
I feel a bit rock chick in this. I wear this dress a lot to kick around in during the day and the collar also makes me feel like Eleven from Stranger Things.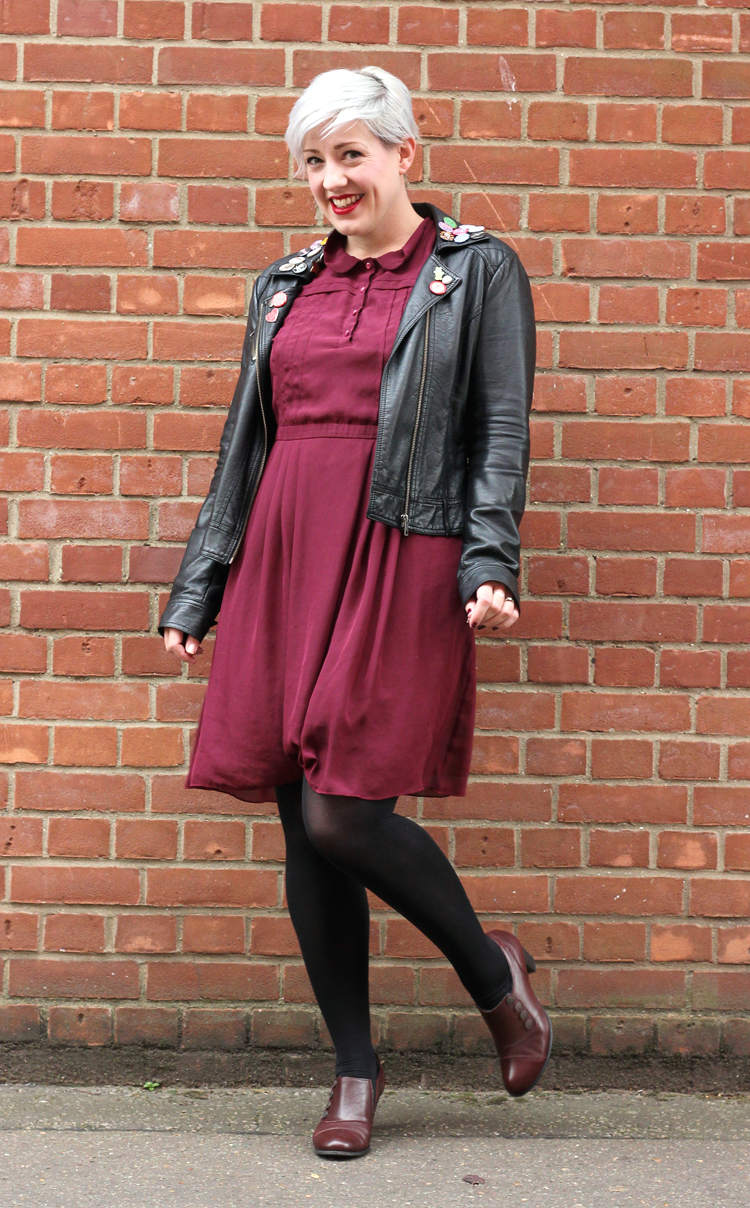 ♥ Dress – Tu @ Sainsburys ♥ Biker jacket – French Connection* ♥
Tartan Terror
Ideally I would have liked the red in the tartan to be a little deeper and closer to the shoe colour, but never mind, I still love this look with the shoes.
Patterns and prints are ideal to wear with coloured shoes as you can pick out a colour in the pattern without looking too matchy matchy (like that bothers me!)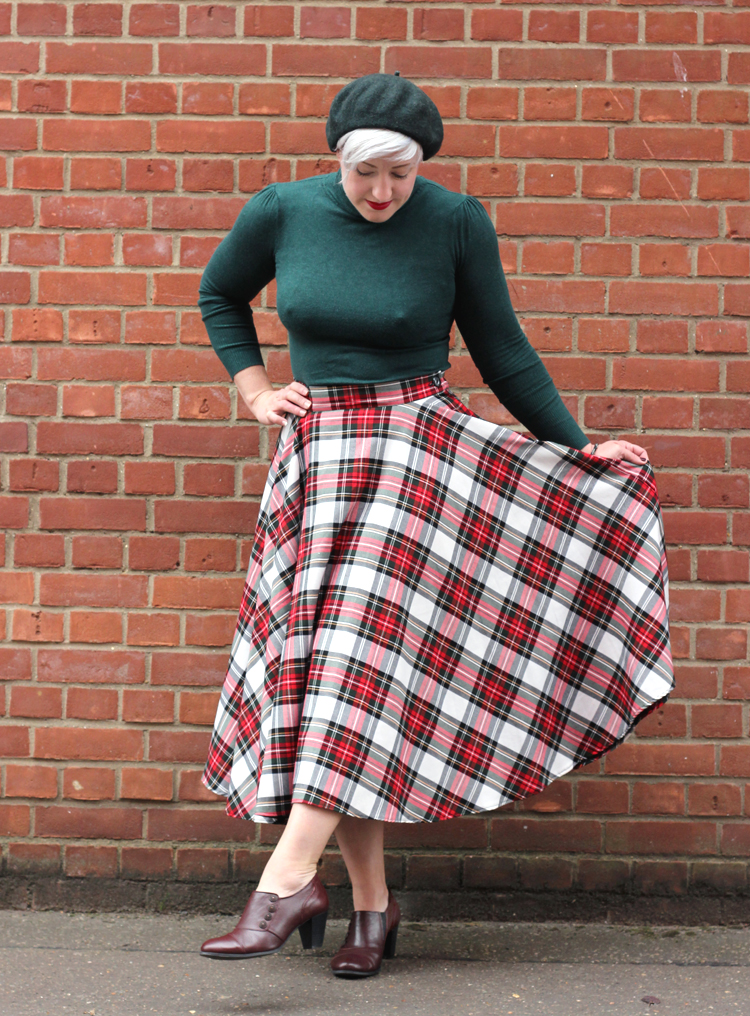 ♥ Roll Neck – Primark ♥ Tartan Skirt – Heyday ♥ Beret- eBay ♥
Everyday Chic
Last, but not least, my favourite ASOS black trousers and a breton stripe top go really well with the shoes for a dressed down everyday look for going to the shops or Sunday morning brunch, or any of those other normal everyday things to which I am apparently not supposed to wear 50s dresses and glitter (but I do anyway sometimes).
I was a bit worried that the high front of the shoes and the cropped leg of the trousers would combine to make my stumpy legs look even stumpier, but by some miracle I think it actually works!
Maybe they are magic shoes?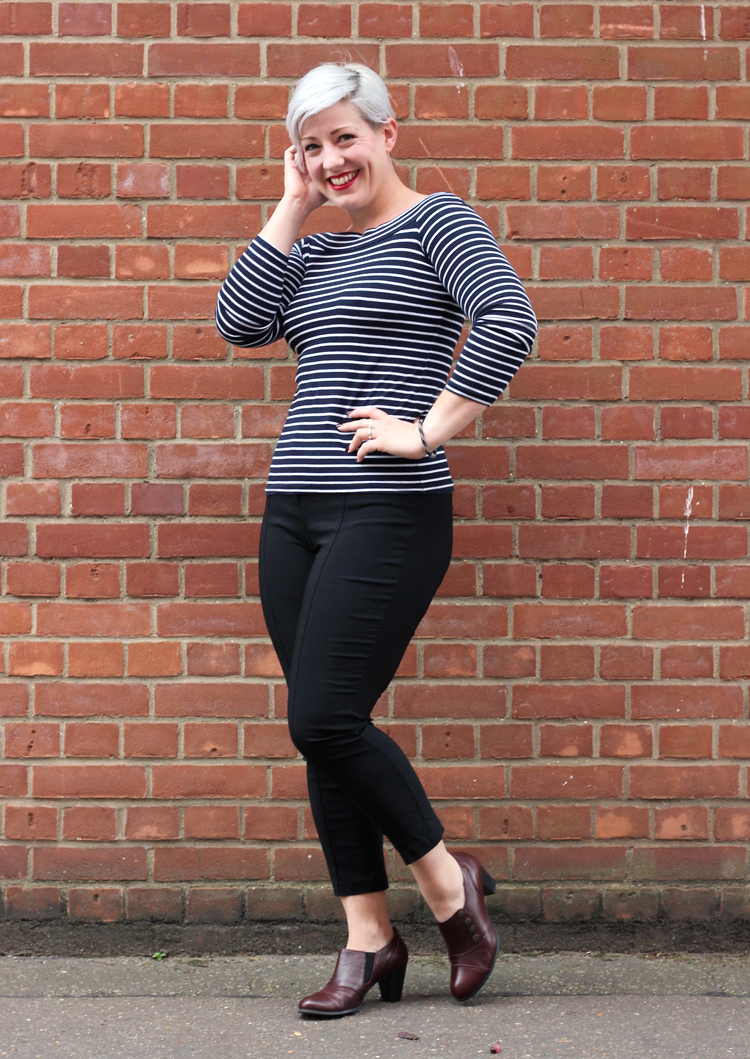 ♥ Trousers – ASOS ♥ Breton Top – Primark ♥
Visit Moshulu Shoes and get 10% off full price items with the code MYMOSHULU_GEMMA before 31st October