In September it's all optimistic Sun dresses with a cardigan slung over the top.
But as Autumn progresses the cardigan definitely becomes more and more the focus of the outfit, then teamed with a jacket, and maybe a scarf, all the tiny stepping stones towards the time we bring out the big coat for it's first outing of the year.
Right now I'm still at knitwear, jacket and scarf stage, but I can definitely see big coat time coming.
I like to keep my knitwear fairly close fitting and slimline. Apart from the fact that I like the vintage inspired look it gives, I also know that chunky, baggy knitwear generally makes me look and feel like a heffalump. And a heffalump is not how I like to feel in the winter.
Most times in the Southern half of the UK a slim fit jumper teamed with a big coat and scarf will get you through most of the year, investing in good knitwear in Autumn will generally get you all the way through to next Spring.
So, today I am bringing you my top ten choices for Autumn knitwear. Some of which are making my credit card twitch. Scroll to the bottom for links to buy!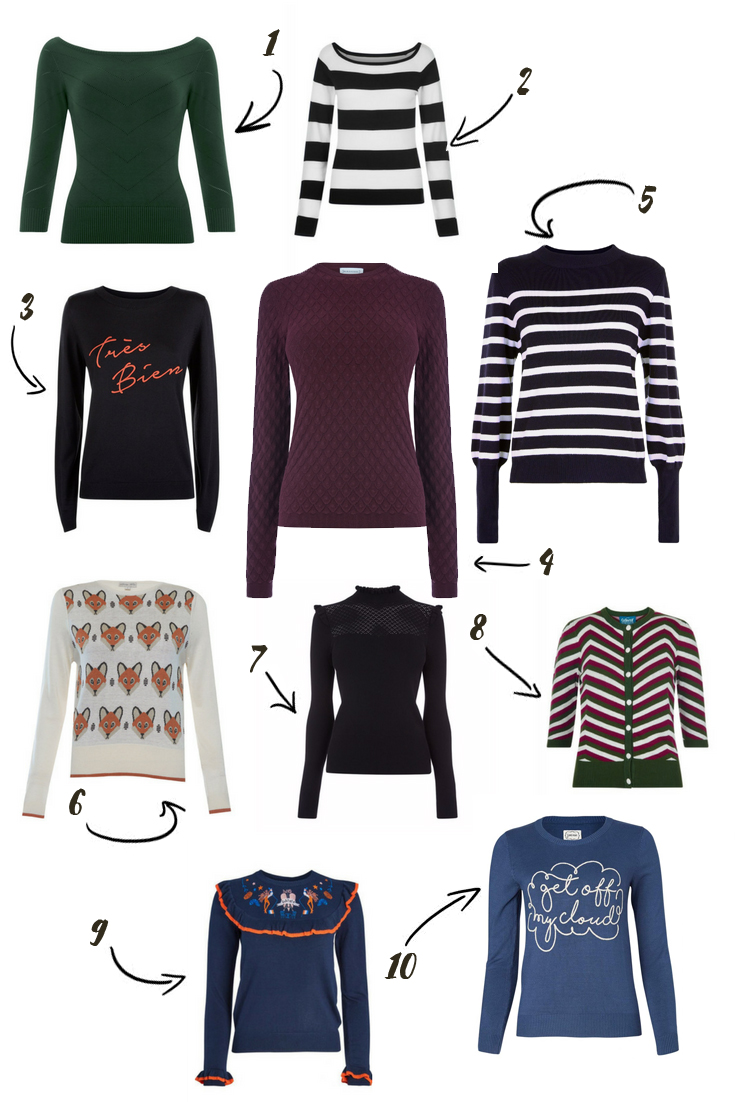 1 – Collectif Bardot Neck Jumper
I've had my eye on this a while. It comes in green, burgundy and black and is reversible, with a deep v neck or a bardot scoop.
I first spotted this on Instagram on CatoinAmsterdam, a woman whose entire wardrobe I basically want to steal.
3 – New Look Tres Bien Embroidered jumper
Sloan jumpers are *the thing* at the moment. And it's a thing I kinda like. It's a good job I'm skint or I'd have bought them all. As it is I am weighing up my options between this and no.5.
4 – Warehouse Scallop Stitch Jumper
The scallop stitch on this looks like scales. I think this is what mermaids wear when they get a bit nippy.
5 – New Look Stripe Balloon Sleeve Jumper
About 10 years ago I bought a roll neck with balloon sleeves from Primark that I LOVED. It is now bobbly and unsuitable for smart attire. And then I saw this one. Not only balloon sleeves, but STRIPES. I should get it shouldn't I?
It's got cute foxes on it. Do I need to say any more?
7 – Oasis Black Pointelle Jumper
This one is gorgeous and elegant. Knitwear for days that you want to be chic and sophisticated, rather than cute and covered in foxes.
8 – Collectif Chevron Cardigan
The versatility of cardigans means that in the UK they're basically an all year wardrobe staple. This one has a high neck so you can wear it as a jumper, or to throw over a dress. I love the chevron pattern and I think the colours are really autumnal.
9 – Joanie Clothing Myla French Embroidered jumper
Joanie Clothing has become a favourite fantasy shopping destination since I discovered it last Christmas. The last 2 jumpers are from their fantastic knitwear range. This one has cute frills, it's interesting, but in an understated way. I'd love to team it with cropped trousers and ballet pumps.
10-  Joanie Clothing "Get Off My Cloud" jumper
Another slogan jumper, this time from Joanie who have a great selection of slogan sweaters. One for days when you're day dreaming and don't want anyone to burst your bubble.