Along with cooler weather my urge to shop has returned.
This often happens to me in Autumn. There's some kind of "Back to School" bit of my brain that thinks in September and October I should have ALL NEW STUFF for the Autumn. I genuinely think those back to school shopping trips of my youth are at least partly to blame. Now I'm a grown up I don't want socks and stationary. Ok, well I probably do want stationary, and probably socks too, but mostly I want fantastic Autumn outfits.
October into November is one of my favourite times of year for clothes. It's no longer so hot that the only thing that matters in clothes is if they will be cool, but it's before the time for big winter coats that cover everything up. October, of course, also comes with an inbuilt theme. A theme that will become apparent in today's outfit.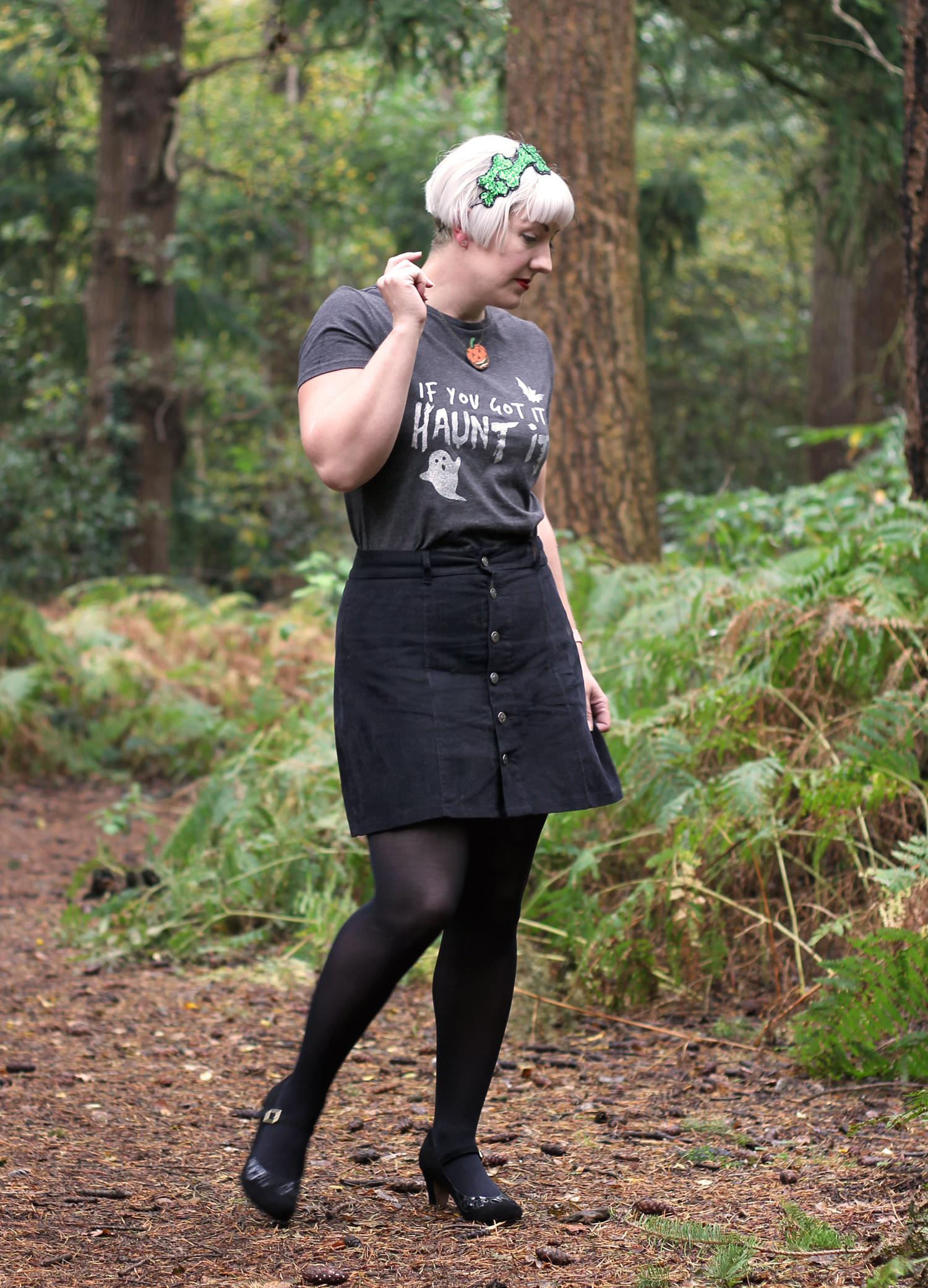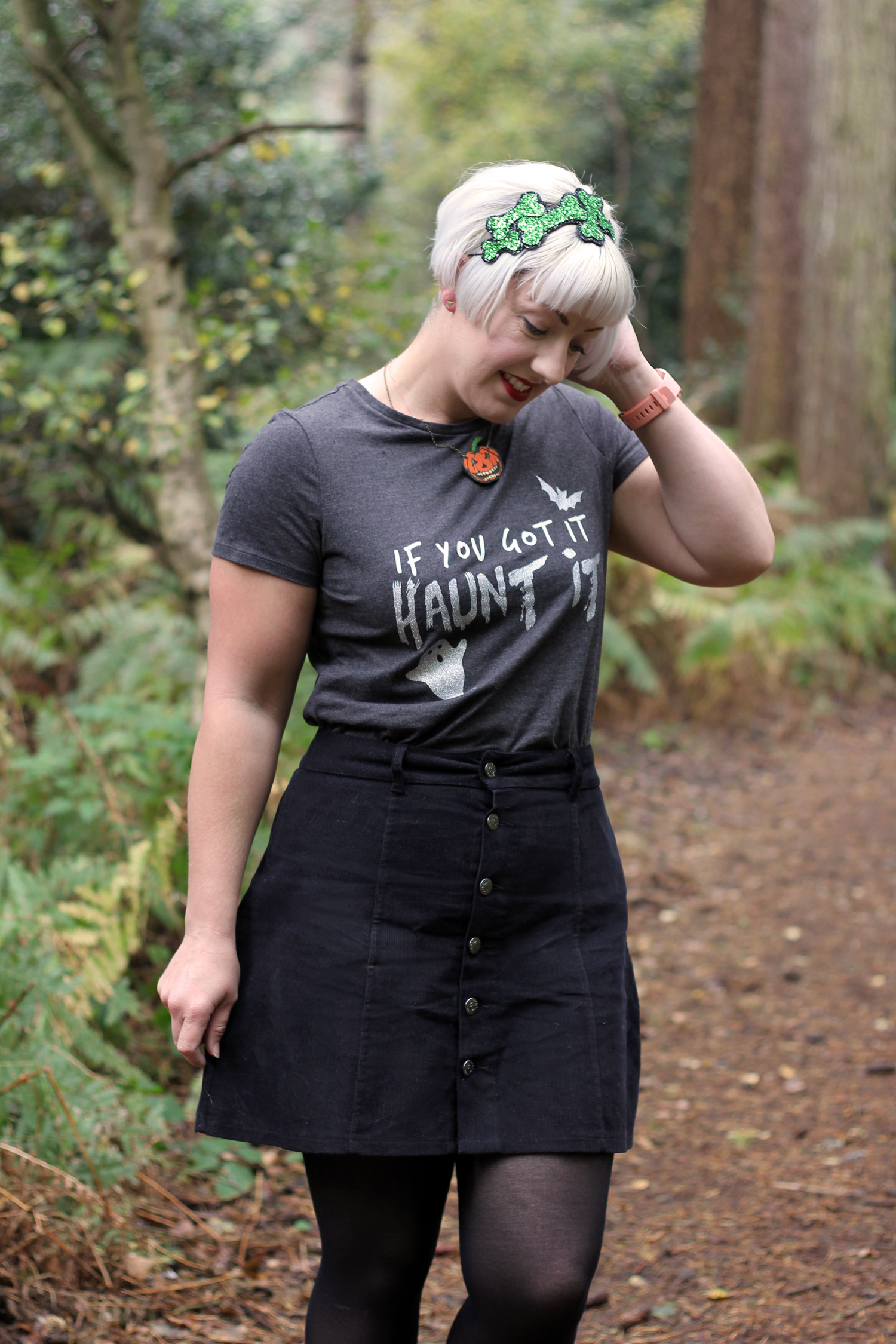 Yes, that's right, my collection of Halloween themed clothing and accessories is getting dangerously close to rivalling my Christmas outfits. Maybe next year I'll do a 12 days of Halloween Outfits series?
♠ T-Shirt – Tesco (Only in-store – similar online here) ♠ Black Cord Skirt – Joanie Clothing ♠
♠ Pumpkin Necklace – Etsy ♠
♠ Shoes – Clarks* (similar) ♠ Glittery Bones Headband – Janine Basil ♠
This particular Halloween outfit was the outfit I ended up wearing on Monday to see Jinkx Monsoon. I did have something more glamorous planned with a tulle skirt, but when I tried it on I looked like a hippo in a tutu, which wasn't the effect I was after, so in a panic, I opted for this. It's not like anyone was looking at me anyway, and it wasn't even the Drag Queens that were distracting them, it was the very drunk man 2 rows ahead of me who kept shouting "I Love You" and then pouring his own drink down his back before his friends called security on him.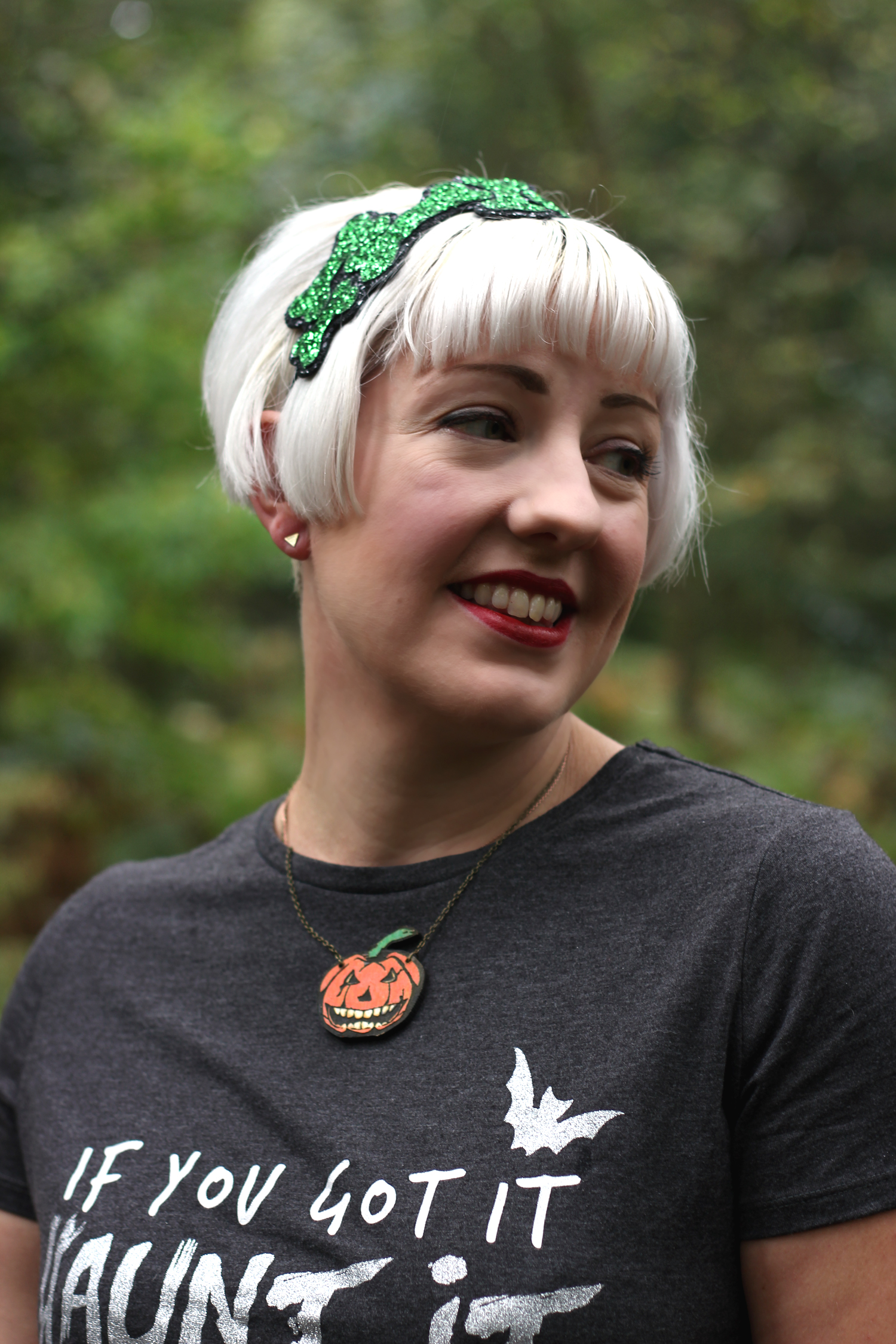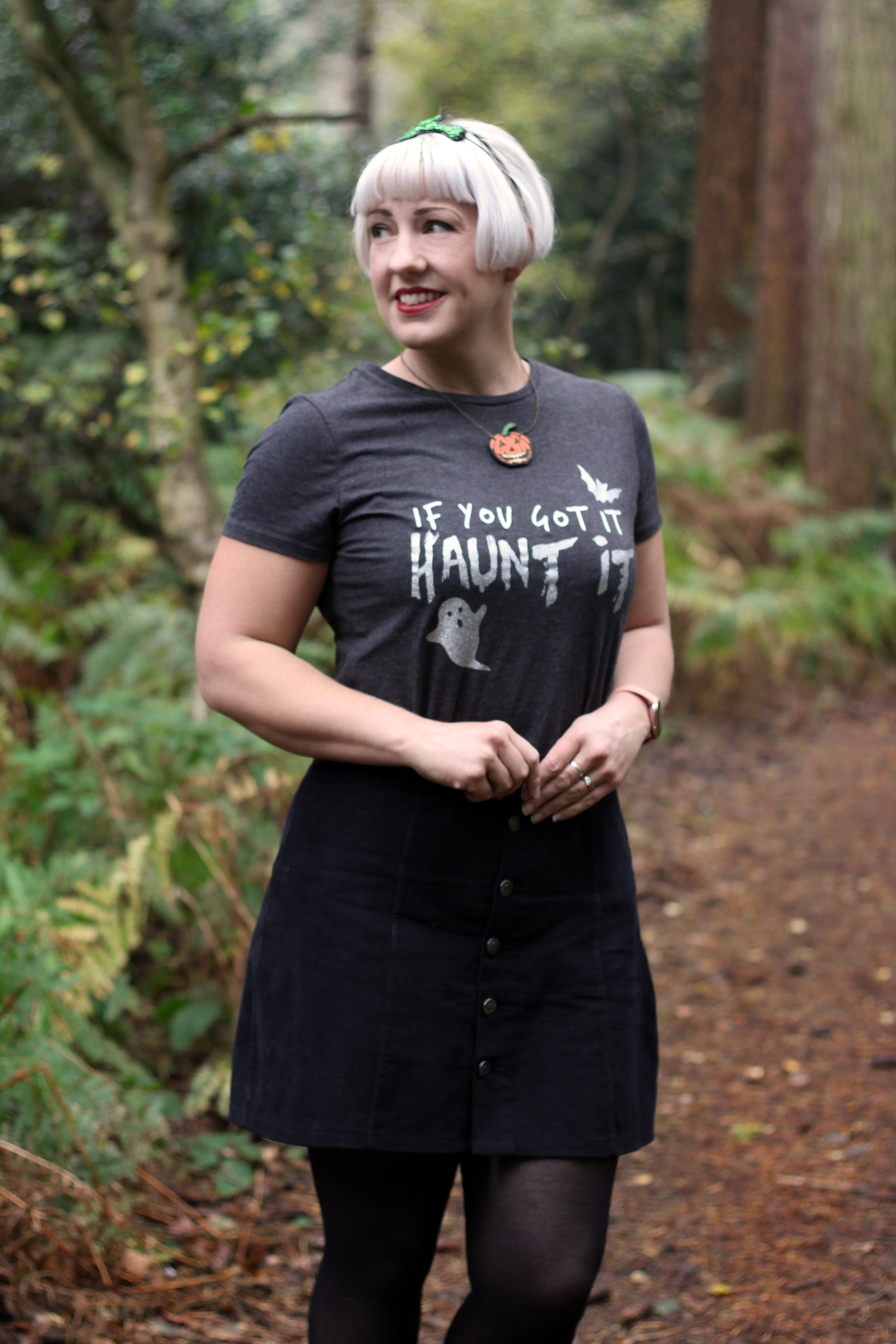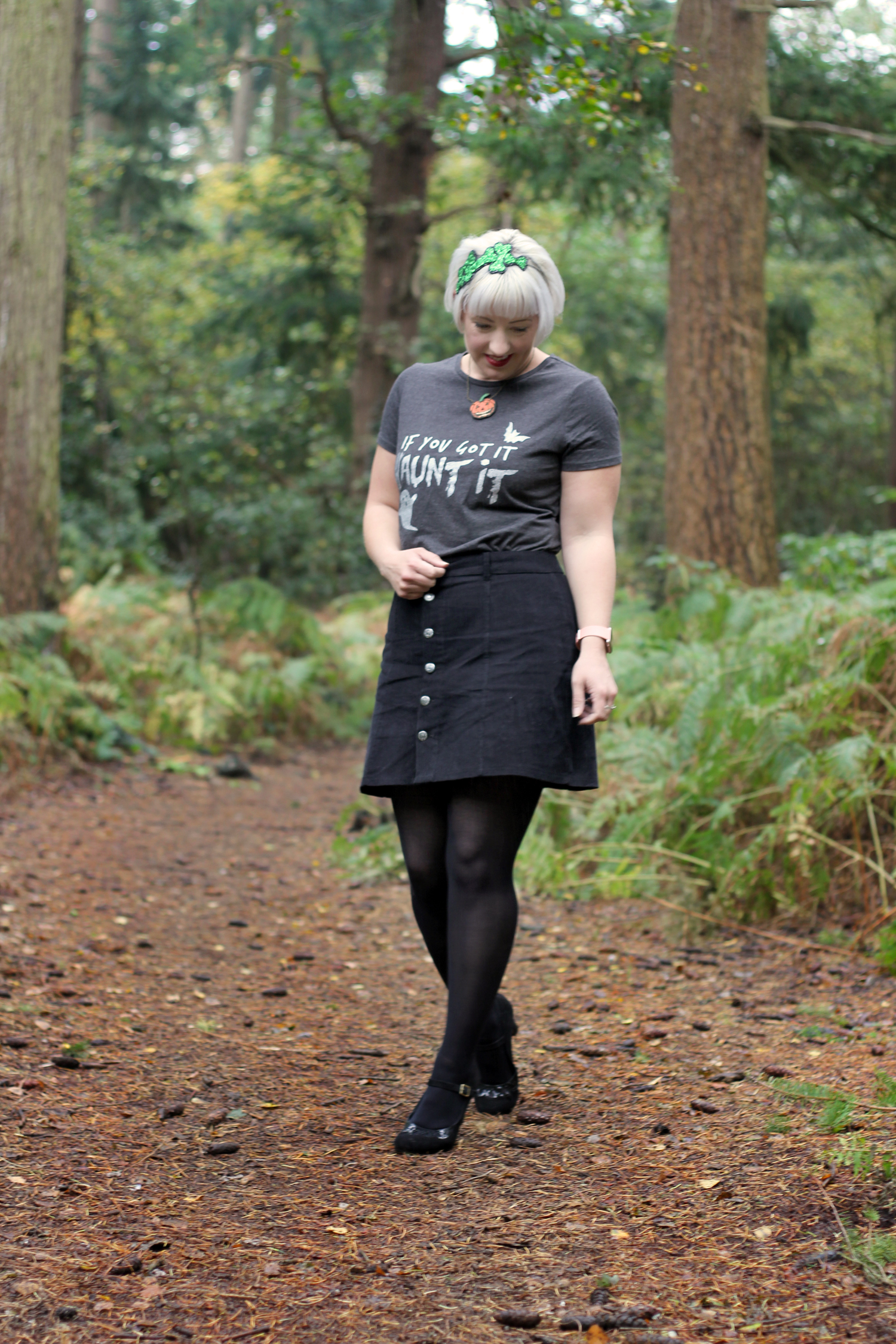 After years wearing midi skirts, I have surprised myself by getting more into wearing shorter skirts. It started with a denim a-line mini from Joanie Clothing, and I loved it so much I bought the black cord version. I feel like variations on this look will be getting a lot of wear this Autumn and Winter, it's comfy and quirky, and quick to throw on, as I am invariably running out of the door at the last minute!
Outfit details:
♠ T-Shirt – Tesco (Only in-store – similar online here) ♠ Black Cord Skirt – Joanie Clothing ♠
♠Pumpkin Necklace – Etsy ♠
♠ Shoes – Clarks* (similar) ♠ Glittery Bones Headband – Janine Basil ♠