Last Friday night the Christmas Markets opened in Norwich. In those little wooden huts, all decorated with wreaths and sparkly lights, they look super festive at night and sell a selection of Christmas gifts and yummy foods as well as boasting a small but perfectly formed "tavern" selling mulled wine and cider.
On opening night of the markets my favourite shoe brand, Hotter, invited me and a friend down to pick ourselves out a pair of boots to go and prance around on the markets in.
If you've been reading for a while you'll know I've worked with Hotter shoes quite a lot, and I think their collection has been improving every season. The reason I love their shoes is not that they have quirky details and are covered in glitter. I have plenty of those shoes and I can literally never wear any of them because I can't even walk across a room in half of them. No, the reason I love Hotter shoes is that they make shoes I can actually walk in, and stand up in, for quite some time, and still look cute!
So on Friday evening I met my friend Siofra after work and we went in to examine their boots collection.
It was a difficult decision, but I'm not going to pretend that picking out new boots was somehow an onerous job. We were like kids in a sweet shop trying on ankle boots and knee-high boots, and boots with fur trim and buckles. Siofra particularly found the choice between the fur-lined Pixie boots and the more work-friendly Phoebe ankle boots a difficult one. Before eventually deciding on the Phoebe.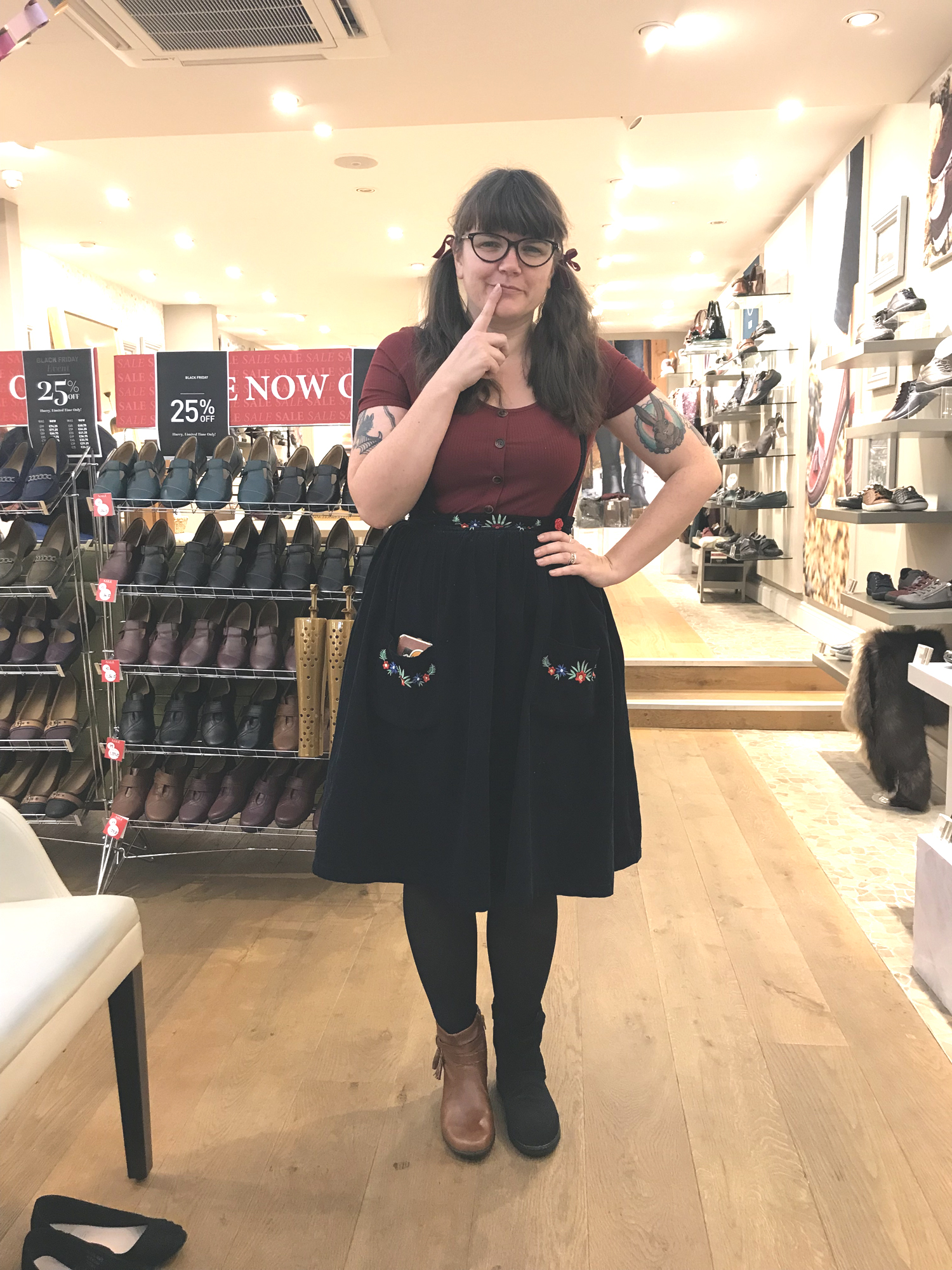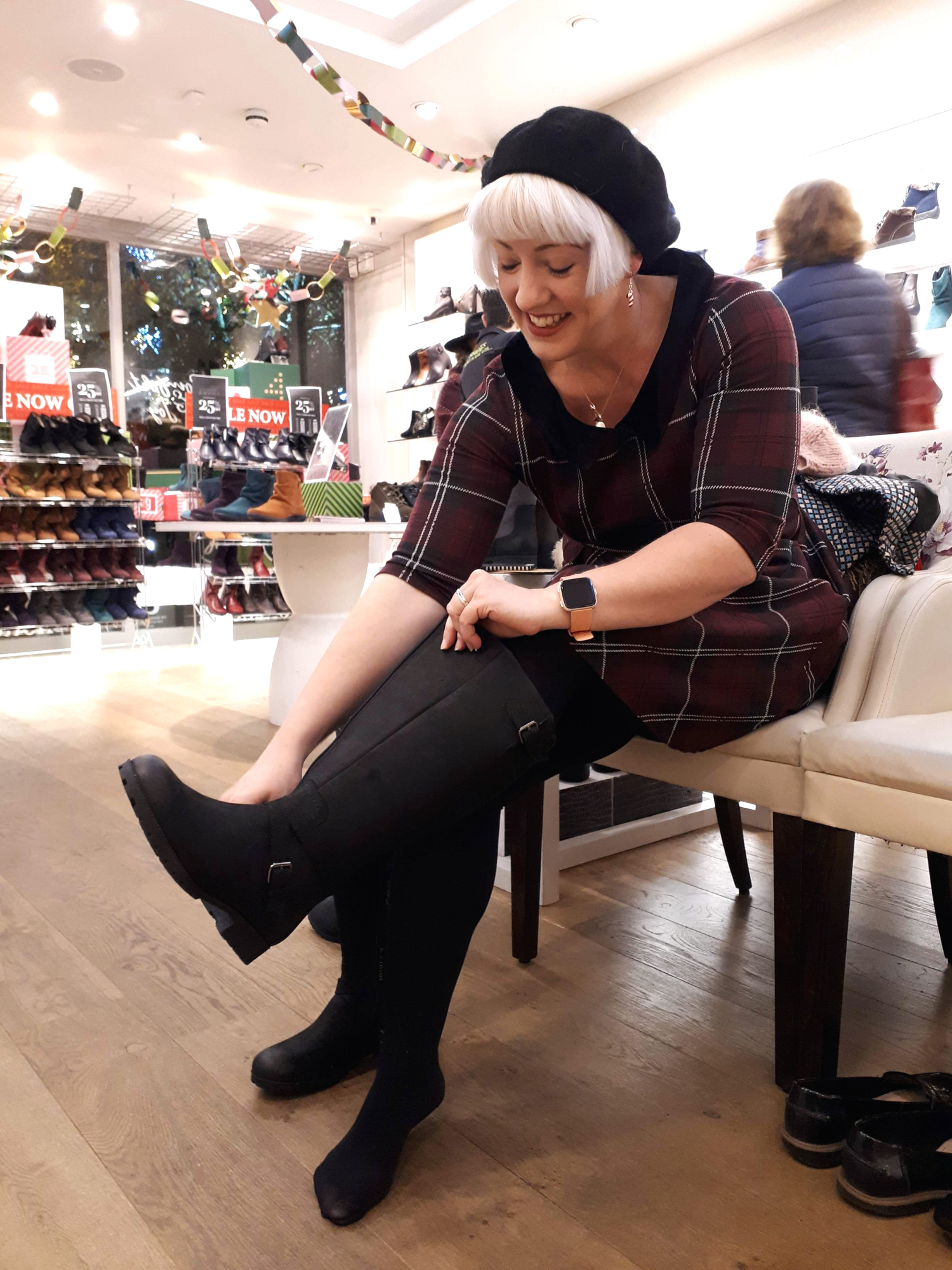 I didn't have such a hard time choosing as I almost immediately fell head over heels in love with the Belle biker boots in Jet Black. They have adjustable buckles at the top, so I was able to adjust them to fit my calves (apparently I have one bigger than the other), and they do come in a wider leg fitting as well, if you need it.
A thing I often find with Hotter Shoes, is that the sizing is generous, and I often need a half size smaller than normal. In this instance I went down a whole size and got them in a size 5.
I've been dreaming of a pair of biker boots for years, but always worried I would look clumpy and ridiculous, but these looked just how I dreamed they would, which was super cute with my new festive tartan frock from Joanie clothing.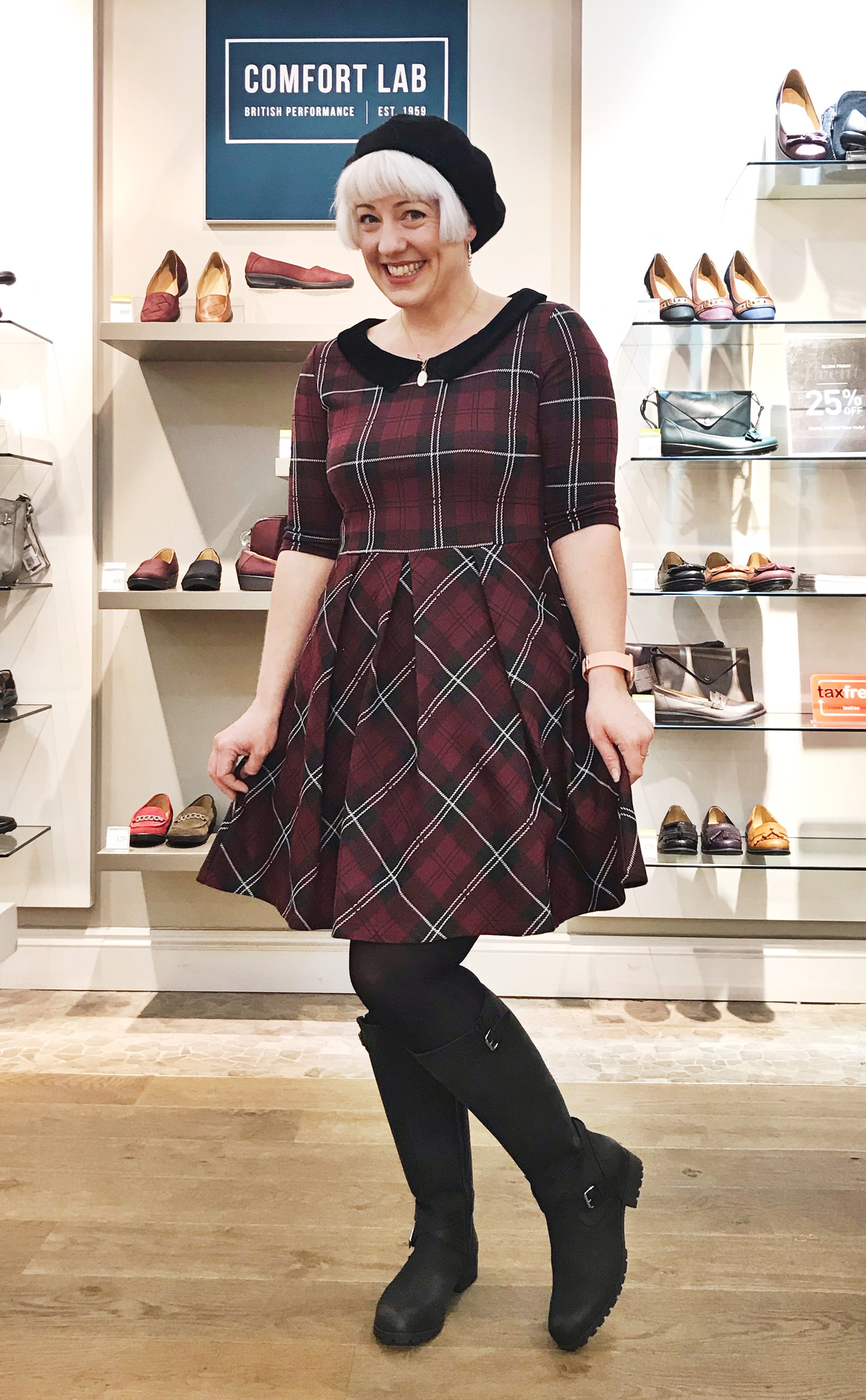 The first thing we did when we left the shop was head to Norwich's "tunnel of light" to take festive photos.
Apparently people come for miles to see this tunnel of light. Honestly, I think it's pretty, but I'm not sure I'd TRAVEL for it.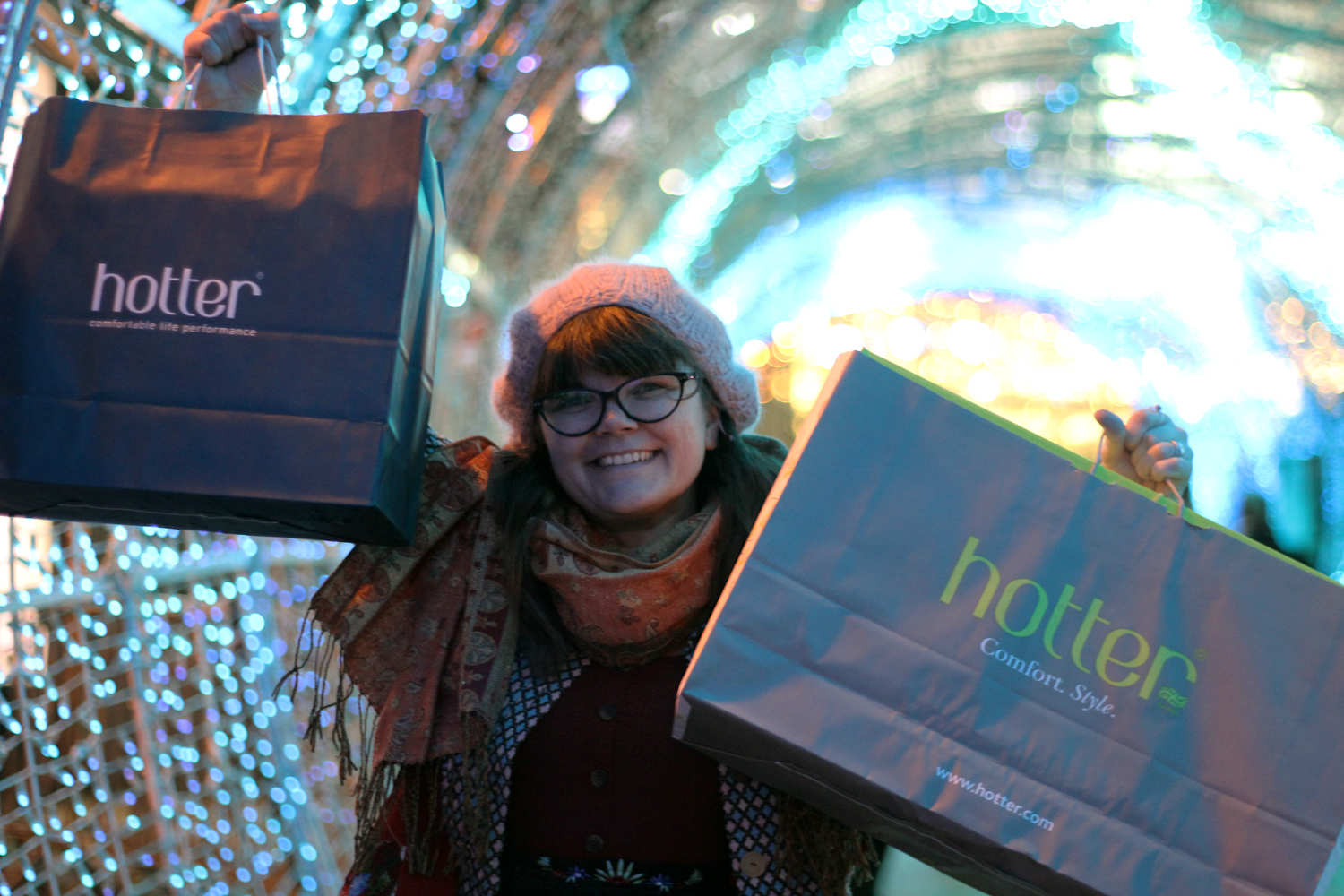 The first thing we discovered, is how hard it is to take the pretty photos that everyone else seems to manage to get in the tunnel.
You wait till it's not full of people, line up your shot carefully. Focus, press the shutter button.
Then all of the lights suddenly come on super bright.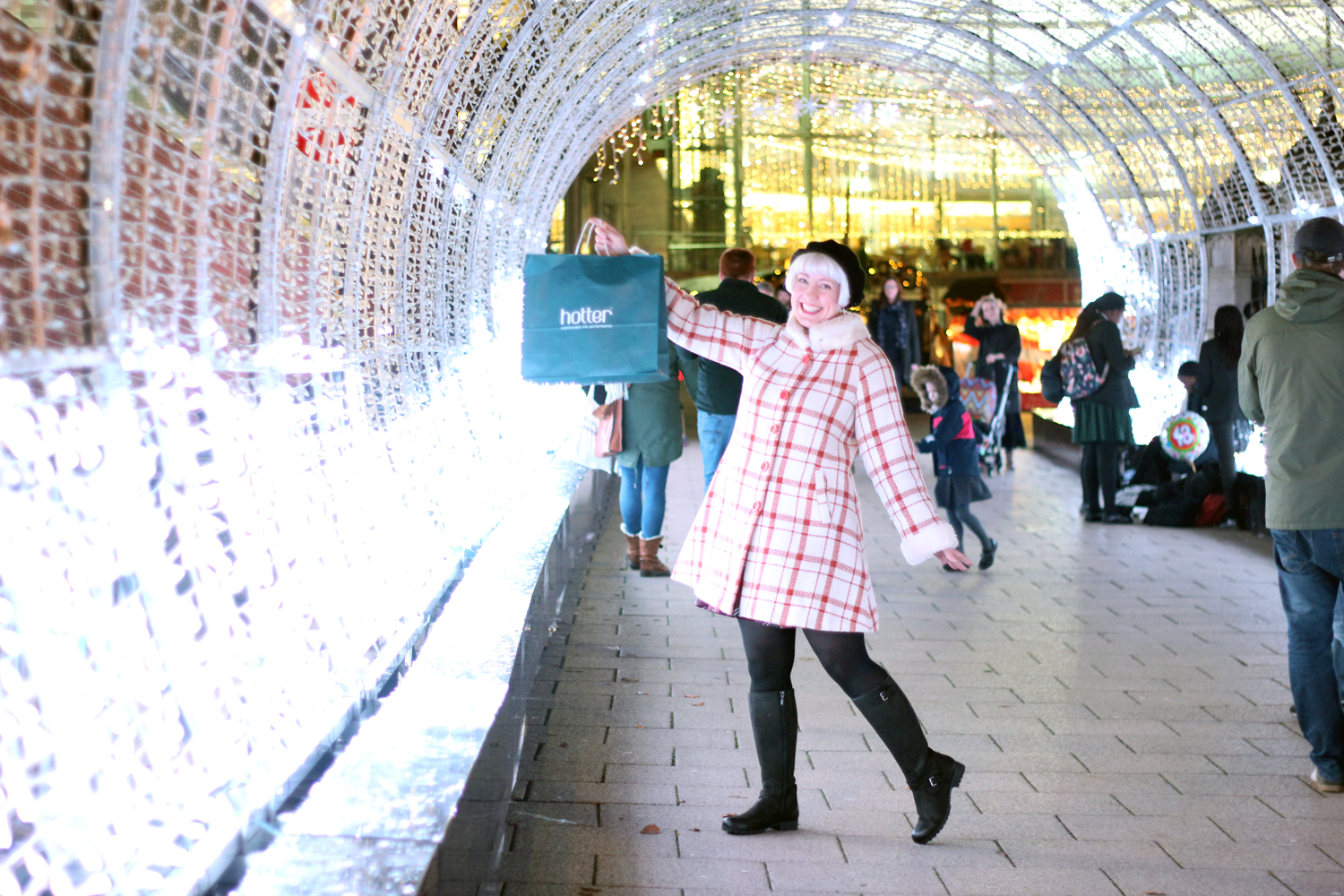 So you try again. Wait. Line everything up.
Strike a pose.
Then all the lights go out.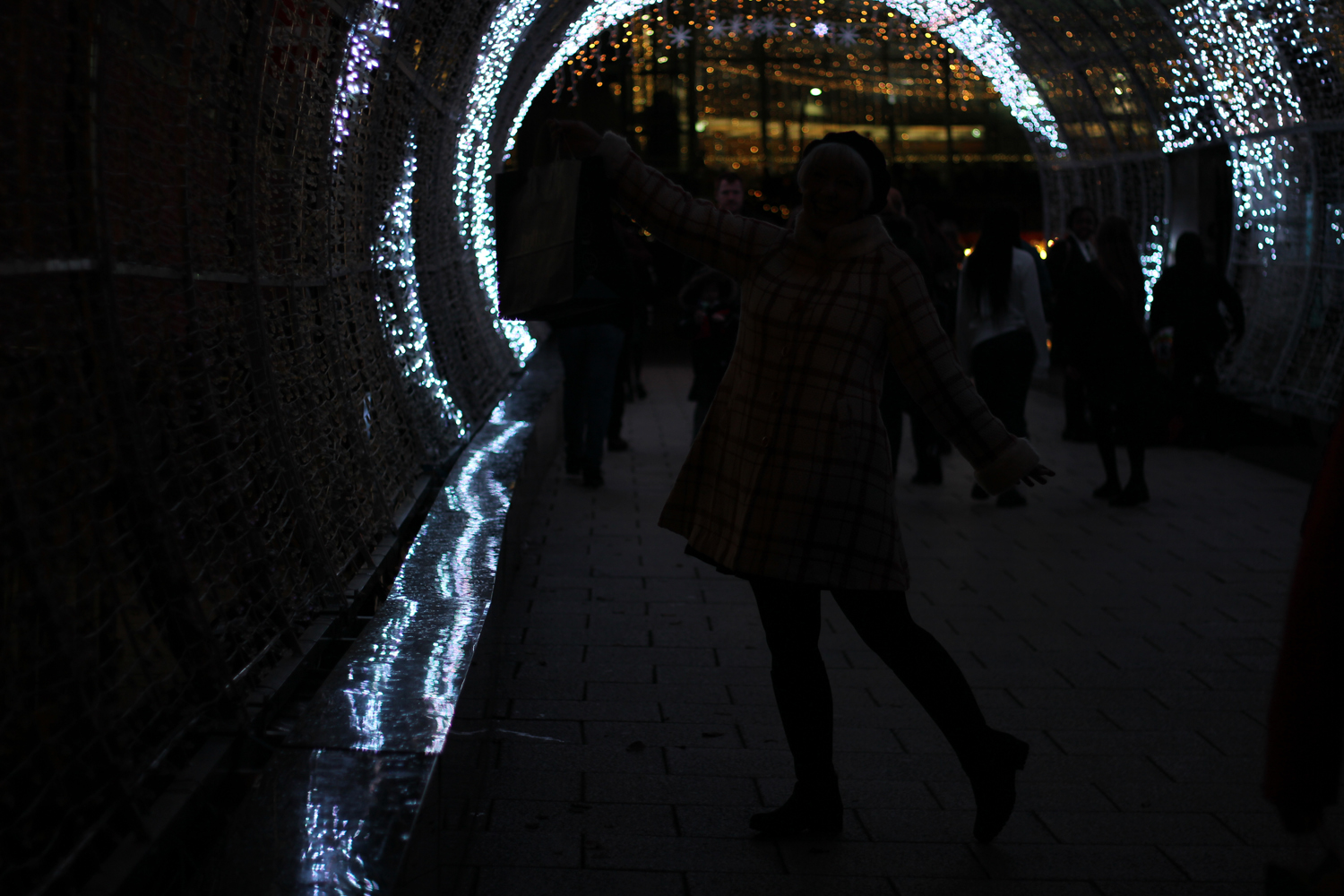 This was our best effort before we abandoned the tunnel to go and drink Mulled wine and listen to the festive music.
If you're here to find out about the markets rather than boots, then I can tell you that there was a very nice man who gave me a hot candied nut, that I'm quite fond of the stall selling snow globes and the stall selling gingerbread, that the bratwurst are very nice, but messy to eat and that the mulled wine is yummy and it just doesn't get much more festive that sitting under twinkly lights in a wood cabin drinking mulled wine.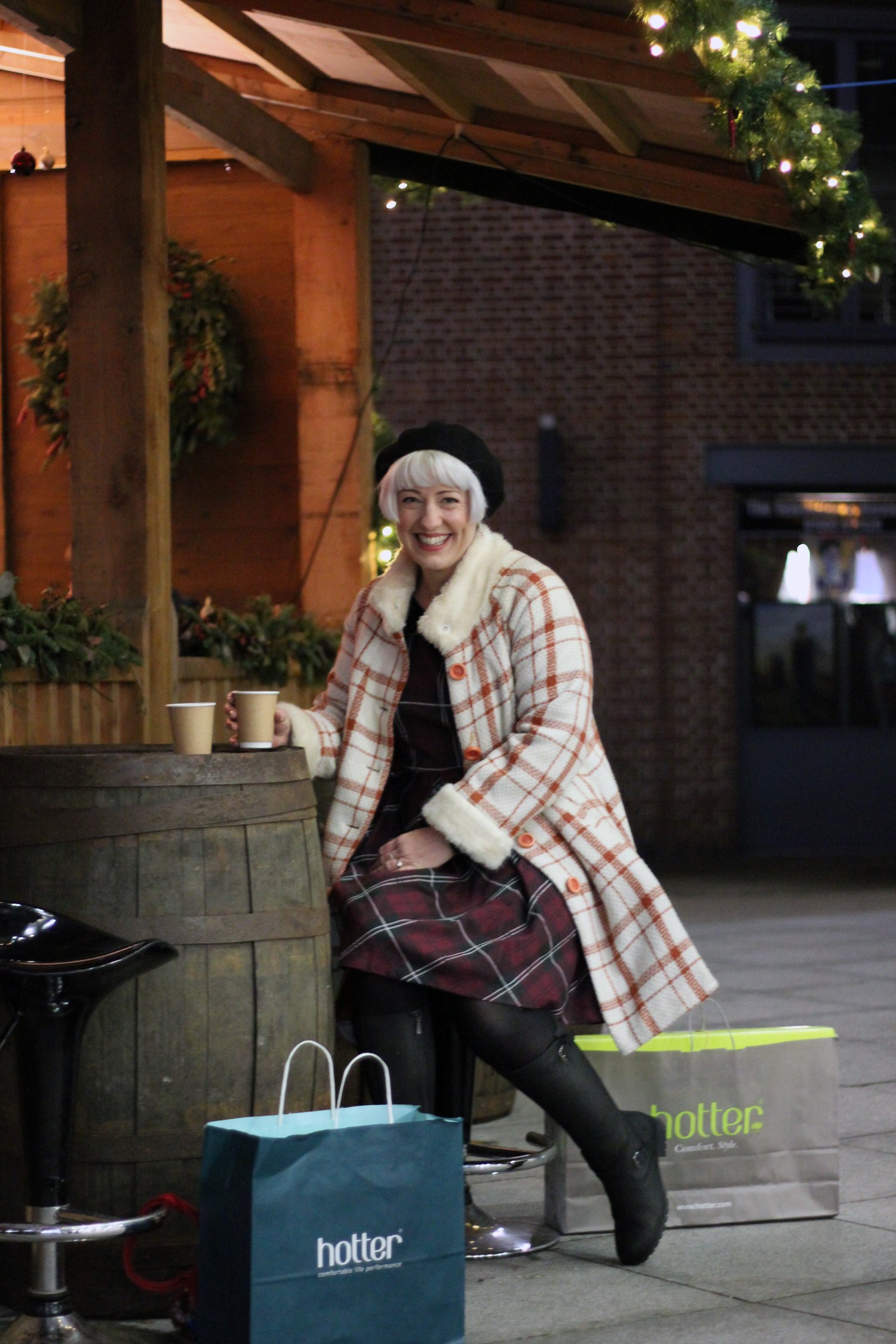 On Friday night my new biker boots carried me for more mulled wine, then onto Yo Sushi for dinner, then for a final cocktail, before carrying me all the way home, without a single complaint of rubbing or blisters, which is impressive for new boots. Anyone who's ever tried to break in a new pair of DMs can tell you that there is a painful period before they become comfortable. These skipped that part and have leapt straight to the comfortable part.
I've pretty much worn them every day since I got them, mostly because they also keep my legs warm in a way that tights can't quite manage and it's COLD out there. Brrrr.
Big thanks for Hotter shoes for treating us to new boots. I highly recommend a visit to one of their stores if you're not sure what size to get, because their staff are always incredibly knowledgeable and helpful.
♥ Belle Boots ♥ Phoebe Boots ♥