Since the Pugs came into our lives 2 years ago I've developed quite a large mental rolodex of dog-friendly places to take them. It's nice to have them as part of our lives and we want to take them on holiday and do nice stuff with them.
Besides, if we need to leave them with a sitter it can add over £100 to an impulsive one night getaway, basically putting it out of financial reach.
Last November, for our Wedding Anniversary, we were kindly gifted a stay at the dog-friendly Double Tree Forest Pines. A review of which I obediently wrote up and then forgot to publish. So, with a little updating, here it is, just 3 months later.
The Double Tree Forest Pines is in Scunthorpe. Not the first destination that springs to mind for a romantic getaway, but actually it's not really in Scunthorpe at all it's near the much more quaint sounding Broughton in North Lincolnshire, which sounds much better. It being November, when we arrived it was both dark and rainy, but the hotel reception area was bright and friendly, and staffed by people who immediately made a fuss of the Pugs and gave them treats, gave us all the information we needed on our rooms, and then gave us a treat in the form of a warm cookie to eat in the lift on the way to our room.
The Rooms
Double Tree is a chain of hotels, not an independent boutique, and the room was exactly what I anticipated. It was clean, cosy and comfortable, with soft lighting and cosy velvet cushions on the bed.
It was neither spacious nor tiny, but had everything you needed, including a small seating area and space for a dog bed and suitcase storage.
I took some photos before we inevitably messed it up, and then set about getting ready for dinner.
This being our Wedding Anniversary we wanted to treat ourselves to a nice meal and I'd bought fancy shoes to wear on the basis that the best thing about dinner in a hotel is that you don't have to walk far.
The lighting in the bedroom was useless for applying make up, but the bathroom, thankfully, featured a large well lit mirror!
The Food
As we were away for our Anniversary, food was a big part of the draw. We didn't really want to leave the Pugs unattended in the room all evening, but fortunately Forest Pines offers the chance to eat in the bar with your pooches in tow.
In some places this means you are given a different, often less extensive and more basic menu, but as far as I could see we had mostly the same options as were available seated in the restaurant, just presented slightly differently and with more of a focus on pizza.
We opted to sit on one of the big squishy sofas, because this gave us the opportunity to fling down a handy blanket that we'd bought and let the Pugs sit with us.
The only difference dining in the bar is that we had to go and order ourselves rather than having a waiter come to the table. This meant 2 things, firstly that I got to show my shoes off a bit more, and secondly that the Pugs had to wait for our food to be delivered before they had any more staff to make a fuss of them.
The decor in the bar was typical of a stylish 4 star hotel. It had quirky touches and prints, comfy sofas and art work and a TV on the wall showing rolling news and adverts for various parts of the hotel that we studiously ignored.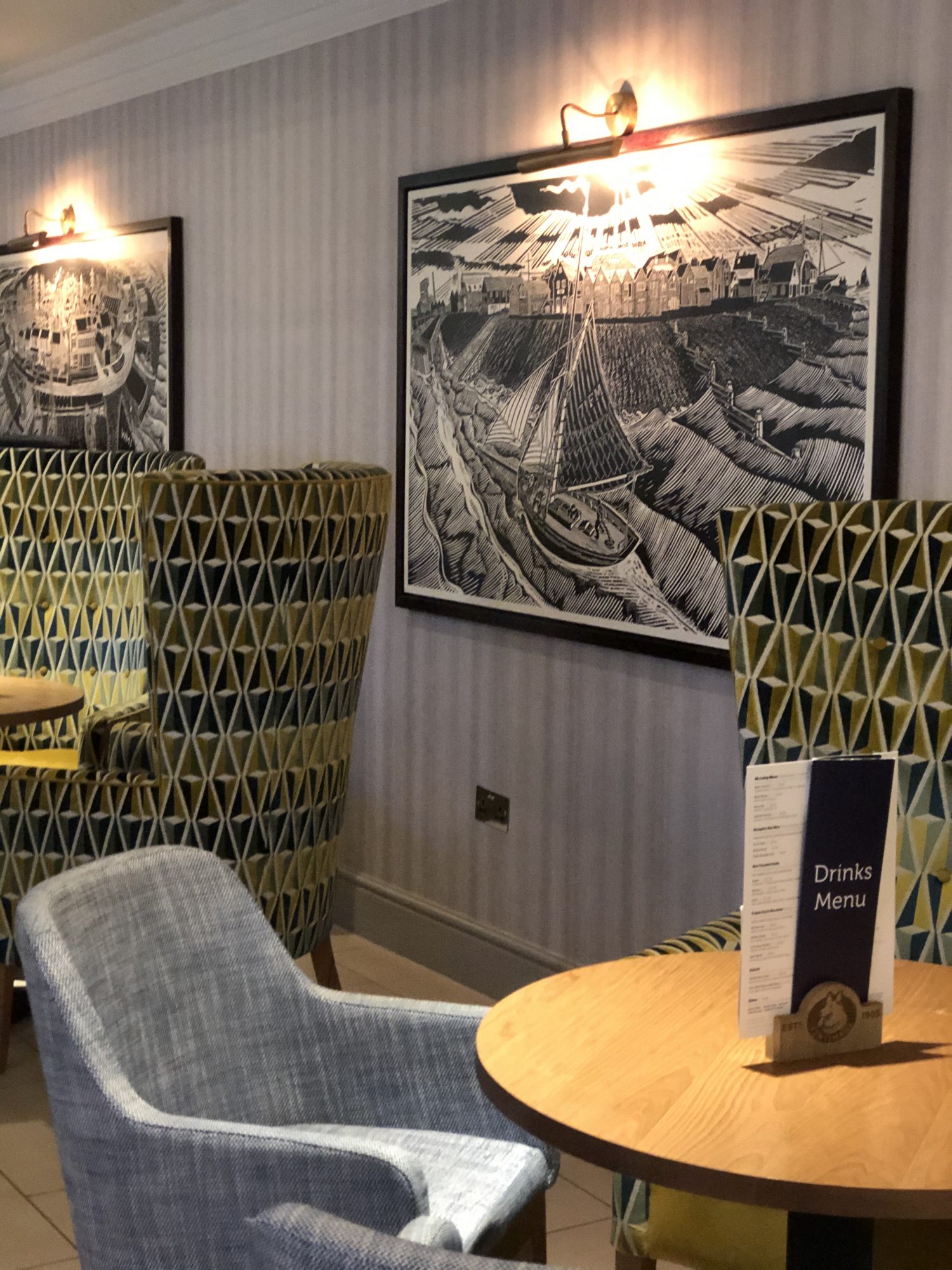 We ordered a bottle of wine and both opted for pate to start, served on the obligatory wooden board with some REALLY good bread. Then we bypassed some of the fancier options because the pizzas looked amazing.
And then. Dessert. We were stuffed, but the rolling adverts that we had obviously not done a very good job of ignoring on the TV had shown a couple of the desserts and they looked drool-worthy, so we decided we had to try them.
I opted for chocolate brownie with blood orange ice cream while Mr LLL opted for Eton Mess. The Eton Mess wasn't *quite* as piled high with cream as the rolling adverts suggested, but frankly that was good thing as we'd never have managed to finish it, and they were both delicious.
And then we toddled ourselves and the Pugs off to bed to sleep off all the food.
Next morning we left the Pugs in the room and headed down to the restaurant for breakfast. It was a very nice atmosphere for breakfast, it made me think of a ski lodge for some reason, not that I've ever actually been in a ski lodge, but there you go. It had a very pleasing mid century Scandi sort of feel.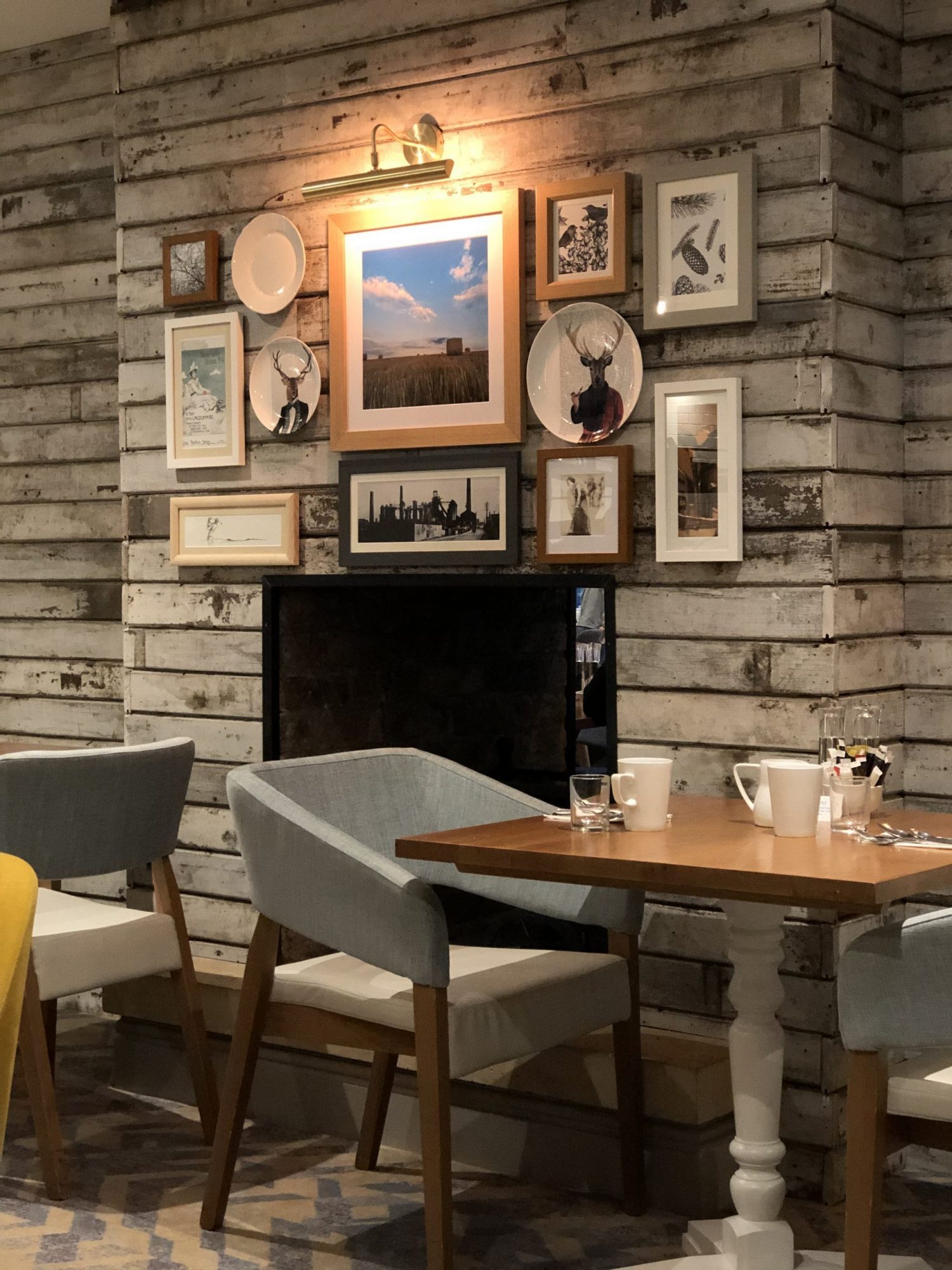 Breakfast was buffet style, so you just grabbed a table, wandered off and helped yourself to pastries, cereals, an exciting array of porridge toppings and the like.
Again, I think it's what I would expect from an upscale chain of hotels. Beautifully presented, lovely food, lots of slightly unusual options like cinnamon or mint sugar and pumpkin seeds to top your porridge that made it feel a little bit special.
The Spa and Grounds
The grounds are one of Forest Pines big selling points. It's actually a golf club, if golf is your thing, it's not mine, and it's set in 190 acres of woodland to explore.
Normally this would be a dream with 2 Pugs who like to sniff things, but the night we stayed there was constant torrential rain and we had to literally carry them outside and once they'd done their essential doggy business they just wanted to go straight back in.
Thus all I can say is that from my brief glimpse I bet it would have been lovely to walk round on another day.
The Spa, however, was another matter. I did have to brave the rain to get to it. It's inside a separate building that also houses the golf clubhouse and gym.
I wished I'd bought my gym kit as I was feeling surprisingly energetic and fancied a workout, but I had not, so I made do with a swim, then spent some time luxuriating in the large raised Jacuzzi and the steam room before returning to the room to pack my things and brave the journey home.
If you were visiting as a couple and didn't have to worry about leaving your dogs alone in the room then the spa is open till 8pm on weekdays and 6:30 on Saturdays, so I think it would be lovely to have a pre-dinner chill in the jacuzzi when it was dark outside. The Jacuzzi and sauna were large, and to set it apart slightly, it also had an "experience shower" which you could choose between nice and warm or blooming freezing, plus I think it had some aromatherapy options.
And so endeth our Anniversary adventure with Pugs. The Forest Pines would make a perfect treat as a stopover on a long journey and is a perfect destination for a spa break or for golf lovers.
Big thanks to Double Tree for saving us from an Anniversary evening in front of the TV by inviting the Pugs and us to be their guests.
For more information on the hotel, including booking, visit the Forest Pines website.
Related