Well, there's just 3 days left of 2010….
How was it for you?
It's been an interesting one for me. Starting with the immense weirdness of appearances in several National newspapers back in April, I've also done 2 live radio interviews, enjoyed judging the Simple Teen Star competition and working with some fabulous people like Lady K Loves and Flamingo Amy. I've met some fabulous people on a personal level and Retro Chick has gone from strength to strength.
If you'd asked me last Christmas I would never have dreamt I'd have done half the things I've done this year and it just goes to show that you can't predict what the future will hold. Sometimes I find the uncertainty of life terrifying and if I make one resolution this year it will be try and stress less about things I can't control and focus on the present.
To round off the year I thought it would be fun to scoot back through my stats and have a look at the most read posts this year. I've left out giveaways and only included posts written this year. So if you missed them first time round I hope you enjoy the chance to catch up, and if you've read them all already then MWAH! I love you!
It might help if you try and imagine the voice of Tony Blackburn and some suitable perky countdown music as you read….
Aaaat 10…..
Amidst the excitement and confusion of random stories in National Newspapers I thought that people finding me after reading an article on vanity sizing might like to know where they can get lovely clothes made to their own measurements rather than an arbitrary sizing scale. It's not just for rich people with dressmakers you know.
Aaaaat 9….
Whilst trying to find a suitable outfit for an event with a "future retro" theme I used the 40s noir style of Rachael from Blade Runner as inspiration.
Aaaaat 8……
In which Retro Chick tells you how skint people like her can wear the same dress over and over again and keep it looking fresh by changing the accessories, and also where to find those accessories for next to nothing.
Aaaat 7…..
This is without doubt one of my favourite posts of the year. Every girl secretly wants to be a fairytale Princess, here's how to take what we learn from Fairy Tale Princesses to make your life feel a little bit more magical.
This can definitely stand occasional re reading when life gets a little bit too grumpy.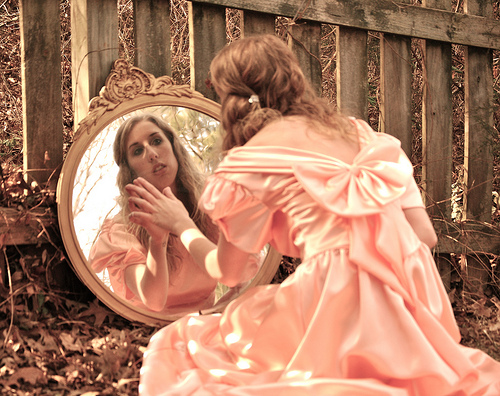 Aaaaat 6….
The article that sparked the newspaper stories and lead to people on the Daily Mail website discussing whether I look like a size 10, if I'm wearing my dress right and what dress size Marilyn Monroe wore (yawn, she was tiny and curvy and at no point would have worn a modern UK 16 dress size, you can convince yourself otherwise if you wish but it's not true)
P.S. "Samantha, Derby" for the record that dress has a side underarm zip, if it was any baggier it would look weird (though I'll probably admit that the A line style is the only reason it fits my hips, you're still a cow though)
Aaaat 5…..
A rather random appearance from a silly little throwaway post about the Head & Shoulders girls and how much I like their hair. Apparently other people like their hair too and it's appearance in this list is solely down to the power of Google.
Aaaat 4….
A peek at some of my favourite beauty buys, which led to lots of others appearing in the comments. I loved that I got to follow it up with some other fab tips from readers in a later post.
Aaaat 3…..
Another somewhat random appearance so high on the list of a slightly throwaway post about the character Marty Maraschino in Grease. I guess she's more popular than we thought!
Aaaat 2….
Having bought this "wonder cream" on a (slightly sulky) whim I decided to review it for the blog. It seems there are lots of people that want to know if it works before forking out £14. I liked it, but remain slightly sceptical about whether it's the cream or the massage that made the difference.
Aaaaand finally, the one you've all been waiting for, the number one most read post on Retro Chick for 2010 was…….
I only wrote this at the end of August yet it's managed to rack up over 6,500 views all on it's ownsome. I knew these were lovely clothes, but didn't expect it to be quite so popular!
It also sparked a later post on an Lena Hoschek inspired outfit, and this is definitely a designer I shall be keeping a close eye on.
Related