Pin Up Parade has been my sponsor for over 6 months now, but shamefully I've only just got around to properly introducing you!

Pin Up Parade is more than a purveyor of pretty frocks, and separates, and accessories, it's also a mecca for all things Pin up.
There is a features section, which includes articles on getting into Pin Up, 50s make up techniques and Rock n Roll Pin Ups. Interviews with leading lights such as Bernie Dexter, Katie Halford from What Katie Did and Nicole Klein of the Hourglass AND a Gallery containing photo galleries of some of the best modern day vintage pin ups and burlesque artists. There's lots of albums to check out, but some of my favourites are Banbury Cross, Honey Wilde and Fleur De Guerre.
Of course, then there's the pretty things she sells. As well as the pretty frocks the shop also features a Mens section and a  Books and accessories page which is actually very heavy on the books. There's books on vintage hairstyling, magazines like Frauleinwunder and Bachelor Pad and CDs as well as accessories like compact mirrors and tea towels!
Seeing as I'm pretending winter won't be happening for much longer (it'll be March in 6 weeks!) I've gone straight for the pretty frocks and picked out a few of my favourites that'll take you from Winter to Spring (and some of them are in the sale!)
Nataly Dress
£70

£50

I love this dress so much. I'm hoping it'll still be there when I have some money (which will probably be sometime in March, how depressing!)
Rita Dress £65
How stunning is this? And what an amazing colour!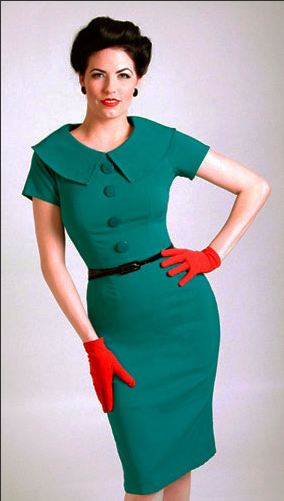 Cherry Gingham Maternity Dress £65
I know that unlike me, some ladies feel the urge to reproduce. For you Pin Up Parade has this gorgeous cherry and gingham print maternity dress. Probably more suitable for Spring, than winter, but lovely, none the less.