The hunt for the Perfect Red Lipstick continues…..
I'm trying to alternate my reviews roughly between lipsticks at the premium end of the scale and ones more toward the "every day" end of the scale. I'm hoping that by the time I've reviewed as many lipsticks as I can get my hands on I'll be able to get a good idea of a few favourites to recommend and help you get an idea of what lipsticks are worth you trying for yourself.
Today we're back up toward the premium end with Bare Escentuals Bare Mineral Lipstick in Red Velvet Cake at £13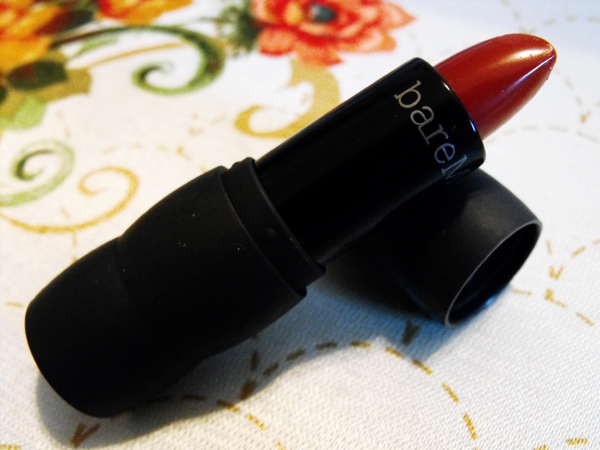 The Blurb
I'd heard of Bare Minerals as they make mineral foundation, not one I'd tried, but I'd heard of them none the less. It's a brand sold mostly through the QVC Channel, but there are other online stockists. I've not personally seen it in stores, but apparently John Lewis do stock it, and, to be fair, I don't spend an awful lot of time at the expensive make up counters!
Bare Minerals prides itself on being 100% natural, with no nasty chemicals. The press release on the lipstick says
"Some things are just naturally decadent — like our creamy, long-lasting lipcolors, which are made from only the best all-natural ingredients. Exotic oils, natural waxes and plant extracts create the perfect velvety matte formula and finish – a key trend this Winter. Think of it as healthy nutrition for your lips."
The Pros
I REALLY love the colour. It's a deep, browny shade of red that I really like for everyday. Dramatic, but not too "in your face". The name of the shade "red velvet cake" is perfect as it is that chocolatey red colour.
The texture feels nourishing and creamy and stayed moisturising all day so I could still feel the lipstick as I rubbed my lips together. I only needed to reapply the lipstick after eating, but if I hadn't there was still a slight stain on my lips, it didn't disappear completely.
The lipstick on my lips.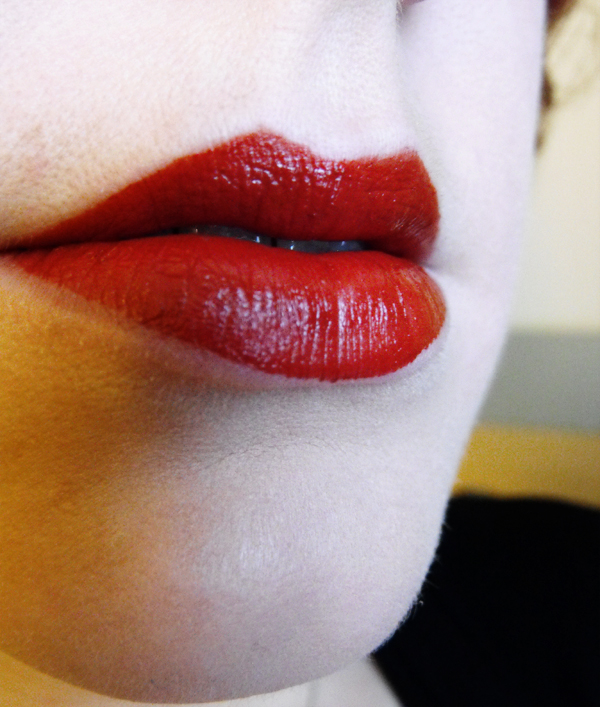 I liked the highly pigmented formula and heavy texture which left good colour with just one application.
I also liked the packaging, which was sleek and contemporary in a matte black container with curved lines. Unusual, but still fitted my vintage stratton lipstick holder with mirror! It was sturdy and seems pretty unbreakable, I can't see the lid cracking any time soon unless I get the urge to hit it with a hammer!
The Cons
Some people might find the texture too heavy, I also found it felt slightly "grainy" when I rubbed my lips together. I didn't mind it, but if you like a smoother lighter formulation you'll hate it as it's very heavy and pigmented.
As the lipstick wore off it didn't wear off smoothly, it left a stain behind, but the heavy formulation also had a tendency to show up every slight crack in your lips. I could still feel the lipstick when I rubbed my lips together, which made me think there was more left on my lips than there was, so without checking in a mirror I could have looked awful without realising!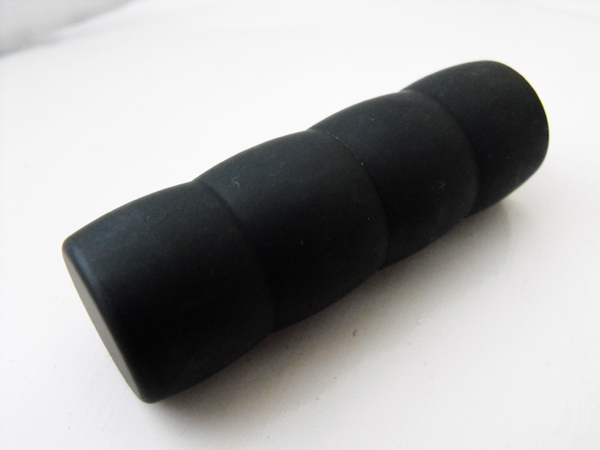 The lipstick did also bleed slightly on my top lip, I was provided with a lip liner with the lipstick in a neutral shade, but it was one of those twist up ones and I find them impossible to use. I had a go with it, but I'm not sure it made any difference to the bleeding, it was quite minor though and it is a tendency red lipsticks do have.
I found that the pretty matte packaging looked shabby fairly quickly if I left it kicking around in the bottom of my handbag, so maybe it's one for ladies with small, organised bags!
The lipstick in wear!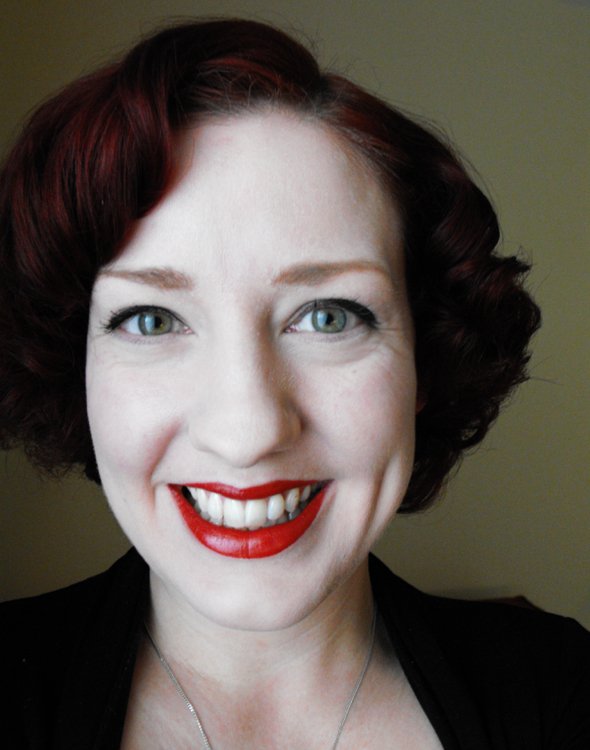 The Verdict
I really like the lipstick and whether I bought it again would likely be a matter of practical finances mostly. I probably wouldn't go out of my way to save up for it, but if I was feeling flush and needed a new lipstick it's probably one I'd treat myself to. I'll certainly be using the sample again as an every day lipstick but in my case £13 is slightly too much for an every day lipstick, though I know a lot of people regularly use lipsticks in that price bracket!
Lastly I want to briefly mention that I did manage to break the lipstick off right at it's base. This isn't something I've done to a lipstick for a very, very long time. The break was right down at the base, curved inside the tube. I have no idea why or how it happened. I know it's a common thing to happen to lipsticks, but I'm not normally one for twisting lipsticks up too high! I'm sure I probably dropped it or something, but I thought I ought to mention it, just in case! I love the lipstick so I've hopefully repaired it with the help of a hairdryer!
Bare Minerals lipstick has an RRP of £13. Call 0870 850 655 for stockists,
or you can get it from John Lewis online