I wasn't planning on reviewing another lipstick for a while…
Then I got an email about a new range for No 7 by Poppy King, and would I like a lipstick to review *sigh*. Well, I couldn't resist!
The Poppy King range for No 7 consists of 7 shades, priced at £12 each, available from Boots. I'm reviewing the History shade, which is a classic red.
Before we start, onto the chart….

As you can see it scores roughly equivalent to the DuWop Private Red, except it's cheaper and the shade is a lighter, more classic, clear red.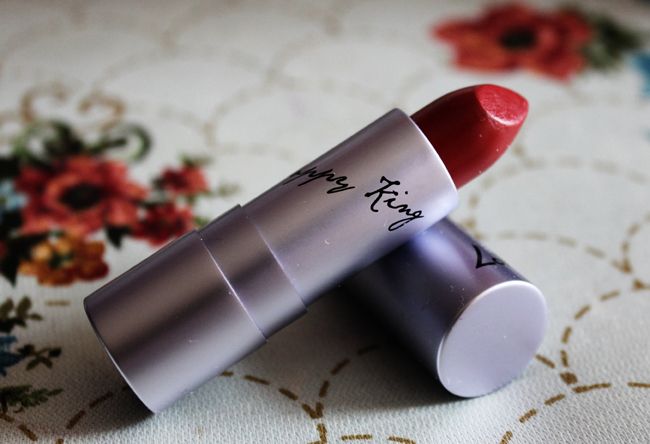 The Blurb
The lipstick comes with the rather lofty claim that it will "change women's views of lipcolour forever" it doesn't quite explain HOW it will achieve this though.
It does come with an introductory video to tell us all about it though……

The Pros
When it first arrived I was very taken with the cute packaging. It comes in a pretty polka dot box, with a little note inside and a nice, good quality metallic lilac tube that is small and compact so won't take over your handbag and will fit in vintage lipstick holders.
The lipstick itself has a lovely light and glossy texture, which initially disappointed me slightly. However, bearing in mind I'm reviewing this over a few lovely sunny days, it was actually quite appealing once I'd got used to the idea that this wasn't going to be an intense red. You can apply several layers to get a more intense shade, or leave it at one for a very light tint.
This is the lipstick on my lips after one coat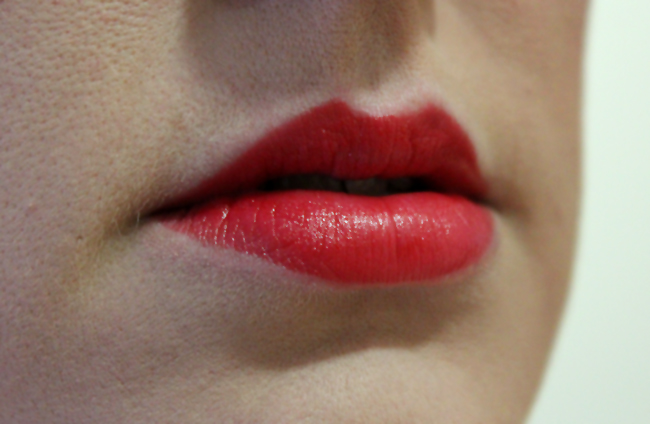 The light texture meant this was a dream to apply. I didn't need a lipliner, in fact a lipliner was far too heavy for the lipstick, and it really only needed a little more care than you would use to apply lipbalm. I experienced no bleeding around the lipline with the lipstick, even after applying it quite thickly.
Because it's so light and the red is a classic true red I think that this is a great "introduction" lipstick for people who don't wear the colour often
The Cons
This is not an intense long lasting lipstick.
I found I needed to reapply every couple of hours to get a consistent, smooth colour. Left to it's own devices for 4 or 5 hours I got a line around the outside of my lips, though this was easy to fix. I don't think with this level of reapplication needed the lipstick would last long, considering the price.
If you're a regular red lipstick wearer you'll find the colour far too lightweight. I certainly wouldn't wear it on an evening out when I wanted an intensity of colour, but for an easy wearing day time shade it's fine.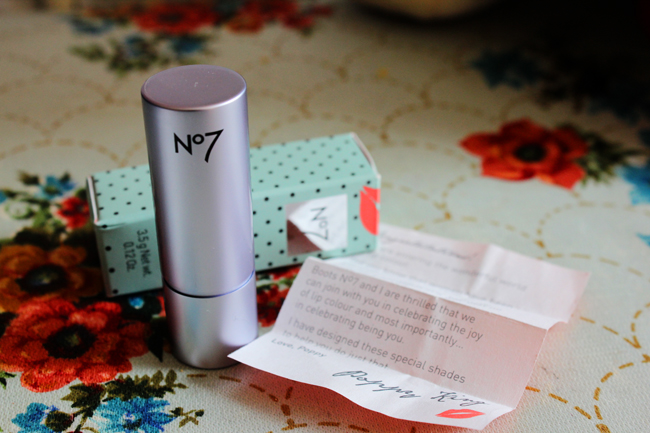 The Verdict
An easy wearing day time shade for Summer. If you never wear red lipstick but fancy dipping a toe into the waters this is ideal. You can start with a light tint of colour and build it up in layers as you get more comfortable.
I actually imagine I'll get a fair bit of use out of this over the summer as it's lightweight and I'll probably wear it on days when wearing an intense red would be too high maintenance. Picnics in the park, afternoons in the beer garden, that sort of thing!
In short, if you're looking to buy a red lipstick there are better options. But if you're looking to buy an easy wearing lipstick with a hint of red, or to try red lipstick out for the first time then this is top notch.
And finally, here's what it looks like on a lovely sunny day….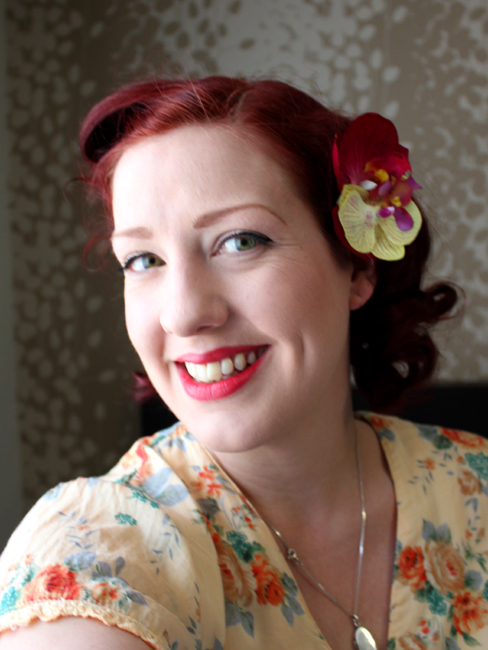 No 7 Poppy King Lipstick is available from Boots.com priced at £12
 Disclosure: I was sent this free lipstick to review. All views and opinions expressed are my own. 
Related