It's Tuesday after a 4 day weekend, so lets ease our way back into the working week.
A nice start I thought would be some pretty jewellery from long time sponsor Eclectic Eccentricity who I've yet to grace with a proper spotlight!
Eclectic Eccentricity are actually a local, Norwich based, company and I finally had the pleasure of meeting some of the small team behind it when we rocked up at the Vintage Wedding Fair to find our little stall was right next door.
Their jewellery has a wonderful whimsical, quirky look and a romantic feel that seems to sit so perfectly with floaty summer frocks. I recommend signing up for their newsletter as they have pretty regular special offers!
My favourites on the website at the moment….
Set Sail Anchor Ring £8
This manages to pick up on the ever popular nautical look for Summer, while still being very pretty and feminine.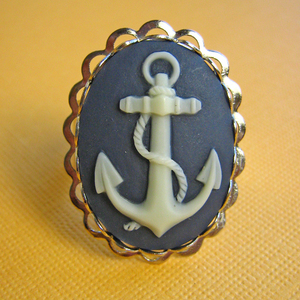 Some Times Pocket Watch Necklace £20
I love pocket watch pendants, there's something very magical and a bit Alice in Wonderland about them.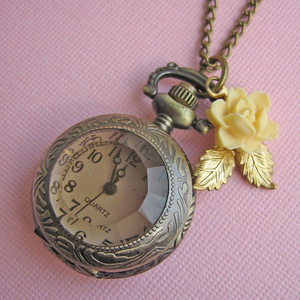 My Fair Lady Cameo Hair Slides £7.99
A variety of decorative hair clips to slip in amongst pin curls and victory rolls are a necessity and these are so gorgeous for romantic summer evenings.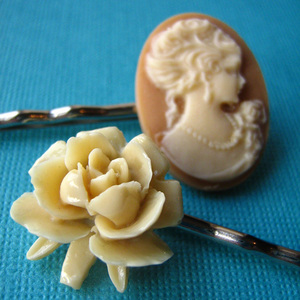 The sense of romance and whimsy makes their jewellery perfect for those of you planning a wedding, and the website even has a special Bridal section to make things easy for you. I'm already married, but that doesn't stop me occasionally having little daydreams about what I'd wear if I could do it again. So I've got some favourites from that section too!
Named after the Greek Goddess of Nature this is a lovely understated alternative to a tiara or fresh flowers.

Wedding Belles Bird Earrings £15
Pearls are a classic for weddings, but I love the twist of having the swooping swallows carrying the pearls.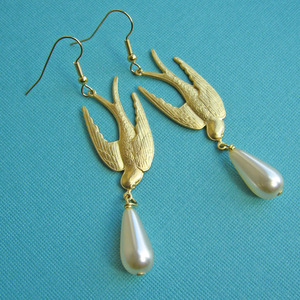 All the Luck Horseshoe Necklace £13.50
Horseshoes are another motif that pops up a lot at weddings. I know people gave them to me at mine. I think this would make a fantastic gift for a Bride on her wedding day.