I hope I'm not getting ahead of myself a little….
After all it is still May and likely to snow at any time (can you tell I have a deep distrust of UK weather?) but I thought it was time to look at swimwear. I actually stayed last week in a place where I required swimwear, all I have is a black and white basic swimsuit bought in a panic a few years ago. Fine, but it doesn't fit properly. I have a long body and short legs, meaning swimsuits go all "trampoliney" in the small of my back. Over the years I have established there are 3 ways to counteract this:
A bikini
An adjustable halterneck
Some kind of elaborate cut out design
I don't often go swimming, but I think that a decent, flattering swimsuit is something I really should have. Last year I wrote almost exactly the same thing, and picked out some gorgeous retro swimwear from Lady K Loves, For Luna, What Katie Did and Mama Maria. Yet inexplicably I still haven't filled that massive wardrobe hole.
Why?
Well, probably mostly price, and the desire to try these things on to make sure they're flattering enough on my bizarrely shaped body to justify the cost before I fork over the dough.
So, this year I've scoured the High Street for some fabulous, flattering and vaguely affordable retro swimwear that I might just pop in store and try on. I won't lie, it wasn't easy. The High Street is terrified of swimwear that doesn't show one of the 3 B's (Boobs, Belly button, Bum Cheeks) and their insistence on modelling it on women with elbow joints bigger than their upper arms doesn't help in assessing it's fit, but still, here's what I came up with…..
Black Frill One Piece Swimsuit – Topshop £34
I'm not sure how flattering that frill will be, but it's an adjustable halterneck with low legs and cute frills on the hips. Not only that, but Topshop came up trumps with a cute monochrome high waisted bikini as well. It's out of stock online, but worth checking in store.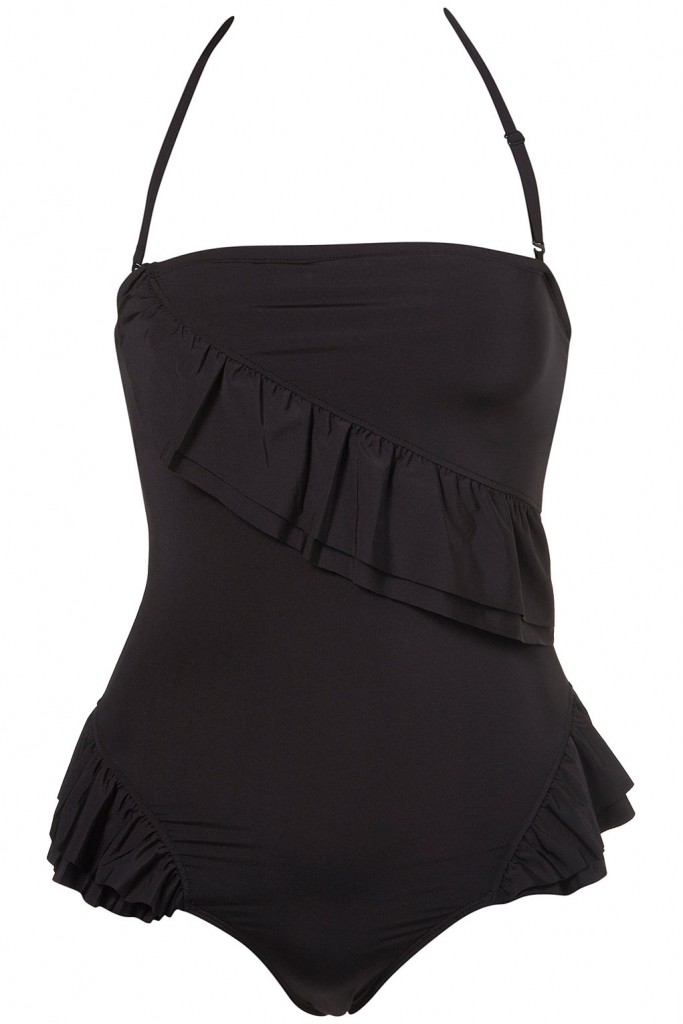 I'm strangely taken with this with the skirt. It's a bit like a playsuit you can swim in. I'd need to try it on in case it looked horrendously frumpy on someone with curves, but with a carefully planned retro beach/hot tub hair do and some red lipstick I think it'd look cute.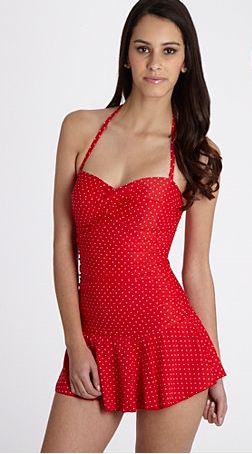 A bit of a twee Cath Kidstonesque print and higher legs than I'd ideally chose, but a good choice if you need adjustable cup sizes.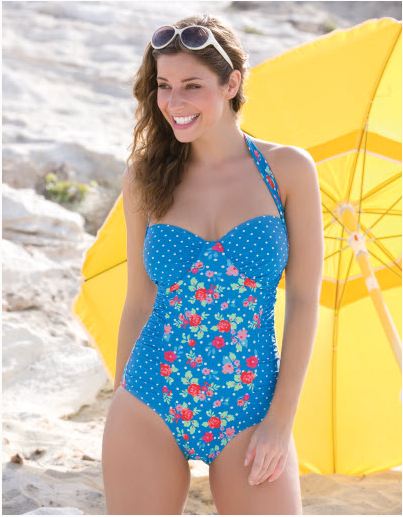 Tummy Control Halterneck Swimsuit – Ann Harvey @ House of Fraser £30
I like this! Adjustable halterneck, and the rear view on the website shows it COVERS YOUR WHOLE BOTTOM. Thus avoiding your bottom trying to eat your swimsuit when it gets peckish.
Plus, only £30, retro bargainous….
Viva Boyleg Maillot Swimsuit – Seafolly @House of Fraser £95
Ok, ok, so £95 isn't exactly "affordable" but it ticks all the other boxes and I thought it was cute. So call this is just one to lust over.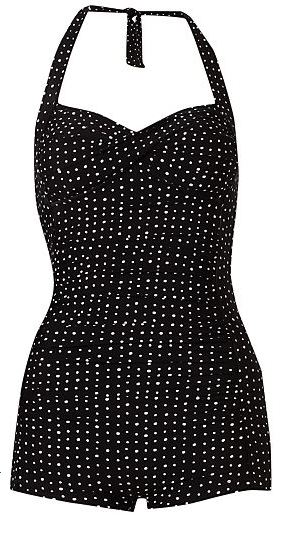 Related