I always wonder whether to bother posting outfit photos when you've seen the main part of it before.
But in the end I decided, hey, sod it. It's not always about the frock, it's the accessories that make it an outfit!
This is the same bargain Kitty Copeland purple dress that I wore on my Birthday in May. On it's first outing I wore it with black peep toe shoes, a little black pill box hat and no other accessories at all. This time round I teamed it with pink and pearls for a bit of a softer look.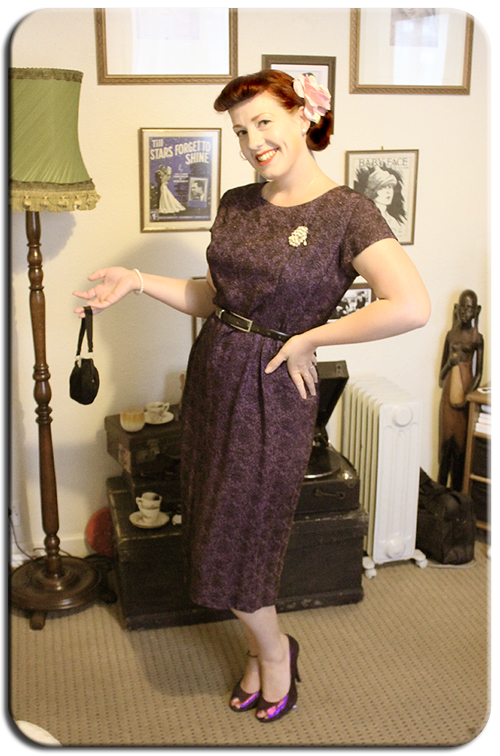 ❤ Dress, Belt, Bag & Brooch - Vintage ❤ Hair Flower - Abilu Creations ❤
 ❤ Shoes -Red or Dead ❤ Pearl Bracelet - A gift ❤
The brooch and bag I'm wearing are both gorgeous. I've carried the bag a few times, it's a black plisse evening bag with a diamante clasp. It looks to be 40s or early 50s from the label inside and was a gift from Mr Chicks Mum. The brooch I have no idea of the age of, it has ges gesch stamped on the back, which means something along the lines of "patent granted" in German, but it has no other markings and as the the mark is still in use today it's not very useful in dating! It's definitely not new, and it is very pretty with pearl droplets and shimmery beads.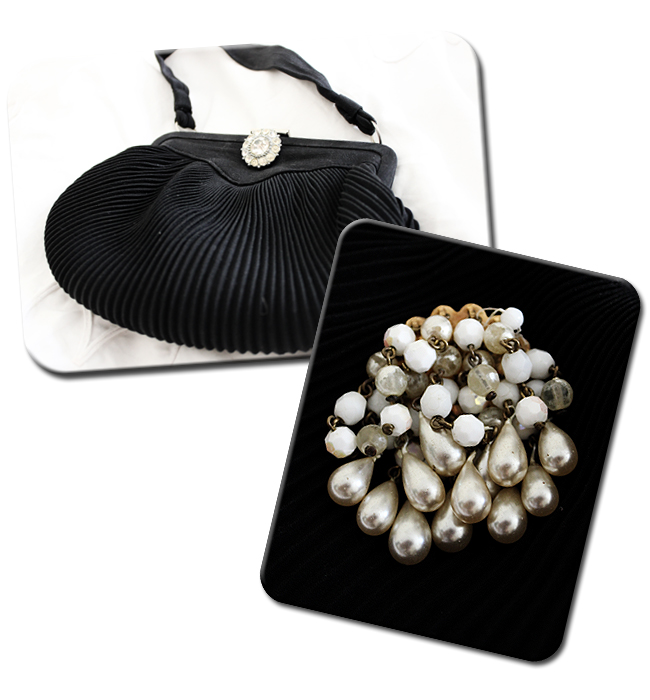 I've also been sporting faux bangs this weekend. It's not a style I've worn a lot since I started messing around with it in January as I'm not sure it's the most flattering on my face shape, but I fancied a change from my normal waves and I actually quite like it with the huge hair flower.
I confess, this outfit isn't for a midweek jaunt to the shops to buy milk. It's actually a bit of a delayed posting. This is the outfit I wore to last weekends No Strings Boogaloo, of which you can see more over on Vintage Norwich….