Today I want to look extra nice.
Some may say that's just not possible (and they might even mean it in a nice way). Others may say I should have thought of that some time ago and embarked on an intensive programme of exercise and healthy eating in order that I might have clear glowing skin and a trim figure.
Yet others may say; "Oh, for goodness sake woman, get on with it and tell us why"
So I will.
This evening is Poppy Valentines Spring Summer 2011 collection launch as part of Norwich Fashion Week. I shall be there, offering unwary punters advice and tips on how to style the new collection, or even the old collection or items from the vintage rail in a way that will make you feel as fabulous as you really should.
There WILL be free cup cakes and fizzy wine dished up in tea cups from Pretty Vintage as well as discounts and special offers available. If you fancy popping along then you can find all the details on the Facebook Event Page.
Also in attendance with be Flamingo Amy, and as part of the "looking extra nice" plan she spent 2 hours last night pin curling my hair. By pin curling I mean proper pin curling, like you see in the books, not just "randomly making it roughly circular" like I do.
Look at this, it's a thing of wonder!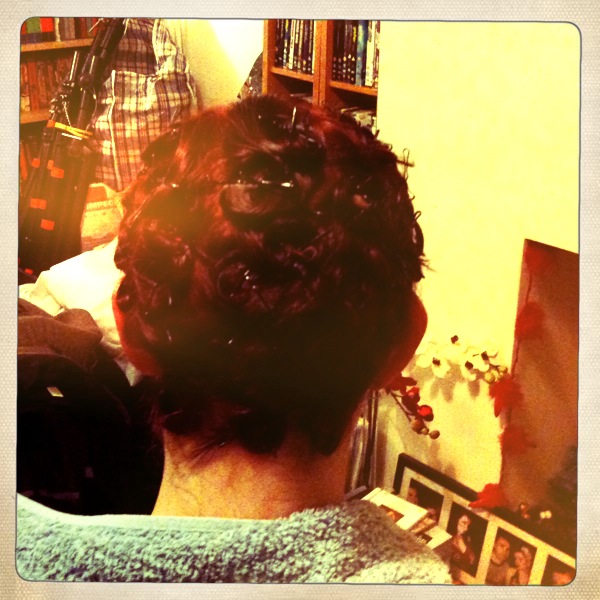 This afternoon she will be brushing it out in front of people, in a terrifying "Will Retro Chick look like a ball of frizz or a beautiful wavy haired temptress" kind of way.
If you'd like to witness the pure terror of live hair experimentation then please do come down and visit us this evening.
I'll be the one with the curly hair…..