It's realllllly cold.
And it's come as a massive shock after that week of glorious Summer we finally got at the beginning of Autumn. I've admitted to myself that it's not coming back and it's only going to get colder, so I need to address the holes in my wardrobe. Or more accurately, the holes in my tights.
I mostly wear What Katie Did retro seamed stockings in nude, with a girdle or suspender belt. I wear them because they're cheap (3 for £10!) suitably vintage looking, and I also genuinely find stockings more comfortable than tights. But when it's really cold I switch to opaque tights. I know many ladies who swear by WKD CC09 stockings in cold weather, but they're a bit pricy for me at the moment.
One thing that I do like about tights is the fabulous colours and prints you can get. I have a great pair of Red or Dead Snowflake tights and some Pamela Mann Christmas Tights. But they're not really suitable for every day wear. My Red or Dead Addy tights with a racer back seam were last years favourites, but they're on their last legs (boom! boom!) so I need some interesting new replacements.
Thankfully there are LOADS to choose from as Hepburn & Leigh have started stocking european brand Adrian, and they have some swoon-some styles, all under £10.
Marilou Seamed Tights £9
50 denier, so they're plenty warm, these are quite striking. Grey tights with a woven in seam and side "buttons"
Mia Tights £10
Boring black tights from the front. From the back there's a sheer panel at the calf with printed corset lace detail in charcoal grey.
Sandra Tights £10
My absolute favourites. Opaque tights with a velvet bow and seam detail and quite an elegant looking corset lace effect. Love at first sight.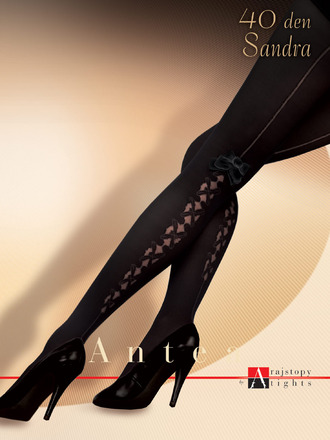 Juliette £10
These are too good to wear under clothes surely? Ones for wearing with the knowledge that only you know how saucy your tights *really* are. Woven lace seams and "stocking tops" then that gorgeous opaque suspender belt detail.