I've had red hair now for 5 years.
That's probably the longest I've kept my hair the same colour for most of my adult life. I was getting bored of it, and needed a change, so last week I impulsively ran out and bought a box of Colour B4 Extra strength colour remover and, with some trepidation stripped as much of the red from my hair as I could.
I was rather surprised that it worked at all, to be honest, and I'm also not a tabby patchy shade either. The ends have been stained slightly by years of red dye, so they're a different colour than the roots, but the overall effect is of a strawberry blonde, which I don't mind at all.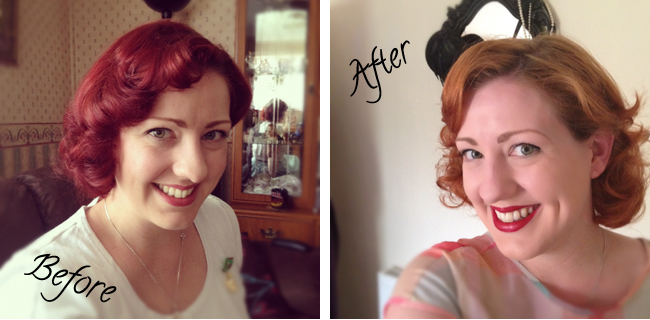 I've got a box of blonde dye, which when I'm brave enough I'll see if it can remove the staining, though I'm a bit worried about just increasing the colour difference between the roots and the ends!
It feels lighter and more summery this colour. Which is appropriate considering the weather seems to have finally run out of rain and this last week has been rather glorious! It made for a beautiful evening on Sunday for our second Flicks and Lips Tutorial, followed by the Sip and Shop.
Our next Sip and Shop will be on the 24th June, if you fancy popping along for some ice cold cocktails, vintage shopping and some lovely company. Here's a few photos from this one (P.S. Please excuse the amount of midriff I'm showing in the last photo, the top isn't actually that short, but when I put my hands on my hips for the photo it pulled the skirt down and it looks like I've gone out in a cropped top!)