Today I thought I'd tell you about my Skin Care routine.
One of the things I love about learning about the past, and vintage glamour, is finding all those forgotten wonder products that our grandmothers and great grandmothers used for generations, and somehow we forgot. The thing I love about living right now is that I'm free to combine those with the latest Hi Tech advances in skin care and cosmetics to get the very best results, for the best price.
I remember when I had a full time job, every pay day I used to end up in Boots with a basket of goodies that would cost me a small fortune. Skin wipes, toners, spot cream, moisturiser, pore strips, shampoo, conditioner, it all seemed to need replacing on a fortnightly basis. Self employment forced me to be more thrifty, but thankfully my particular area of self employment has also led to me finding ways of needing less of this stuff. My Shampoo and Conditioner, for instance, seems to last for months now I only wash my hair once or twice a week, and a monthly bottle of setting lotion is way cheaper than all those expensive volumising sprays that didn't work I used to waste my money on.
My skin care routine varies slightly in Summer and Winter, but these are the products that I find brilliant in Winter.
Cold Cream
I used to have problems with dry patches around my nose and chin, plus I seemed to get terrible spots, which seemed unfair considering my advanced age. I spent a fortune on face wipes (still handy for travel, camping and late night laziness) that just didn't seem to cut the mustard.
Then I discovered Cold Cream. I started off using the classic Ponds Cold Cream (£4.49 for 50ml) which I loved, but didn't last long for the money. Then I started using Boots Traditional Cold Cream at just £2.42 for 200ml. It last ages, the tub is cute and it's really cheap. There is some debate about whether the mineral oils in cold cream block pores. All I can say is that I've been using it for 2 years now and get far less spots than I used to, plus my skin is super soft and blackheads (urgh) are less too. It's richness is particularly good in winter when your skin might need extra protection.
How to use it
Slather it all over your face rubbing it into all the nooks and crannys! Look at yourself in the mirror with terror. I use it to remove eye make up too, and I have no problems, even as a contact lens wearer, but you might want to be a bit careful if you have sensitive eyes.
Leave it for a few moments. Maybe brush your teeth while it's on.
To remove I use a facecloth run under really hot water and then wrung out. I use it to wipe off the cream, rinse again and then hold the hot cloth over my face to open the pores. Then I rinse again and give my skin a bit of a scrub with it for gentle exfoliation. When travelling I decant cold cream into a smaller pot and use cleansing sponges to remove it, which are far more portable.
Witch Hazel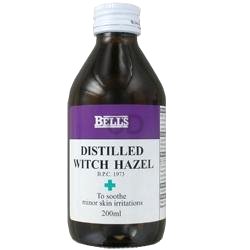 Witch Hazel might not come in a pretty bottle, but as a toner it's brilliant and cheap and you can always decant it. It'll not only remove the last of your cold cream and make up, but it's a great anti-oxidant and astringent so it's good for fighting spots.It's also great for scrapes and cuts, shaving rashes and other skin problems, so having a bottle in your cupboard is a good idea! Take a look at the ingredients of other good toners like Simple Soothing Toner (£3.29) or Burts Bees Natural Anti Blemish Solution (£9.99) and you'll find Witch Hazel there.
Boots Distilled Witch Hazel at £2.99 for 200 ml is the one I buy most often as it's convenient when I'm buying other beauty products, but places like Wilkinsons do have it cheaper (It's £2.09 here on Chemists Direct). It's often with the first aid equipment like plasters and savlon.
Witch Hazel is supposed to be good for dry skin as well, so it's good all year round, not just in winter. If you specifically have a problem with dry skin, and not blemishes, then I have heard very good reports of Boots Traditional Glycerin and Rosewater (£2.32 for 200ml) and it's even cheaper!
How to Use It
After removing your cold cream at night use a cotton wool pad to sweep Witch Hazel round your face. Pay particular attention to round your hair line and nose where you might have missed the cleanser. I also sweep it across my eyes, though again, you might want to be careful if you have sensitive eyes.
In the morning I use it after washing my face with soap (see below) or sometimes on its own just as a freshen up!

Wrights Coal Tar Soap
Another super cheap product. Wrights Coal Tar Soap (85p) is antiseptic, so I tend to use it in the Winter only if I'm having a bit of a spotty moment as it can be a little drying (seriously, I'm in my 30s. I think I'm being punished for not having spots as a teenager!).

How to Use It

Do you really need me to tell you how to wash your face with soap?
Day Cream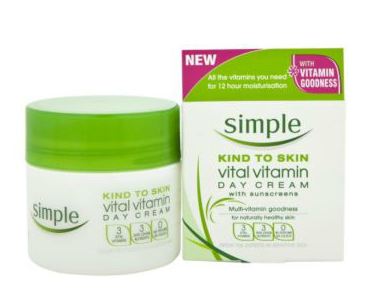 My skin inconveniently has the habit of bursting out into spots and grease, but if I don't use moisturiser it gets terribly dry and flaky. Moisturiser is one of the areas I like to spend money when I can, but I'm not loyal to a particular brand of day cream, and what I buy depends on my budget at the time the last one runs out!
When I'm on a budget I've always been a fan of Simple skin care products, and I'm currently using Simple Vital Vitamin Day Cream that was sent to me over the Summer, it's nice and light and absorbs well as a base for make up, though in winter I sometimes need to use something a little heavier in "high flake" risk areas like around my nose.
When I'm feeling a bit flush, or someone buys them for me, 2 other moisturisers I love are Clinique Dramatically Different and Clarins Multi Active Day Cream.
How to Use It
Again, I'm fairly sure you can all apply moisturiser. But a few tips. Massaging well brings blood to the surface of your skin and will make you feel all glowy and healthy. Also try to leave at least 10 minutes between applying moisturiser and putting your make up on to give it chance to sink in a bit. Lastly, Don't forget your neck….
Night Cream
A product I didn't bother with for years. But, you know, I'm getting on a bit and it's never too early to start looking after your skin! Night Cream might seem like an unnecessary luxury, but it does very different things from Day Cream. A Day Cream might contain sunscreens, and it's job is to protect from the elements and provide a smooth and non greasy base for make up. Night Creams job is normally to provide more intense moisturisation while you sleep, making it particularly pertinent in Winter, and possibly boost collagen levels to help prevent wrinkles.
I'm always wary of any too medicinal claims for skin products, but since using a night cream I have definitely noticed smoother and softer skin on my face. I occasionally try cheaper brands here, but the one I keep coming back to is Soap & Glory's Night in Shining Armour Cream (£13)
How To Use It
See "Day Cream", apart from the make up bit, unless you wear make to bed, which you shouldn't.
I tend to apply night cream in long upward strokes as I once read that helps prevent wrinkles by dragging your skin around. Probably nonsense, but what's the harm?!
So those are my current skin care essentials.
Are there any wonder products you find particularly brilliant in winter? Especially cheap ones!
P.S. I can't guarantee it's good for your skin, but todays Christmas Stocking prize is a miniature of Absolut Citron. All comments on todays post get an extra entry into the Christmas Stocking prize draw! Visit the original giveaway post to see all the prizes, get extra entries and read the T&Cs