Eeeeee! Only 1 day left and someone is going to win one hell of a prize!
Todays I'm pulling another gift out of the Christmas Stocking and you can get 2 more entries into the draw.
Farfetch.com is a designer and luxury shopping website that pulls together stock from boutiques all over the world, and they were kind enough to let me pick something from the site to add to the Christmas Stocking.
I spent ages browsing jewellery and accessories, but in the end I picked out something a bit different and chose a set of 8 napkins by Thornback & Peel. They come from a London boutique called Beyond the Valley and I thought they were a bit festive and would look brilliant on a Christmas dinner table.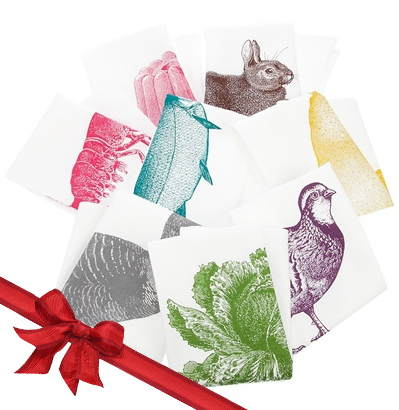 So, I promised 2 more chances to enter today and here they are:
Leave a comment. Any comment.
Follow Retro Chick on Twitter, then come back here and leave another comment to let me know
Remember you can get yourself 15 more entries into the draw by going back over the last 12 days posts and entering on each day! All the rules and links to each days posts can be found on Day One.