On the Twelth day of Christmas Retro Chick gave to me……..
A Revlon Super Lustrous Lipstick in Fire & Ice.
Ok, so it doesn't rhyme and would make a rubbish Christmas song, but it's still a lovely festive red lipstick for you to wear to all those Christmas Parties I have no doubt you're planning over the next week.
Fire & Ice is a shade that Revlon have been making since 1952, and it's a nice, classic, red shade that should suit most people. Or, according to the advert, it's like "flaming diamonds dancing on the moon!" right-ho.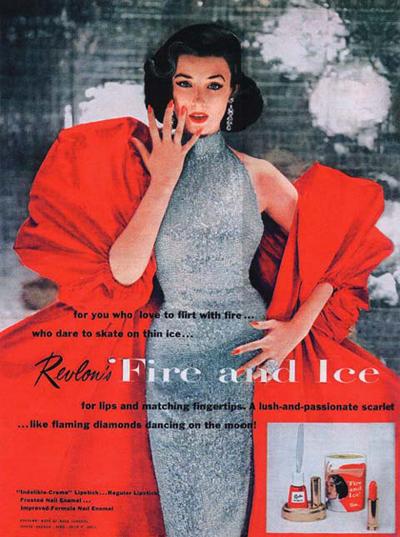 So, because it's the final day I'm going to give you THREE CHANCES TO ENTER today.
For your first entry, LEAVE A COMMENT!
For your second entry, tweet about the 12 days of Christmas Competition the come back here and LEAVE A SECOND COMMENT!
And if you want a third entry you can Share on Facebook then come back and LEAVE A THIRD COMMENT!
Sorry for shouting, but I don't want you to miss out on entries!
So that's it! 12 days, 12 gifts gone into the Christmas Stocking, and at midnight tonight it'll all be over! The final stocking is worth about £250! Just look at all these goodies waiting for a lucky winner.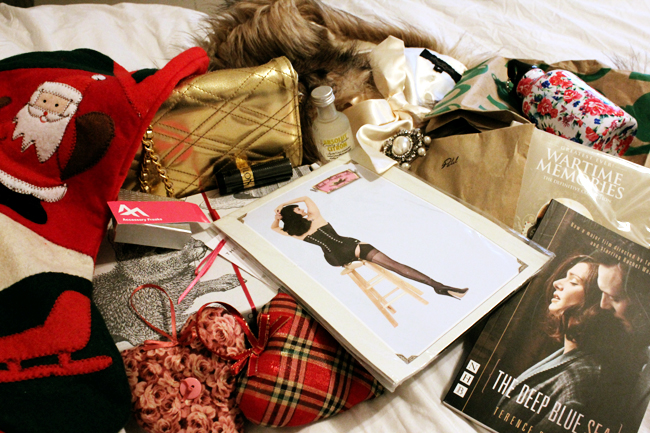 The final list of goodies in the stocking is…..
DAY ONE: Wartime Memories CD and Playscript and Poster from the film The Deep Blue Sea
DAY TWO: Diamante & Pearl Brooch from Aspire Style
DAY THREE: Handmade heart shaped Christmas Tree decorations from my Etsy Shop
DAY FOUR: Water Bottle from Urban Outfitters
DAY FIVE: Glitter Ring from Accessory Freaks
DAY SIX: Sleeping Beauty earrings from Petal Jewellery
DAY SEVEN: Faux fur stole from Aspire Style
DAY EIGHT: What Katie Did Black Retro Seams
DAY NINE: Vintage handbag from Tramp Vintage
DAY TEN: Miniature of Absolut Citron vodka
DAY ELEVEN: Set of 8 Thornback & Peel napkins
DAY TWELVE: Revlon Super Lustrous lipstick in Fire & Ice
You can click on all those links above to go back over the last 12 days and get extra entries, or you can click on the pictures in the handy little calendar below. All in all there's 20 different chances to get an entry, and on Monday I shall be trotting to the Post Office to get it in the post before the last Christmas posting date.
GOOD LUCK!