Sometimes I think that should be the subtitle of this blog.
With the addition, perhaps, of things I'd like to buy and occasionally things I was lucky enough to be given.Well, today I shall be covering the whole range of these topics, this may well be the most bloggy blog I have ever posted.
As most of the country is experiencing a whole months worth of April Showers in one go at the moment these pictures will either be cheery or depressing, because they were taken on Good Friday when the sun was shining and all was right with the world. It might just be a boring road of terraces, but look at the BLUE SKY!
Oh, and yes, those are bunny ears. It was Easter, ok.
❤ Dress – Bootfair ❤ Belt – Vivien of Holloway ❤ Shoes – Clarks Originals❤
❤ Sunglasses – LensWay ❤ Bunny Ears – Sainsburys ❤
The dress was a Boot Fair bargain, I bought it as a lot of about 3 or 4 bits, for which I paid the grand total of £1. It's home sewn so I've no idea how old it is, it looks 50s ish, but I would guess it isn't as most of the other bits in the pile were 60s-80s, but it doesn't really matter all that much. It looks cute with a petticoat, but I left that off as sitting on net for a car journey isn't very comfortable and I was off to the country for the weekend.
The Sunglasses were sent to me by Lensway, but sadly now seem to be sold out! This is a massive shame as they are brilliant sunglasses. They have a slightly winged 50s shape, but the lenses are big and oversized, so they don't look too weird on my face. They are from the Derek Cardigan range which are all slightly retro styled, and have maths symbols on them, where the arms connect with the frames.
They also have polarizing lenses, which means they are great for driving as they cut down on glare, but also means that I thought the screen on my camera had broken as I couldn't see it at certain angles. Cue massive panic till I took my glasses off and took the camera indoors. I am such a muppet. Seriously. I once bought a new laptop as I thought the old one was broken and not charging. I hadn't turned it on at the wall.
Anyway, here's a better look at the glasses. Look closely and you'll see the x and ÷ symbols.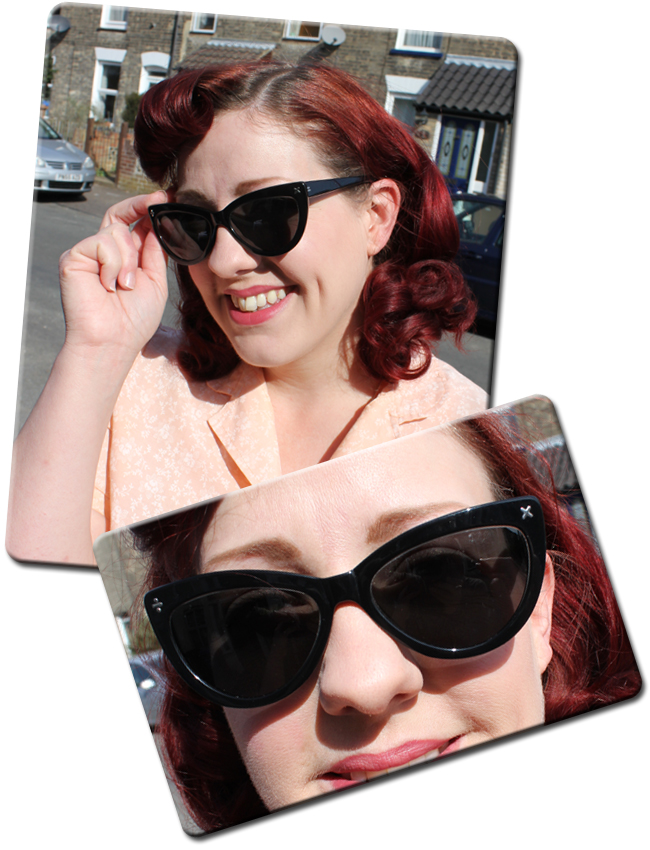 The weather was pretty much dire for the rest of the weekend so the only thing for it was to hit the shops. I say shops, I was hardly wandering around New Look. I dug these beautiful doilies out of a pile of random fabrics in a junk shop. They're embroidered with pale blue cranes.
Then I bought these 2 rather brilliant vintage brooches. The scotty dogs I think are 50s, the ladybird possibly slightly later, maybe early 60s. So cute though! They apparently came into the shop as a lot from the same owner, so it makes me feel rather happy to think they'll be continuing their lives together. I have mentioned how soppy I am before, right?
So today I've featured things I wore, things I bought, and things I've been lucky enough to be given. Just to complete the set, I'll add a "things I'd like to buy".
HOW gorgeous is this Wallis dress? A lovely lady called Sandy Phillips posted it on my Facebook wall with an "I saw this and thought of you". It's utterly gorgeous, and hopefully a good drapey length on a shorty like me as well. Now all I need is somewhere fancy to wear it (and £75)