One of the things I did over my holiday that warrants a little more attention is a trip to a pub.
Pub visits are not normally a note worthy event for me. I am a CAMRA member and I love trying different real ales, so pubs and beer festivals are common haunts for me (and don't think I don't get funny looks teaming a vintage frock with a pint of ale). This, however, was a special pub. The Red Lion, Snargate on Romney Marsh.
My Dad found out about the pub, which is on CAMRA's National Inventory of unspoilt Heritage Pubs, and decided to take us all along for an afternoon drink while we were visiting.
The pub has been in the same family since 1911 and has remained virtually unchanged since WWII. They don't sell lager and all the real ales are poured straight from the cask, food consists of crisps and pickled eggs, and the toilets are outside. It's also one of the few pubs to still open at 11am and close again for the afternoon at 3pm. Which is perhaps lucky as I could easily have spent all day sitting in the sunny beer garden.
The pub is currently owned by Doris Jemison, now in her 80s. She was serving behind the bar when we arrived and is going slightly deaf, which made ordering a challenge. She spent some time looking for biscuits after I asked if I could take pictures before we managed to clear up what the hell I was going on about.
Doris is an ex Land Girl, I had a quick chat with her and it seems she used to make pyjamas and shirts in Penge, before joining the Land Army and being posted to the farms at Snargate when she was 18. She never left, and the pub she now runs belonged to her husband, and before that to his Father, meaning it's been in the family for over 100 years now. She told me that when her husband died 26 years ago she just decided to keep the pub "how the men had it", and it's never been modernised at all.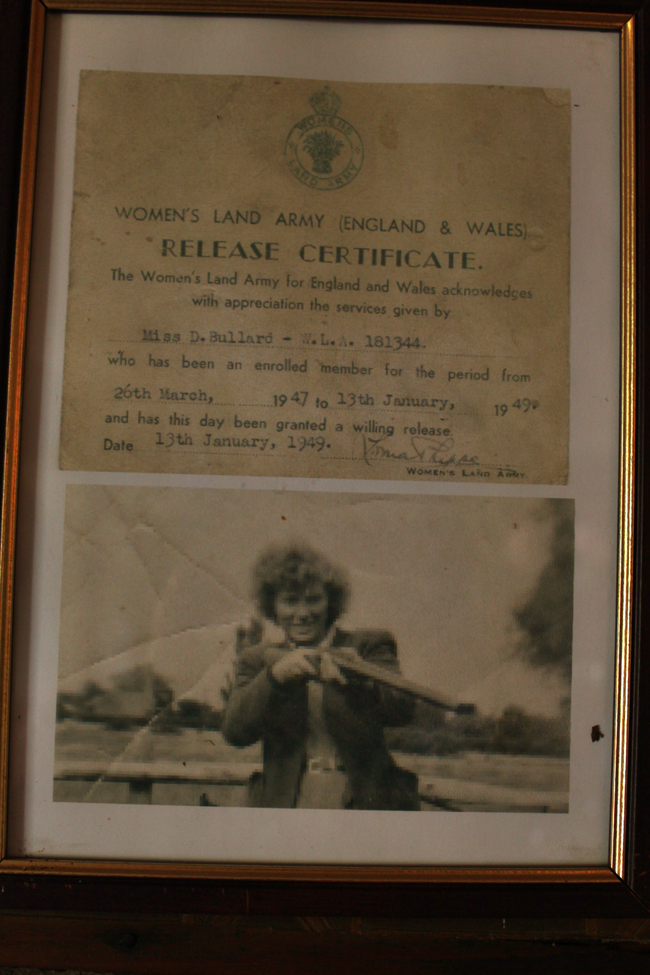 The pub consists of 3 small rooms. A central bar, a games room and a back room with a piano, all of which are decorated with WWII memorabilia and other bits and bobs, some of it original decor, and other bits new additions. I spent a thoroughly enjoyable 20 minutes clomping round the rooms in stupid platform shoes (I didn't know where we were going, it was a surprise, not that, that would have stopped me) taking photographs and reading posters, much to amusement of 2 local men who wouldn't let me take their photos as they were supposed to be at work, not drinking pint pots of beer in the pub.
There's no TV, music, fruit machines or other flashing games, and the rooms are lit only by one electric light each, and in the evening a few candles.
There are also traditional pub games like bar skittles, which I am very bad at.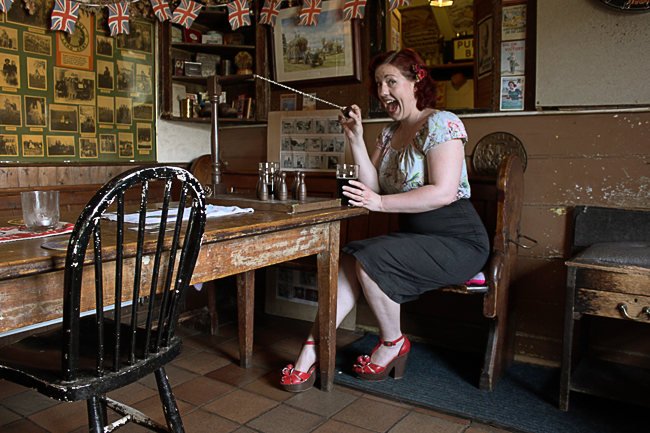 After failing badly at pub games the sun actually made an appearance and we took a second pint out to the gorgeous secluded pub garden where we spent a happy hour watching a Pea Hen running round calling for it's mate. The pub is really out of the way, so a bit of an adventure to get to, but it's an amazing little time capsule of history, and it also sells jolly nice beer.
I loved the chance to meet a real life Land Girl as well. Doris, it seems, is a bit of a local legend and was very proud to tell us that she'd been interviewed recently by the BBC for a program on Land Girls, so keep your eyes peeled for Doris on the TV!