Last time I did a Lingerie Love it was about a practical, useful, everyday bra.
Not today!
Today it's time to take a visit to the frivolous side of the lingerie drawer. The lingerie that's not really designed for wearing under clothes, or for wearing under clothes on days when you need a the boost of knowing that your pants are as gorgeous as you are, or you're expecting to get hit by a bus maybe.
Buttress & Snatch make their gorgeous vintage style lingerie in the UK (Take that Mary Portas) and it's all made by hand in the Politi Turkish Delight Factory in Hackney. They even have some of the old Turkish Delight tins from the factories previous life which they will package your lingerie on special request.
This is NOT cheap lingerie. It's custom made, it's pricy, but it's gorgeous, and I thought I'd post it so we can feast our eyes, if not our wallets, and squirrel it away on a "things I would like to be bought as presents by someone who isn't my Mum" list.
The Glamorous Ones
In my fantasy world this is underwear for lounging on a chaise longue in an opulent candle lit room. There may be grapes and wine in some kind of unecessarily fancy goblet.
Victoria Regina bra £139 and Knickers £99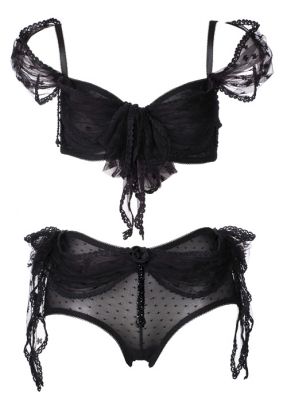 Burlesque Rose Brocade bra £92 and Frilly Knickers £59
The Frivolous Ones
Fun, but well made supportive underwear in cute patterns and designs. This stuff you could actually wear every day, if you think you could actually resist the urge to show everyone at work your pants.
Ladybird bra £89 and Knickers £39
Minnie Mouse Bra £89 and Knickers £39
My Favourites
If I'm spending a fortune on lingerie (which I'm not, but, lets pretend I am) then I want it to mix practicality and serious glamour. I want to buy something I can wear under clothing, and feel fabulous without worrying that huge frills and bows are poking out of my neckline or ruining the line of my dress. I want something, however, that also looks and feels gorgeous all on it's own, or under a silk gown in that imaginary candle lit boudoir.
Therefore, this is the set I have picked off the site as my favourite. I don't have cheap tastes, it's the most expensive on there! Made from a vintage silk moire fabric, with high waisted knickers.
Vintage silk moire bra £146 and high waist knickers £68
All I need now is a lottery win a bit bigger than the £6.80 I won on the Euro Lottery last week.