Todays addition to my occasional featurette on iconic fashion styles is the Shift Dress.
Although drawing on the drop waisted straight shift styles of the 1920s Flapper, the classic shift really owes more to the 50s "sack dress" and evolved into the 60s into the style we know today.
More fitted than a sack dress, but less than a wiggle dress, the classic shift has a bust shaped with darts, no shaping at the waist and goes into a straight or slightly A line skirt. It's not a shape that's particularly flattering on me, as I need a bit more definition on the waist, but for the slim hipped amongst you it's a classic and elegant look.
Part of the shift dresses popularity in the 1960s, particularly in the US, was down to a Miami juice bar owner named Lilly Pulitzer. She started to make her own shift dresses in brightly coloured and patterned fabrics to hide juice stains, and customers so frequently asked about them that she started to sell them. Then when the ultimate shift dress wearer Jackie Kennedy was photographed wearing one and the whole world wanted one too. By 1961 Lilly had closed her juice bar and was selling her dresses full time.
Jackie O is probably the most famous wearer of shift dresses, but Audrey Hepburn, Twiggy and Mia Farrow were all frequently seen in the style.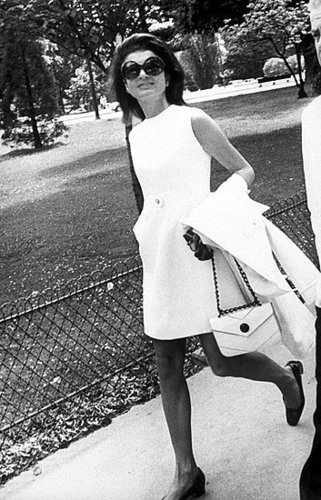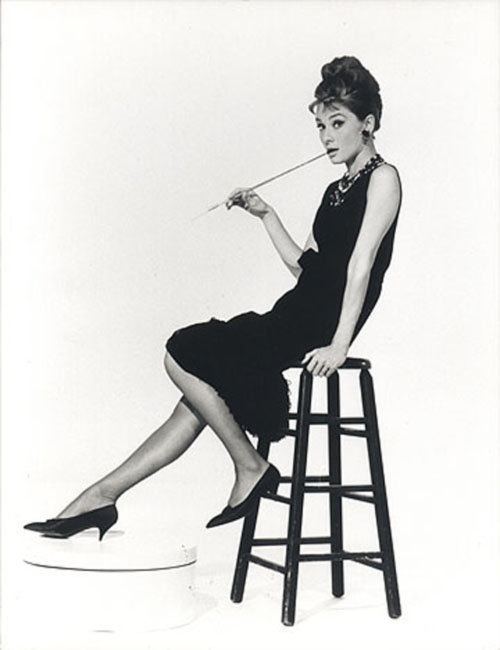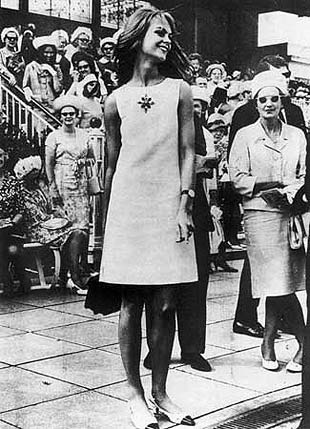 The shift dress is such a classic and elegant style that it's rarely gone out of fashion and is often favoured for smart wedding and work outfits. It's so versatile that changing accessories, colours, prints of lengths can entirely change the whole feel of the dress.
Wear a plain shift with a box cut jacket, pill box hat and big sunglasses for the full Jackie O effect, or a brightly printed shorter dress with ballet pumps and a beehive for a younger 60s style.
Like I said, the shift dress is generally most flattering on less curvy figures than mine, but I do own a couple of dresses that owe a lot to the shift dress. The purple Kitty Copeland shift I always wear with a belt to define my waist, the Lady K Loves Retro Chick dress was made to my measurements, so has a bit more room in the hips and a slimmer torso than your regular High Street shift, and in the the third dress I'm looking all a bit trendy in a short Laura Ashley shift (though if you look closely you can see it pulls on my hips, which is why it's no longer in my wardrobe!)
Much like the pencil skirt, shift dresses can be hard to find on the High Street if you're not a standard size. The "average" modern figure has a much smaller waist to hip ratio than women in the 1950s, which actually makes them far more suited to this style of dress. If you're one of those people without a lot of curves, then the shift dress is your easy answer to elegant vintage style.
I've dug up some great versions from High Street and reproduction sellers to get you started….