Peplums are one of those things that zoom in and out of fashion.
One season every High Street shop is full of them, the next no ones heard of them. Peplum dresses and tops were popular in the 1940s, and had a huge revival in the 1980s, so if you're after a more 40s style you can often pick up 80s dresses for next to nothing and with the right hair and accessories they look amazing.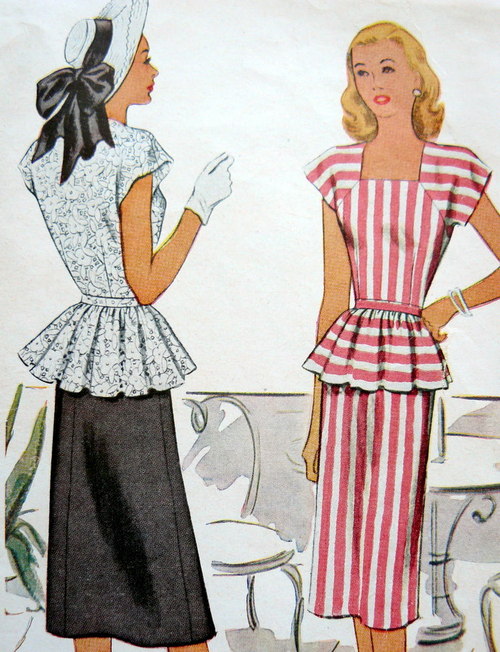 The High Street is currently having another brief love affair with the peplum, so now is also a great time to get your hands on some reasonably priced High Street peplum action!
It might feel like all that extra fabric round your hips would only be for the super slim, but pick your peplums carefully and they can be flattering on anyone. A peplum that starts low on the hips is great for adding curves to the curve free, but those of us who already have plenty in the way of curves will find a peplum that sits on the waist, or one that dips at the front more flattering.
For this weeks Friday Frock Love I've found a few gorgeous peplum dresses in the world of Designer, High Street and Vintage
The Vintage
1940s Navy Rayon Peplum dress current price £32.21, ends 6th August 11pm
This dress has a slim cut peplum, ideal for curvier shapes that don't want all the focus on their hips!
1980s Peplum Dress – £29 – Hickory Vintage
Focus on the waist, looser fitting, and with a hem that dips in front, this is another peplum that works just as well for those with curves as those without.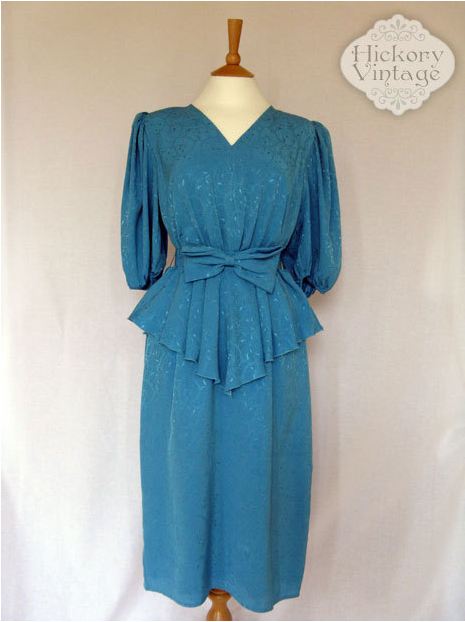 The High Street
Floral Peplum Dress – £55 – Warehouse
Summery floral print and a lovely shape. As with most High Street stuff, taller girls might need to watch the length.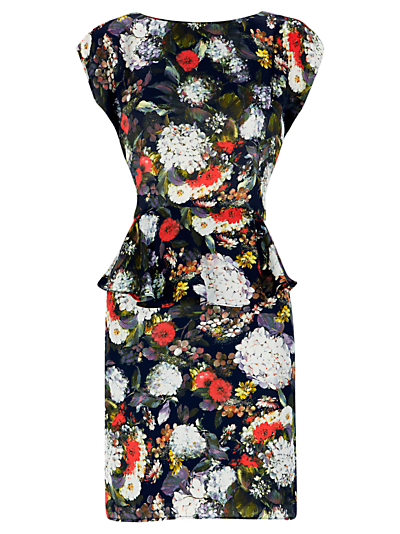 Floral Jacquard Peplum Dress – £40 – ASOS
A dress with a little more Va Va Voom, and probably better suited to the less curvy amongst us due to that dramatic peplum. Gloves, a big hat and huge sunglasses will make you look like a movie star.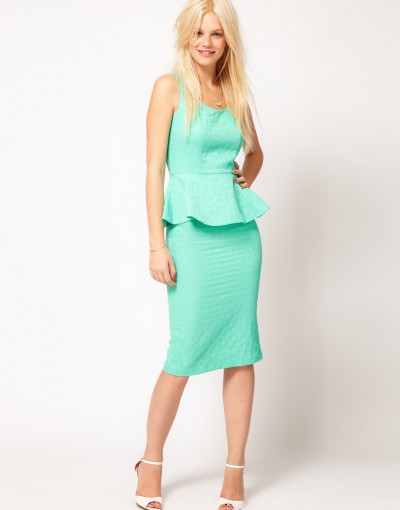 The Designer
Matthew Williamson Embellished Peplum Dress – £995 – Net a Porter
Another one that's flattering on the curvier figure with a dipped peplum.
Alexander McQueen Peplum Dress – £1380 – Net a Porter
I'm sure that someone reading this has the sort of money to spend £1380 on a day dress? This has fortiesesque accentuated shoulders and is a gorgeous cherry colour.