I have very few hard and fast rules in my life.
But I think that one of them may well be "Never turn down a free cocktail". Last week I got an email from Frankie & Benny's asking me if I wanted to go and try their new revamped cocktail menu. So I said "Oh, go on then" and when I got home on Friday evening there was a voucher for free drinks sat on my doormat. I obligingly made a table booking for 9pm, flung on an emergency cocktail outfit and headed on out. Notice my wonderful unemptied boxes and unfinished floor. Ah the joys of moving house.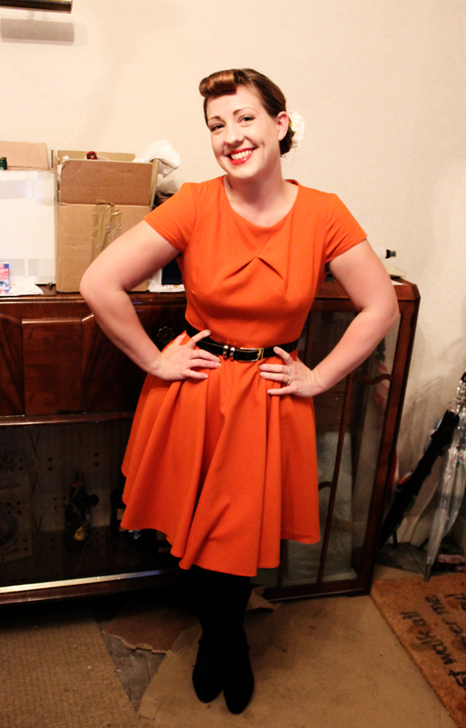 ❤ Dress –  TU at Sainsburys ❤ Belt – Vintage ❤ Shoes – Clarks ❤
I'll confess it's been some time since I've been in a Frankie  & Benny's for dinner (tey do a nice breakfast!), and there's a reason for it too. Every time I've been in one for dinner it's been full of balloons, screaming children, over loud music, and other things that I do no associate with a pleasant grown up evening of cocktails and dinner. I was a little apprehensive, but our table was booked for 9pm and when we arrived a table with several children was just leaving. They seemed to be the last stragglers and we were pleasingly undisturbed by screaming, colouring in books, or children treating the restaurant like it's a jungle gym for the rest of the night, so my advice with Frankie & Benny's is to go late if you don't have children!
Between 2 of us we tried 6 cocktails from the new cocktail menu, all in the name of research you understand. I really love a good cocktail, but I'm most fond of them really strong and really cold. I like my proportions of spirit to fruit juice to be high. I watched them make our first round (a French Martini and an Appletini) while sat at the bar and they did all the right things. Shakers, ice, not leaving it sitting around so the ice melted and diluted it, cold glass and all that stuff.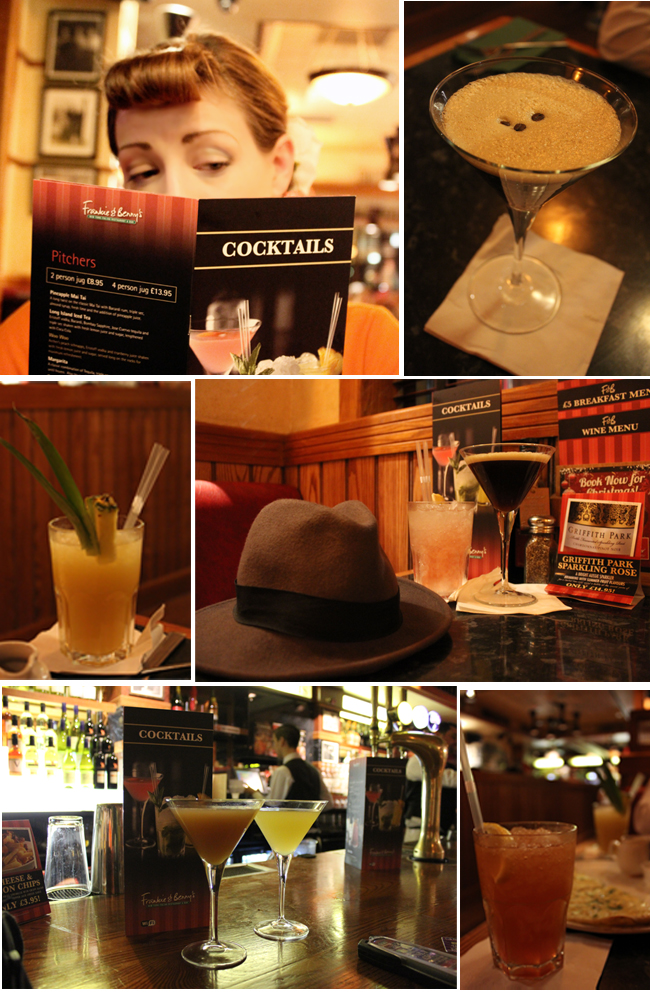 The drinks we tried in the end were a French Martini, Appletini, Espresso Martini, Bramble, Classic Bourbon Sour and a Pineapple Mai Tai.
My verdict? They were all nice, generally fruity or creamy cocktails, but nothing to dangerous, as you'd expect from a family restaurant! I was a little disappointed in the bourbon sour, as I always think of a bourbon sour as a fairly short, strong drink, but this came in a highball glass over crushed ice. I have no idea if it was made from scratch, or using a sweet and sour mix, but it just wasn't what I expected from a Classic Bourbon Sour.
Other than that, if you happen to be swinging by a Frankie & Benny's after the crèche has left I recommend the Appletini, it had a lovely kick of ginger, and the Espresso Martini, I was once served an espresso martini made with instant coffee in London that was so foul I couldn't drink it, but this was delicious.
Will I be going back to Frankie & Benny's? Probably not if I need to eat before 9pm. It has wonderful retro 50s Italian American styling, which is what has attracted me to it before, but in reality in the early evening it's not a place to go for a relaxed meal for two. For a late dinner I actually might though. The staff were friendly, the food was tasty enough, and the cocktails were very nice. I also like that they play learn Italian tapes in the toilets. If I drink enough cocktails I'll be fluent.