Christmas is a time to treat yourself.
And while I might be taking steps to prevent Christmas weight gain from getting out of hand, I still intend to be treating myself to some goodies. The problem is that it's also a time of year people will insist on inviting you to parties involving fitted frocks and nipped in waists, so what's a girl to do?
Never fear. Shapewear is here. Today I thought I'd come over all vintage women's mag and give you some tips on what sort of shapewear to chose to make your party frocks look their very best.
The 50s Frock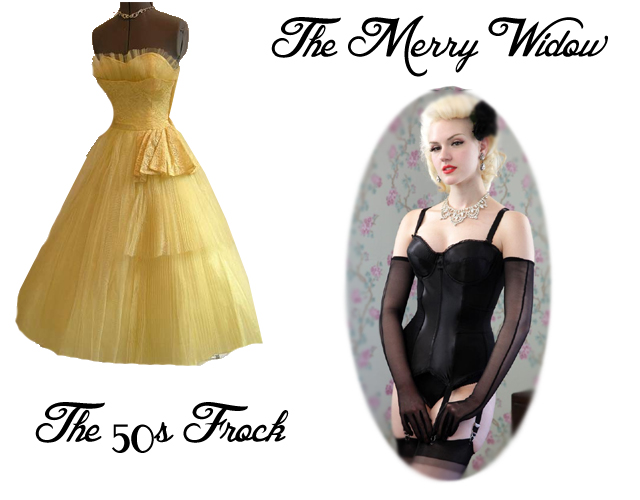 If you're wearing a full skirted 50s style dress then you don't really need to worry about anything below the waist, but your torso and waist need controlling for that perfect 50s shape. A Merry Widow is ideal for 50s dresses as it's focus is on cinching the waist, lifting the bust and smoothing the torso. This one from What Katie Did comes with detachable straps and is available in black or peach.
Strapless Merry Widow £68.50 What Katie Did
Other Options
Beth Basque £69 Kiss Me Deadly
Cabaret Torsolette £75 What Katie Did
Check out day 13 on the Advent Calendar, as there's a WKD torsolette as part of the prize!
The 30s Gown
If you're wearing a full length gown you might not want to wear stockings, particularly if it's a lightweight slinky satin. It might also have strap detail that doesn't allow for a bra. In this case the panty girdle is a perfect option, controlling your hips and waist while allowing you to go barelegged and braless. If you want to add stockings or your dress has sufficient coverage up top for a bra then a corselette (see below) also works brilliantly. I have a What Katie Did corselette that looks great under bias cut dresses that are normally a no-no for me because of my pear shape. Do bear in mind with pantygirdles and "support knickers" that the amount of control can vary a lot!
Sirena Pantygirdle £39 Kiss Me Deadly
Other Options
Avet Shape £15.58 Avet (light control)
Glamour zip underbust pantygirdle £57.75 What Katie Did
The Wiggle Dress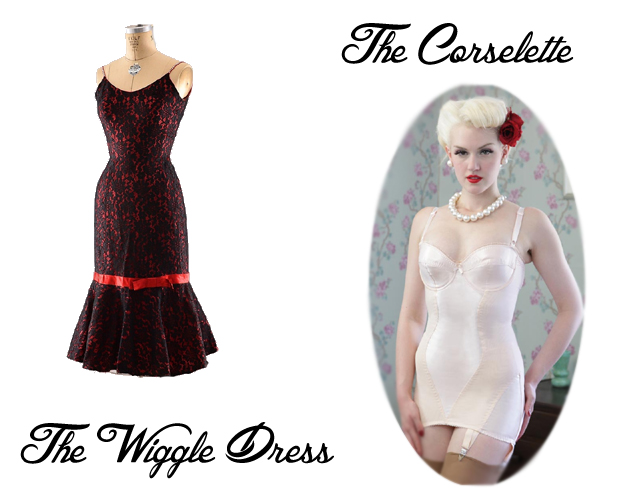 If your dress is tight from neck to knee, then your underwear needs to keep up! A corselette is ideal for this as it smooths all the way from bust to hip avoiding any bumps in the tightest part of your frock. Just make sure the fabric of your dress is heavy enough that your suspenders don't show through!
Glamour Corselette £68.50 What Katie Did
Other Options
Extra Firm Control corselette by Rago £65 Pin Up Parade
Gok Wan Sassy Slip £55 Simply Yours
The Pencil Skirt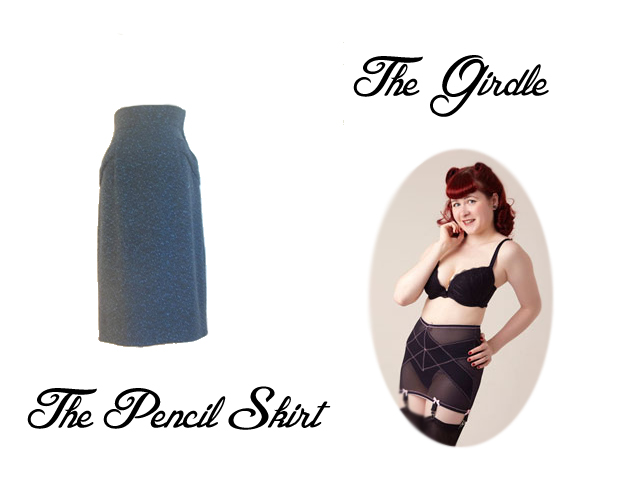 If you're wearing a pencil skirt with a slightly looser fitting top, then you want the reverse of the 50s frock. It's your hips and bum you want smoothed, while you can be a little freer on the top! A girdle is ideal for this, controlling your waist, hips and bottom, and holding your stockings up.
Light Control Girdle by Rago £45 Pin Up Parade
Other Options
Stockings & Romance Flirt Girdle £36.30 Joannas Wardrobe
Glamour Girdle £41.50 What Katie Did