I love exploring new places.
Too many people just jump on a plane and head off for sunny shores (though looking out of the window that doesn't seem unappealing at the moment), yet their entire knowledge of their home country is confined to their own town and an occasional trip to London.
A couple of weeks ago I got an email from Premier Inn. They've opened a new hotel in the centre of Leamington Spa and wanted to know if I wanted to stay in it and write a piece about the wonders to be found in vintage Leamington Spa. I said yes, I haven't been to Leamington Spa and it sounded like fun. What I didn't know when I said that was that my chosen date was going to coincide with a wave of snow sweeping across the country and freezing conditions that made much of the world appear like a scene from The Day after Tomorrow.
I arrived in Leamington Spa, which looked beautiful under a blanket of snow, and skied down the main road to the hotel. The hotel looks nice from the outside, has a rather odd reception desk with no seats for the staff and a self check in computer screen, and a room that was exactly what I expected. I think they sort of have the "budget" side of the hotel market somewhat sewn up at the moment. I stay in them a fair bit on my travels and they are consistently clean and comfortable.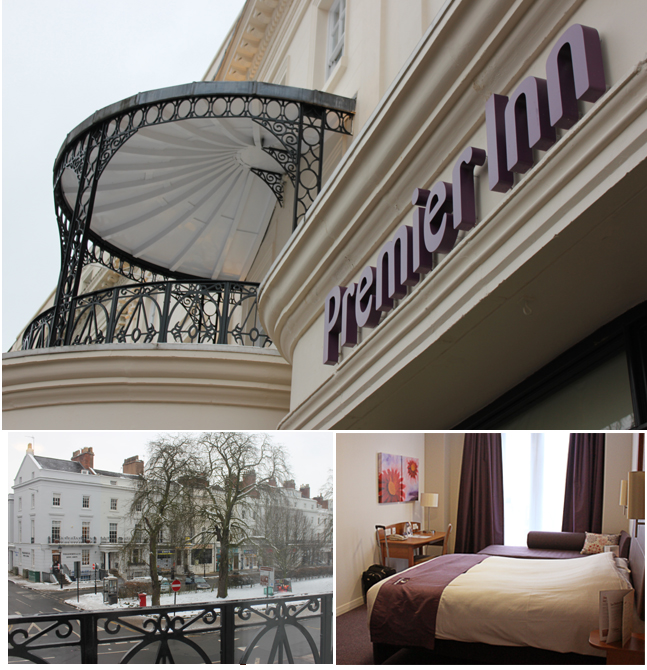 The first thing we did is head out to go shopping. I'd asked the lovely Dolly Clacket, who lives locally for some recommendations, and done a bit of a search for vintage shops in Leamington Spa. All the locations I found were clustered on the other side of the canal/river from the hotel. So we headed off past the Pump Rooms to have a look.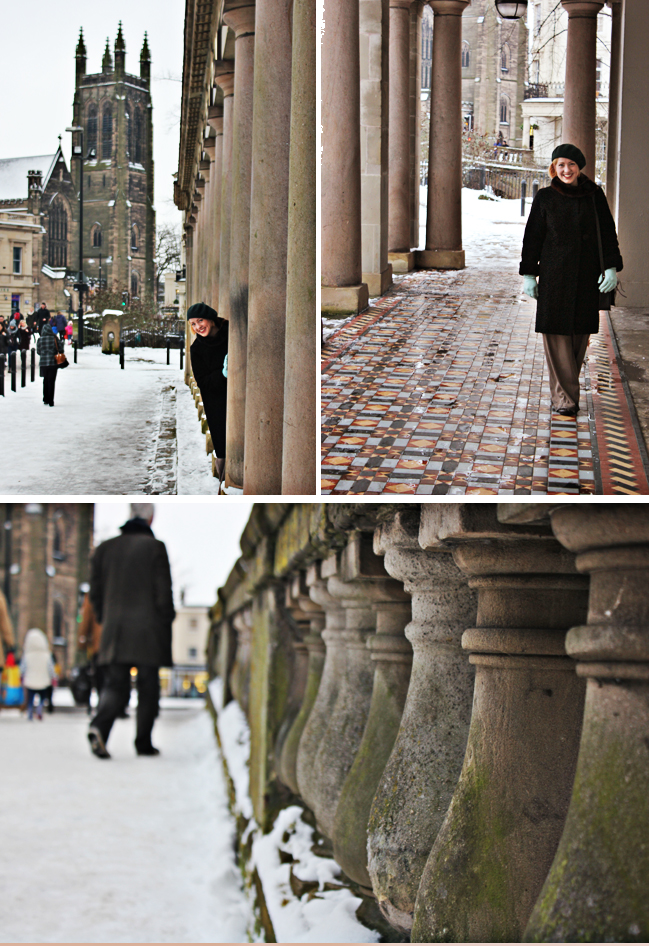 The first shop Loot, I confess was a bit of a disappointment. The music was too loud, the walls were concrete and it appeared to specialise in horrible fluffy hipster jumpers. I had a look round for secret hidden bargains, didn't find any and left. The other 2 shops I'd found addresses for completely failed to exist at all, one appeared to be someones house (I've since found out it is an online shop), and the other was a warehouse.
Feeling a little huffy now, and with very cold, wet, feet, we trudged back to the hotel. Stopping in a couple of Charity Shops on the way where I managed to buy an Astrakhan coat, red 70s jacket and a purple 70s pleated skirt for the grand total of £24. Feeling somewhat cheered by this we went to explore the more obvious centre of town.
I can safely say, in my humble opinion, based on an overnight visit, that Warwick Street is the street you want to visit for Vintage shopping. I picked up a blouse (as seen on Monday) and dress from the £5 rail in a lovely shop called Magpie that also sold repro clothing and quirky homewares and gifts and Mr Chick bought a cardigan from Braderie Vintage & New, which I thought was nice, but a lot of things were a little expensive for my purse. There was also another vintage shop on the street, I think it was called Tiger, but it appeared to be largely new resale stuff, though she did say more stock was coming in soon.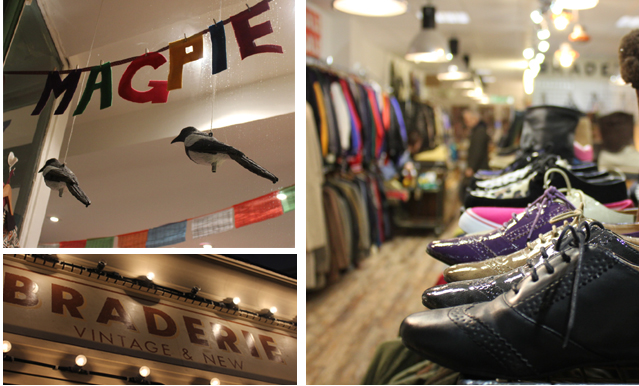 As it was now 5:30pm and everywhere was closing, we slid back to our hotel with a bottle of wine to warm up, try on our purchases, and research dinner options with the 30 minutes free wi fi you get in Premier Inns (though 24 hours was only £3, so I bought it in the end anyway)
We'd been recommended Wilde's by 2 people, which looked wonderfully like a 40s Parisian basement restaurant. While we were out, however, we'd spotted Rhubarb on Warwick Street and had been rather taken by it's art deco fonts and cosy (and warm) looking interior, so after much umming and ahhing, that's where we chose.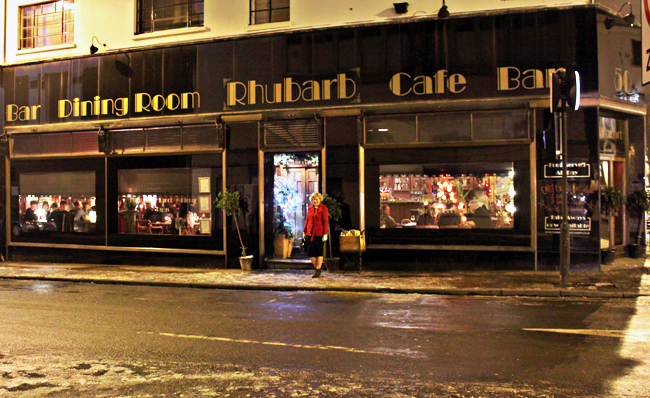 It had fantastic eclectic decor with a vintage twist, and sold gorgeous, but sensible food. I had scallops and chorizo to start, followed by wild boar sausages and lots of wine. I highly recommend it. It felt sort of like a decadent underground art deco drinking den.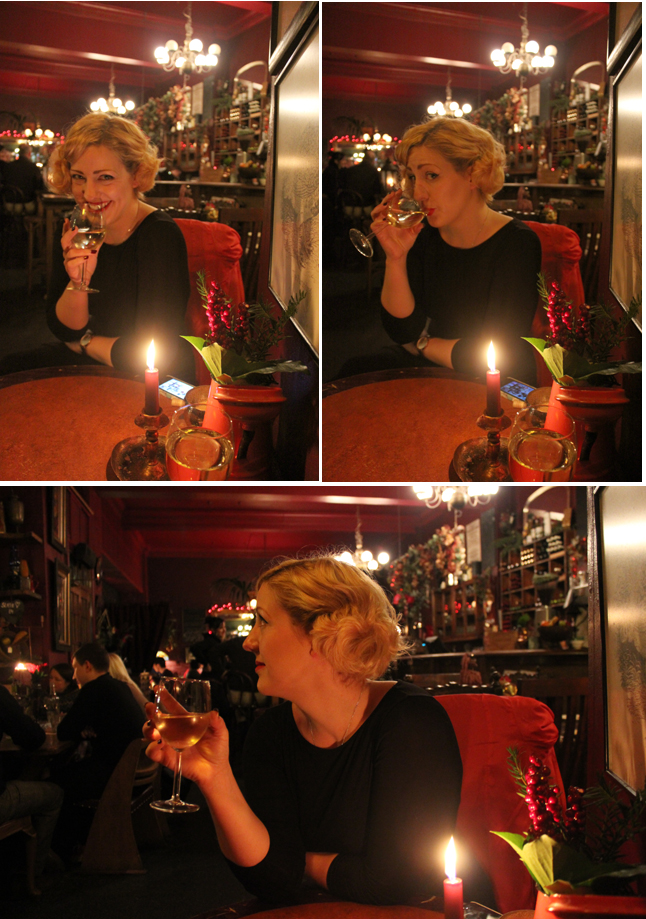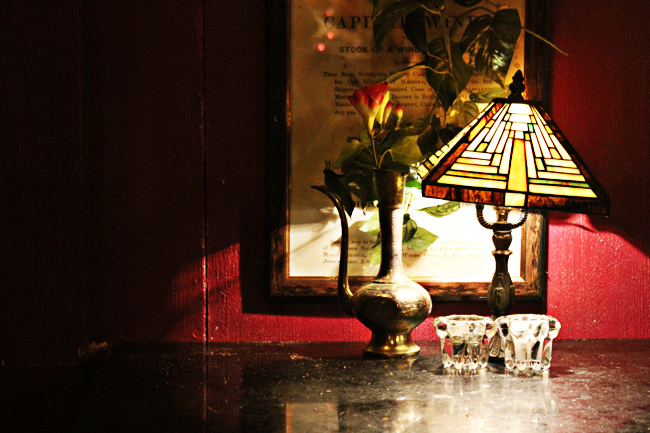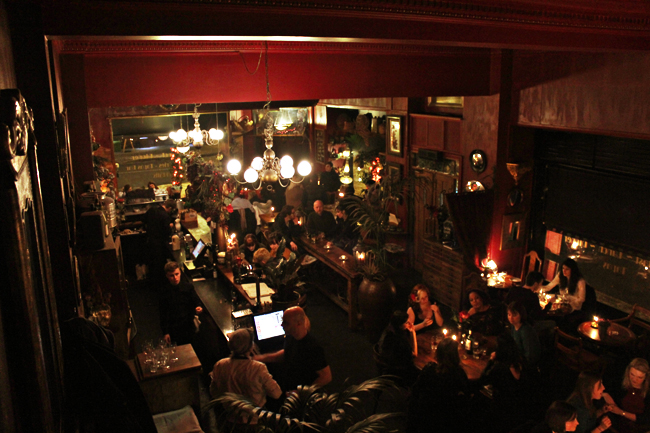 Looking for a nice quirky pub to round off the evening, we looked on Yelp and found a pub called The Willoughby, described as a hidden gem which made it sound quirky and lovely with intricate decor and velvet couches. We headed off, found flashing lights, loud music and scary looking people hanging around the door and rapidly scarpered off to a place on the main road called The Lounge, which was a fairly standard glossy modern pub, but had quite a cool chandelier made from wine glasses.
You can get a better look at the red 70s jacket I picked up in one of the Charity Shops in this picture of me giggling in a pub.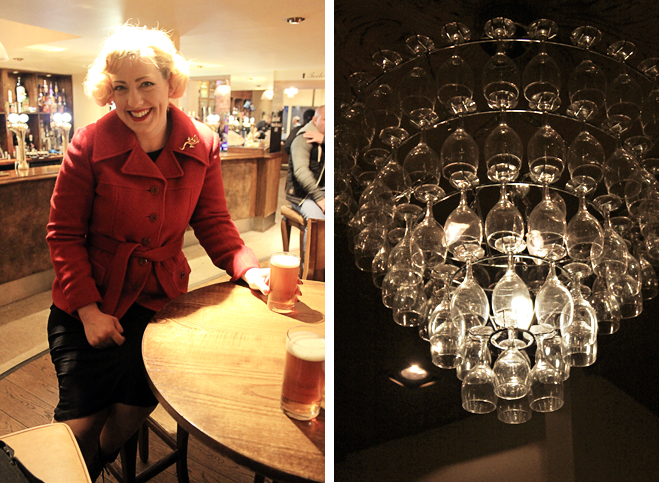 By now we were 3 bottle of wine down, so we returned to our hotel room where I passed out fell asleep while watching The Game.
The next morning we awoke to find yet more snow starting to fall, so we lugged our posessions back to the car park, which is thankfully just out of the back door.
The last thing I wanted to do before we left was pay a visit to VinTeas for warming crumpet and a pot of tea before we braved the weather. It's a vintage tea room, and at 11am on a snowy Sunday we had it all to ourselves. It's beautifully laid out, with a light, airy and fresh atmosphere. The teacups matched the saucers (I'm not a fan of too much mismatching china, it feels forced.) and it had an extensive tea and coffee menu, including fresh leaf teas requiring a tea strainer to drink.
Even better, if I'd been there on a week day morning they give away free hot buttered toast with their hot drinks. Yum. I had a pot of white tea and a crumpet, ran around taking pretty photos, and then left Leamington Spa behind.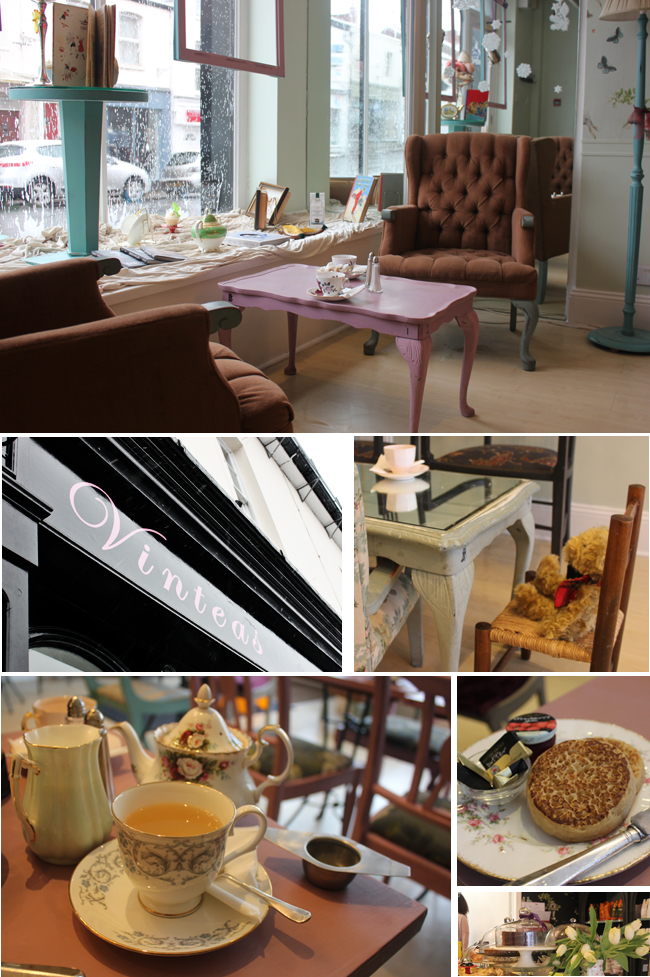 Leamington Spa is a beautiful city, with one of those historic High Streets that encourage shops to keep their signs "in keeping". The Pump Rooms look beautiful and the park next door, which is so lovely in the snow here, looks like it would be even better in the Summer when you could lounge in it with the newspapers in the sun and have an impromptu picnic.
This is the Astrakhan coat I bought from one of the Charity Shops in Leamington.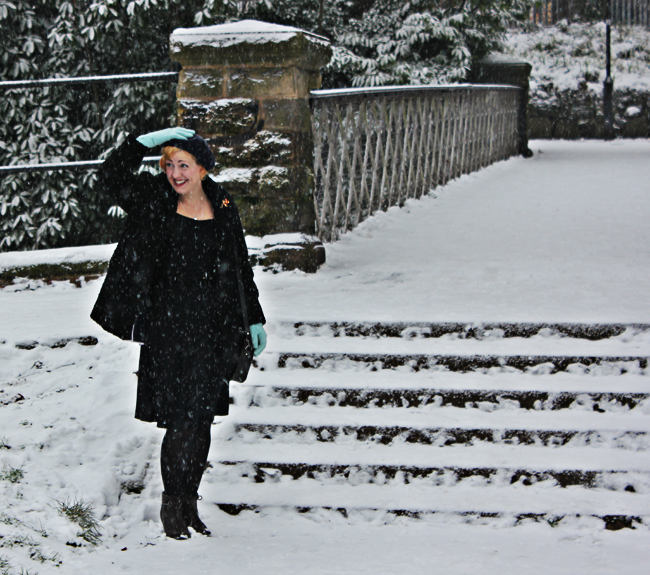 I was also particularly fond of the statue of Queen Victoria that was shifted an inch on it's plinth by a German bomb. I love that they never moved it back, but instead put up a plaque.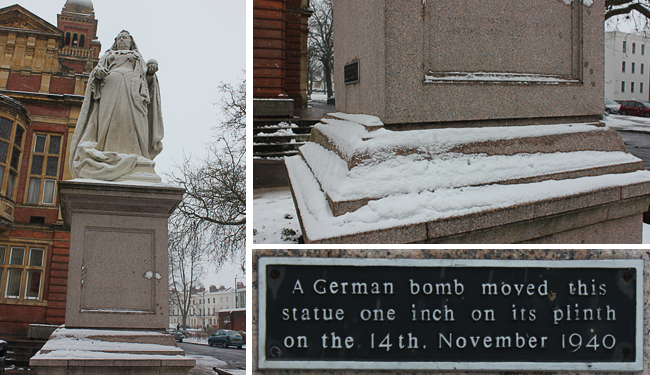 As far as I can see Leamington Spa doesn't seem to be amply stocked with vintage friendly bars, but does score quite well on the restaurant front. The Charity Shops are still reasonably priced with a few vintage finds and have escaped the Mary Portas effect that has ruined so many and there are a little scattering of reasonable vintage and independent stores to wander round as well.
Thus ends my adventures. If you'd like to follow in my footsteps and take a few days away in the UK, then I think Leamington Spa isn't a bad place to visit. Here's some handy recommended links from my trip.
❤Premier Inn Leamington Spa ❤ Magpie ❤Braderie Vintage & New ❤ Rhubarb ❤ The Lounge ❤ Vin Teas ❤
Disclosure: My room at the Premier Inn was free, and I was given expenses money for the trip. All opinions are my own!