This weekend I won an AWARD!
I mentioned last week that I'd been nominated for an award by Rarely Wears Lipstick, and had decided to go along to the awards ceremony in London on Friday night. Well, I shall start with a HUGE thank you to those of you that voted, because I WON! I've been nominated for awards before, but have resigned myself to being one of lifes runners up. So I was genuinely delighted to have my own little trophy after handing out 12 to other people a couple of weeks ago!
Of course, once I'd decided to go to the award ceremony there was an important decision to make. What should I wear? I bought new shoes at Bicester Village last weekend. They are gold and sparkly, and, more importantly, reduced from £155 to £39. I needed a dress, and I was so bored of everything in my wardrobe. Then I got a well timed email from online shopping portal Shop Style asking me to review their service, so it seemed like the ideal opportunity for a new frock and have someone else pay for it. I'll review Shop Style properly later this week as it deserves a bit more space!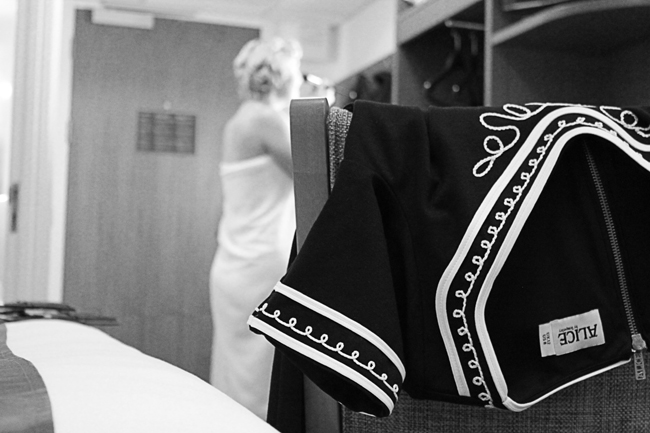 I don't often wear shorter dresses, but I've been after a shorter black skater style dress for a while now, and just haven't found the right one. I wanted sleeves, and short but not *ahem* "bum skimming", and if I'm going to wear something short I wanted good quality. The one I finally found is Alice Temperley from the Alice by Temperley label. It wasn't cheap, but I did get it 70% off. It has the most beautiful detailing and is a heavy thick fabric that isn't going to fly up and flash my pants in a stiff breeze.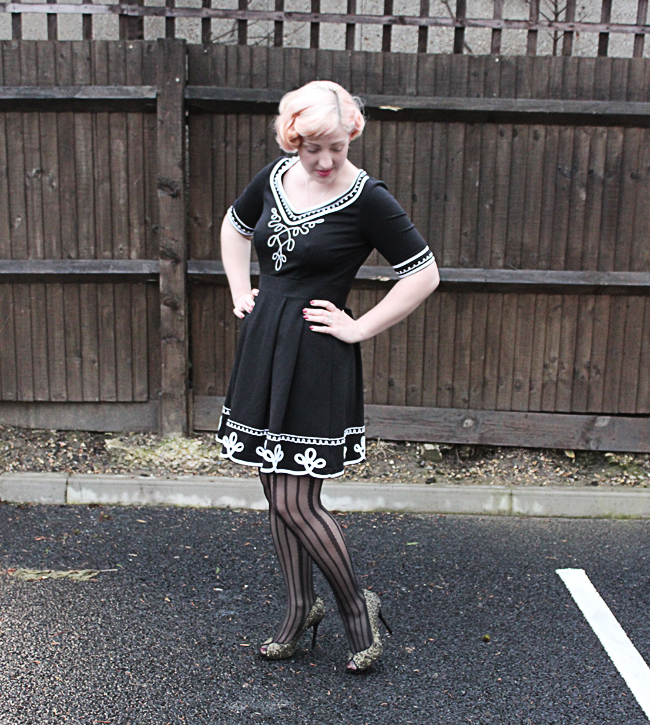 ❤ Dress – Alice by Temperley ❤ Tights – Can't Remember! ❤ Shoes – Jean-Michel Cazabat ❤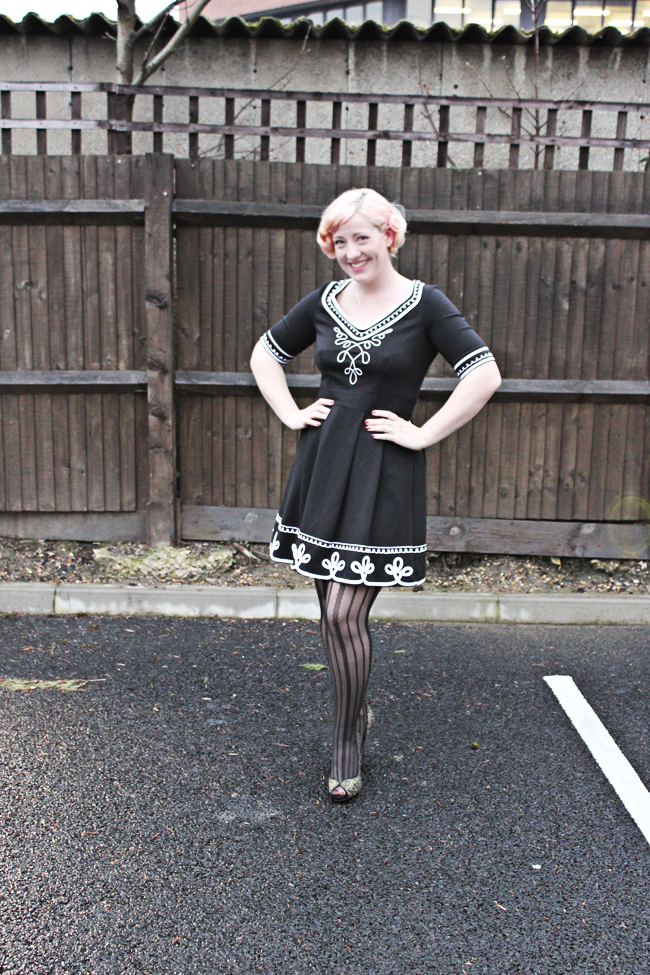 I still feel a bit funny with my knees on show. I've no idea why! I don't have long willowy supermodel legs, I am curvy and so are my legs, but they're in pretty good shape from running and it's nice to mix it up and wear something shorter for a change. Last summer I had a playsuit and a short pink skirt, that both appeared on instagram, but never made it onto the blog, you've not seen my knees on here for a while!
The other thing you might notice is that I have been experimenting with pale pink hair! It's very subtle in real life, actually more subtle than it looks in these photos, but I really like it! (ignore the man in the background please, all the ones without him came out blurry!). That's the illamasqua Welt lipstick again, that I have a renewed love for now I'm blonde.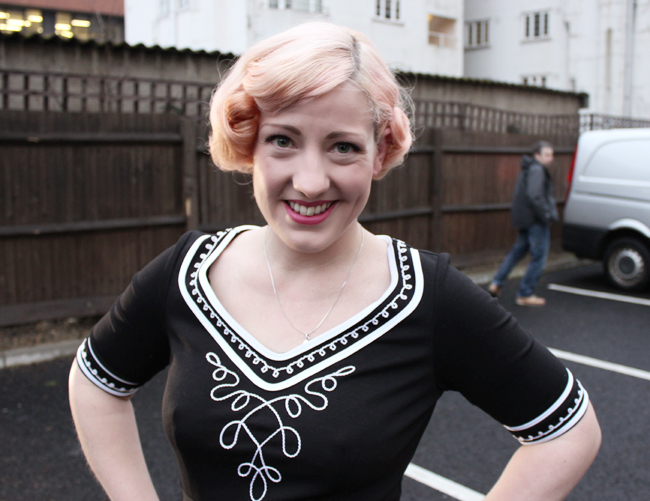 Lori from Rarely Wears Lipstick put together a fantastic awards evening and some fabulous performers to break it up. Nominees had been primed in advance to say a few words if they won, maybe tell people where to find us. I secretly *wanted* to win, who doesn't want a trophy, right? But didn't really think it would happen and therefore had failed to formulate anything constituting an "acceptance speech", so when my name was called the best my over excited and uncool self could come up with, in front of a room full of trendy London types, was to hug Lori far too hard and squeal something along the lines of "Thank you! I just wanted a trophy! Woo trophy!"
I'm just so cool.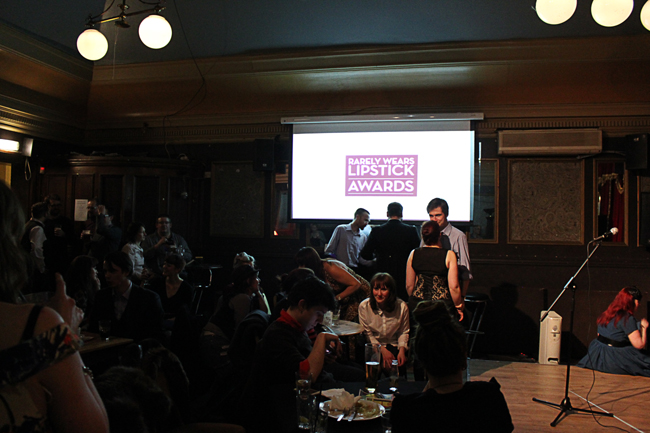 The full list of winners is on the RWL site and there are some amazing and inspiring people in there who do more than talk about frocks. Much more.
I couldn't stay long as I had a long tube journey back to the hotel, but I did get chance to briefly catch up with Bethan of Arched Eyebrow who I met at the Cosmo Blog Awards and meet the 2 lovely ladies from The High Tea Cast.
When I DID get back to the hotel (a Premier Inn), I obviously celebrated like the classy laydee I am with a late dinner of takeaway Pizza Hut and a bottle of Sainsburys cheapest Champagne (I got bonus Nectar points). It just doesn't get any more sophisticated.