Happy Bank Holiday Monday!
It's a Bank Holiday here in the UK. I've had a pretty wonderful weekend so far and the weather has played it's part with glorious sunshine. I was over optimistic on Friday night and went out without a jacket, but as long as I'm not that foolish again it feels like Summer.
Since I proclaimed my love for Polyester last week I thought I'd show you the latest addition to the Polyester collection. Some 70s polyester polka dots picked up in a Charity Shop.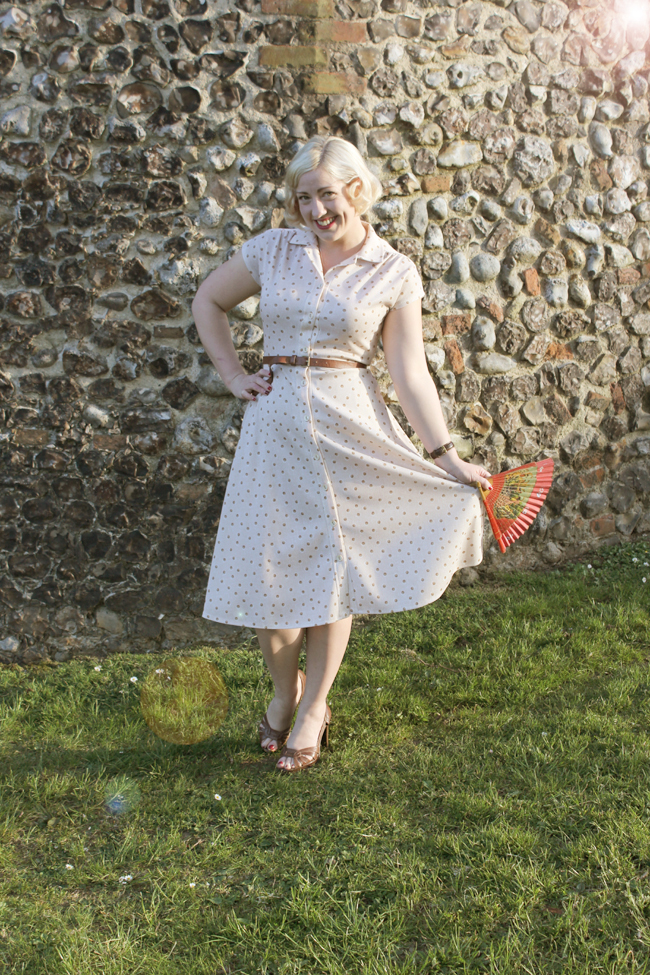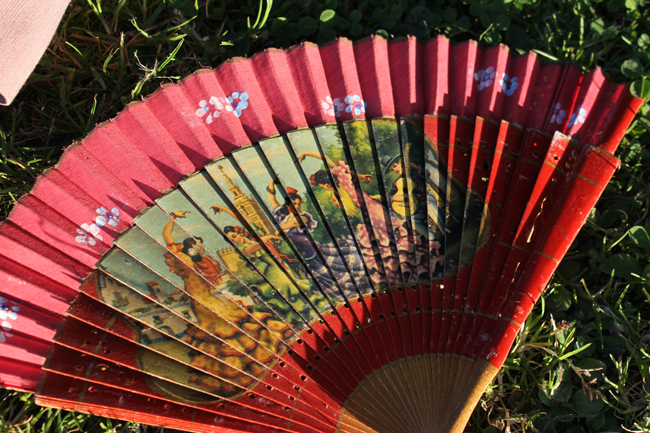 ❤ 70s Dress – Charity Shop ❤ Belt – H&M ❤
❤ Vintage Fan – A Gift ❤ Shoes – eBay❤
I wore this out on Friday night, but I was only out a couple of hours, so I wore it again on Saturday when these photos were taken on the way into Norwich. We'd intended to go to a beer festival, but it was full and I don't queue for that long, even for beer, so we went to a fabulous local pub in the market called The Sir Garnet. They do brilliant burgers made on the premises. I had the Binham Beast, with Binham blue cheese and black pudding.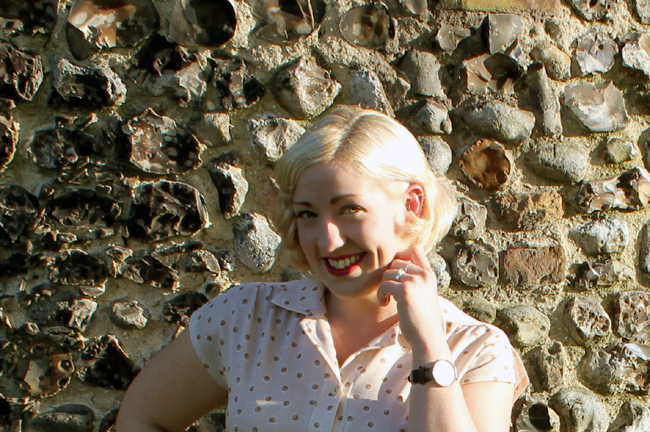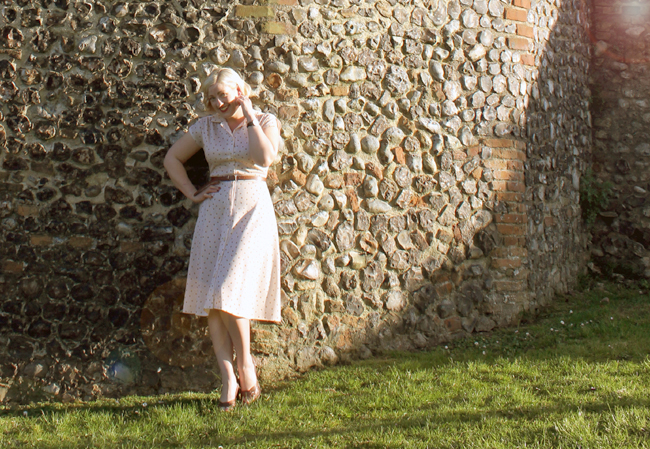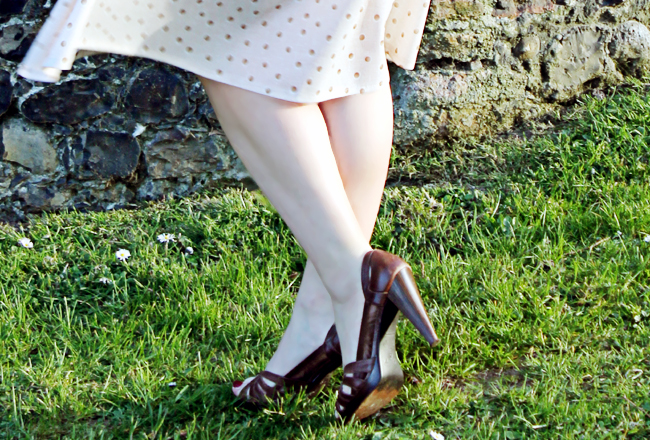 The sun was just getting low in the sky as we headed out, which is tricky light for photos, but it makes them look very summery! That flint wall is part of the old Norwich City walls, they're dotted around the city.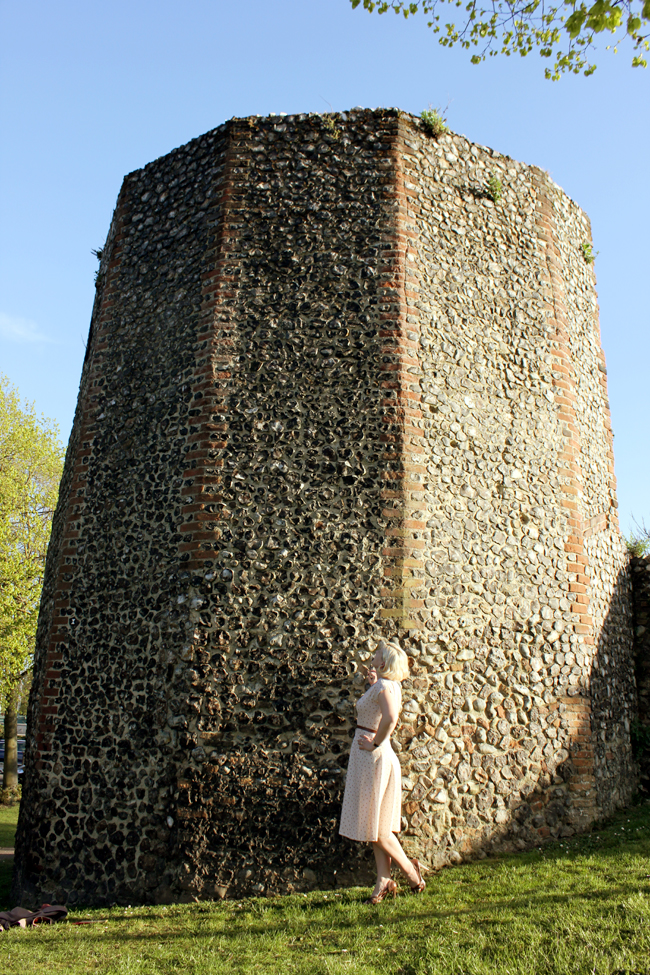 I even went to a Boot Fair, for the first time in about a year. Seeing as I haven't even unpacked the boxes of things from when we moved yet I've been on a self imposed ban, but the weather was so beautiful I couldn't resist a wander. I was quite restrained, but still came home with 4 more 1950s Babycham glasses with the white deer (I have 18 Babycham glasses now, all round to mine for Babycham?) some art deco china with an Austrian design on it, a brooch, a mirror for our mirror wall and some tiki party stuff.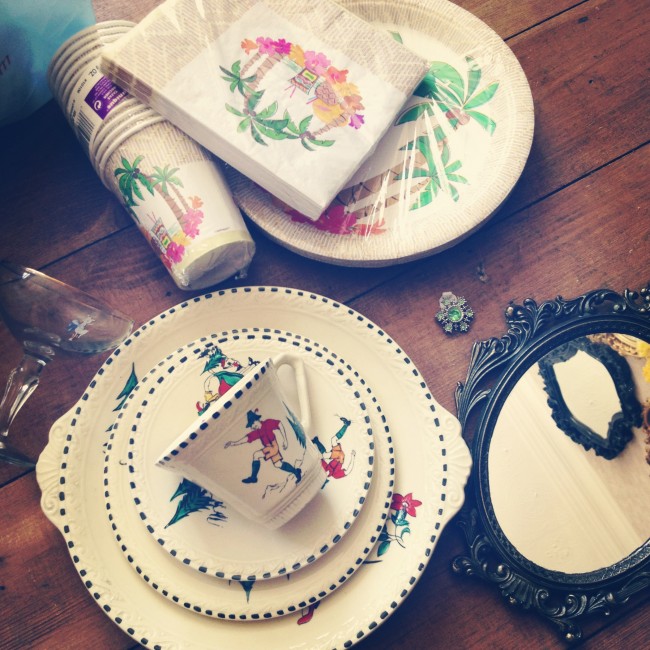 The best thing about Bank Holiday Weekends, is that it's still happening, so even though it's Monday I shall off now to enjoy more fun times while the sun lasts!
Tell me about your weekend!
Related