People in my family are cursed with large feet. I have wide size 8.5s (as verified by a chiropodist) and my brother has 12s. My grandma had 8s but, for Nature is a cruel mistress, we are all under 6 foot.
At least things have changed a bit since my grandma was younger – she wore men's lace-ups (which was all right during WW2 when that was actually quite fashionable) or relied on sandals which her toes could poke out of. Sadly, for most of her adult life she had to painfully squeeze her feet into shoes that were just too small. Here she is with her mother in 1943.

In the 90s, I struggled to find anything over a 7. It was lucky Dr Martens were trendy otherwise I'd have gone about in my socks. I still wear 16-hole "1460"s – they were launched on 1st April 1960, so I shall count them as a vintage classic.
I still get angry when I remember one assistant in a shoe shop who said "We only sell women's shoes here" when I asked if they sold size 8s. Since then, 8s are standard on the High Street, but by using European sizing, it's quite difficult to find equivalents across different brands. An 8 can be a 41 or a 42 depending on which shop you're in.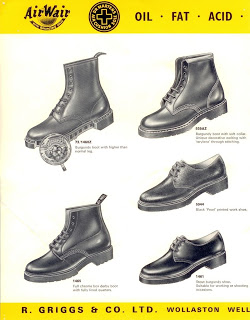 When I visited the chiropodist, he introduced me to a company called Hotter. Oh, how I winced, gazing at the granny shoes in their catalogue. And not granny in a good way. But, because my feet did hurt rather a lot, I caved in. They give you the comfort of a trainer without actually being a trainer, which went a little way to pacifying my sartorial despair. What recommends them, too, is that they come in standard and wider widths, and they do half sizes.
My most recent purchase from Hotter was a pair of Valetta shoes. They have a really nice 1920s/30s look to their shape and nifty art deco cut-out detail on the side. See for yourself below! And what is really good is that because it's a pair of Hotters, they are padded inside for comfort. When I wore them for the first time the other weekend, my feet didn't hurt at all. As I don't usually wear heels because of all the myriad dramas I encounter buying even a basic pair of shoes, this was definitely a good thing.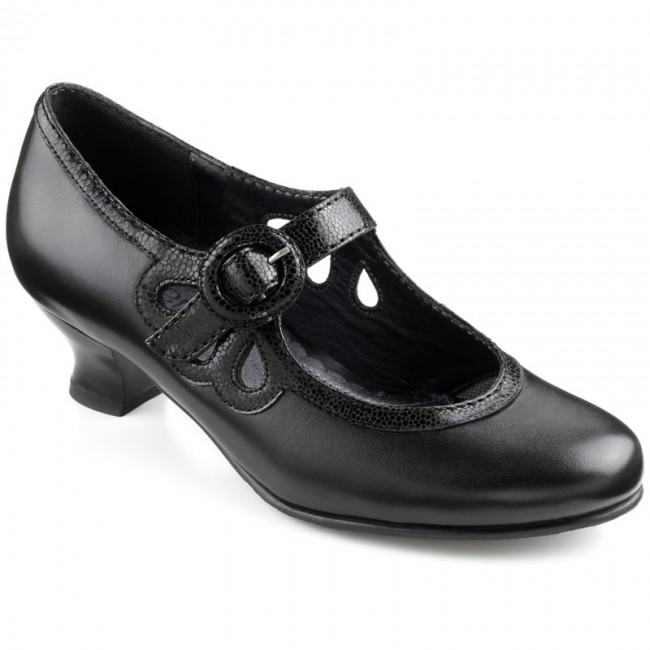 And where, you may ask, did I wear them? I went on a trip to York. My friend Annie, who runs Able Grable Designs, got married in York last year, and the wedding reception was supposed to be a boat trip. Alas, so great a quantity of rain fell last year that the boat remained moored all evening because it couldn't fit under the bridges. So Annie planned another trip – a masquerade ball.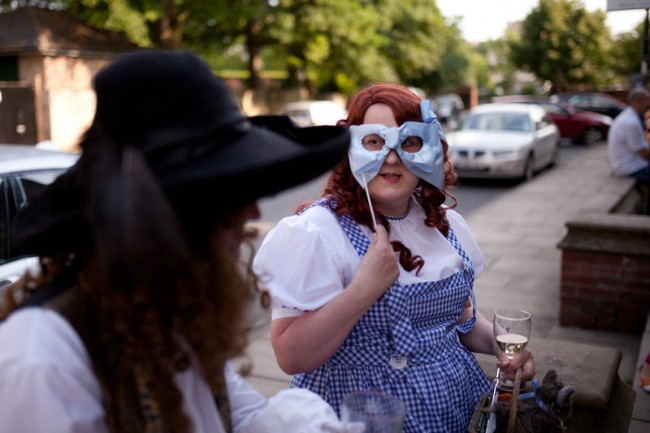 We stayed at the Bar Convent, which is an 18th century convent (in fact, there are still nuns living there now). The rooms are named after saints, and while it is a hotel, it has a nice youth hostel vibe as it is complete with washing machines, a kitchen and a recreation room. What I like though is that it's an opportunity to stay in a labyrinthine listed building where you have breakfast under a Victorian glass roof and underfoot is a glorious tiled floor. It's close to the city wall, which is a useful short-cut for getting into the city, nipping round from Micklegate to the area around the botanical gardens and the cathedral.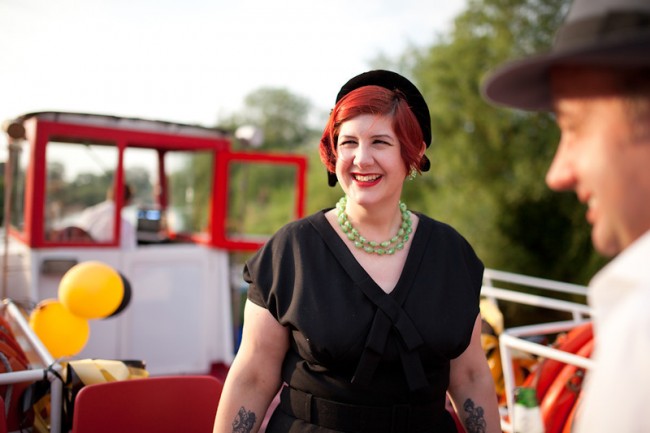 It was a splendid way to while away a hot and sunny Saturday evening, with a gentle breeze coming off the river. The breeze perhaps explains how I managed in my Avril dress, which is made from wool! But it's not a thick wool, and being a natural fibre recommends it in hot weather (however, I'm glad it stayed in my wardrobe while I was at the Chap Olympiad).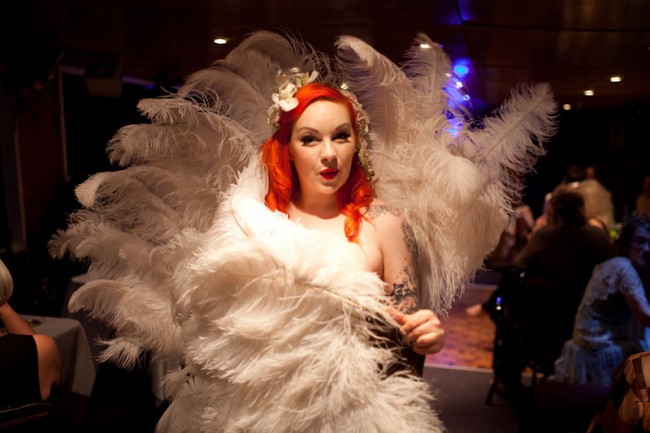 We had Annie dressed as Dorothy Gale and her husband dressed as Captain Cook (so we were either going to be struck by a tornado or ambushed by children flying on fairy dust), and burlesque from the lovely Darkteaser.
As I didn't anticipate much walking would occur on a boat, I wore my new hotter valetta shoes on the trip. Such a popular style they are with vintage ladies that Miriam, who writes Crinoline Robot, was there too and also wearing the Valetta shoes too! She was onto her second pair – she loves them so much that she wears them to work all the time and now needs pair #3. That's a fairly good idea of how lovely the Valettas are.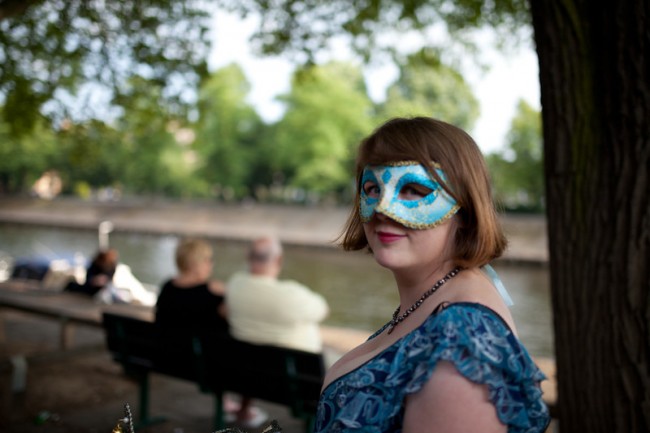 With the internet, there are loads of places to find shoes that are larger than an 8. While it's cumbersome dealing with postage (especially now that Royal Mail has lost the plot completely with the way they price parcels), it's the only option that some people have. What's also rather handy is that people in the trans* community who have larger feet than the size 8s on the High Street, also demand shoes that are a bit glam, so the days of only being able to find the world's most boring loafer in anything larger than a 7, are long gone.
Shops specifically for larger sizes: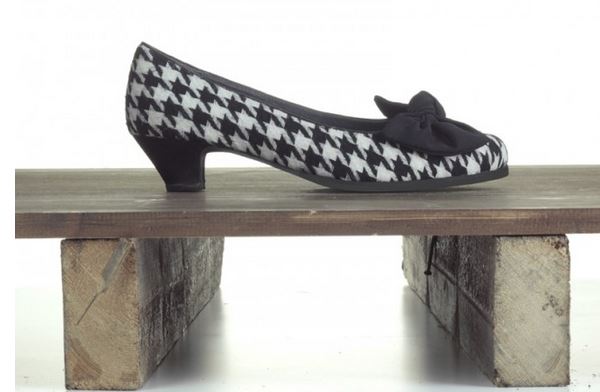 Their shoes are beautifully styled and fit nicely. The Abigail shoe is very Audrey Hepburn with a kitten heel.
A huge amount of choice and some very nice shoes.
After 8: sizes 8 to 11.
Lots of shoes to choose from, with many styles available in the largest sizes.
The classic shop for the taller lady. As it's fairly likely that a taller than average person will have larger-than-average feet, LTS took the sensible step of selling shoes up to a size 11. These flamenco suede Mary Janes are Spanish-made and look quite 20s/30s.
a US website aimed at the trans* market. If you ever wanted a fluffy pink marabou mule in a larger size, this is the place.
Unfortunately, when I searched for size 11 shoes, all I got was an Ugg boot look-a-like and a rather sad beige ballet slipper. They stock brands such as Ravel and Dolcis, but a lot of these only go up to 8. It may be worth signing up to their mailing list and grabbing nice shoes in larger sizes as soon as they arrive.
Non-size specialist shops stocking larger sizes:
Largest size is a 9, and extra wide fit is available in most styles. Plus the insides are padded, which is heavenly. Return postage is free (larger companies are lucky to be able to afford this!), and they shower you with regular catalogues featuring special offers and free postage. If you ring up to order, they may be able to find other colours of the style you've picked. Hotter has shops around the UK if you want to try on in person.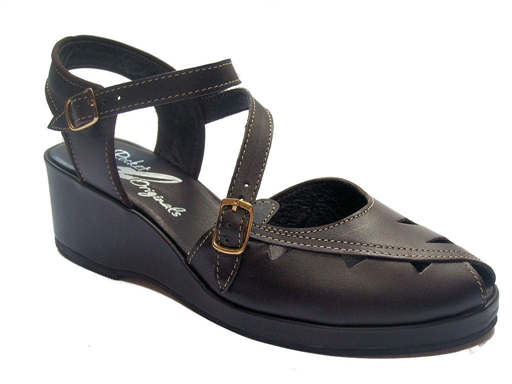 Some styles go up to a 9, or at least a roomy size 8, such as the Kate shown here. These are proper vintage repro shoes, based on original 40s and 50s shoes, and made in Spain.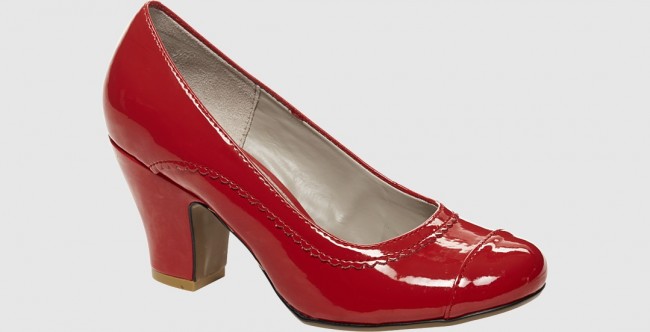 Some of their styles go up to a 10, such as this fantastic lipstick red heel. A lot of their styling is very classic so it's a good place to go for a larger sized shoe that will set off your vintage outfit.
Some of their styles go up to a 9, and you can browse on their website from the "women's" tab choosing "size 8-9" to avoid hopeless, crushing despair. This black patent and leopard print shoe is available in a 9 and larger widths are available. For £44.99, it's not bad at all. While they stock 9s on the High Street, they never seem to have them available in the style I want and have to be ordered in especially, which is a bit annoying.
Available from Debenhams. At the time of writing, they have over 130 shoes in a size 9.
Todays post is by Helen Highwater owner of vintage inspired clothing store Pin Up Parade and designer of the Swagger Joint range of vintage inspired dresses.
While I'm on holiday I like to take the opportunity to introduce you to some wonderful, talented, people that I am lucky enough to work with. Please do take a few minutes to visit their websites and check them out, as they wouldn't be here if I didn't think they were wonderful.
Related