Do you think you have a signature style?
My personal style has definitely evolved over the 5 or 6 years I've been writing this blog and recently I've found myself wondering about the idea of a signature style, and if I even have one. I think if I had to define my style I'd say "classic with a twist". I generally like a ladylike and elegant aesthetic, but I love to mix it up with surprising prints and accessories. (Which is why I have fallen totally in love with this totally outrageously expensive designer dress)
In one of my very first outfit posts from August 2008, A 40s style shirt dress and NO LIPSTICK AT ALL.
I've always basically loved dressing up. There are themes that run through most of the outfits I chose to wear based on what suits me and what I find aesthetically pleasing. I love the 30s, 40s and 50s, and those styles suit me. The slinky 1920s and 1960s, not so much, so you you'll only see its inspiration very occasionally and very adapted. I have short curvy legs and I think short skirts only really work on me with high heels, so I don't wear them very often, sticking with below the knee styles. I'm incredibly lazy, but like to look presentable, so you'll see a lot of hats when the weathers right. Sometimes I'm in the mood to plan outfits, match things and make a huge effort. Other days I make the minimum effort possible and even brushing my hair is a bit of a chore.
In Summer 2009. Vivien of Holloway 50s style dress and skull and cross bones print peep toes.
A few months ago, after a Historical Sauces hair class, I went into my corner shop at 8pm on a Sunday night in the hugest victory rolls you've ever seen. Now, everytime the same chap is on the counter he says something along the lines of "Not very vintage today" (including sometimes when I really am, just not wearing victory rolls).
In Summer 2010. Vintage Mickey Mouse T Shirt, pearls and a pencil skirt.
I kind of embraced the idea of "vintage" as an all encompassing style. In my mind it encompasses everything from a pure 60s reenactor in original go go boots to girls with a penchant for mixing their vintage dresses with crazy tights. You can be vintage if you recreate perfectly a look from 1943, without wearing a single item of vintage clothing, and you can be vintage if you wear original 1940s dresses with studded shoes and straightened hair. It's a name that started off defining the age of an item of clothing, but it's meaning is evolving.
In August 2011. Heyday Repro 40s style dress, fishnets, Abilu Creations custom hat* and crazy victory rolls.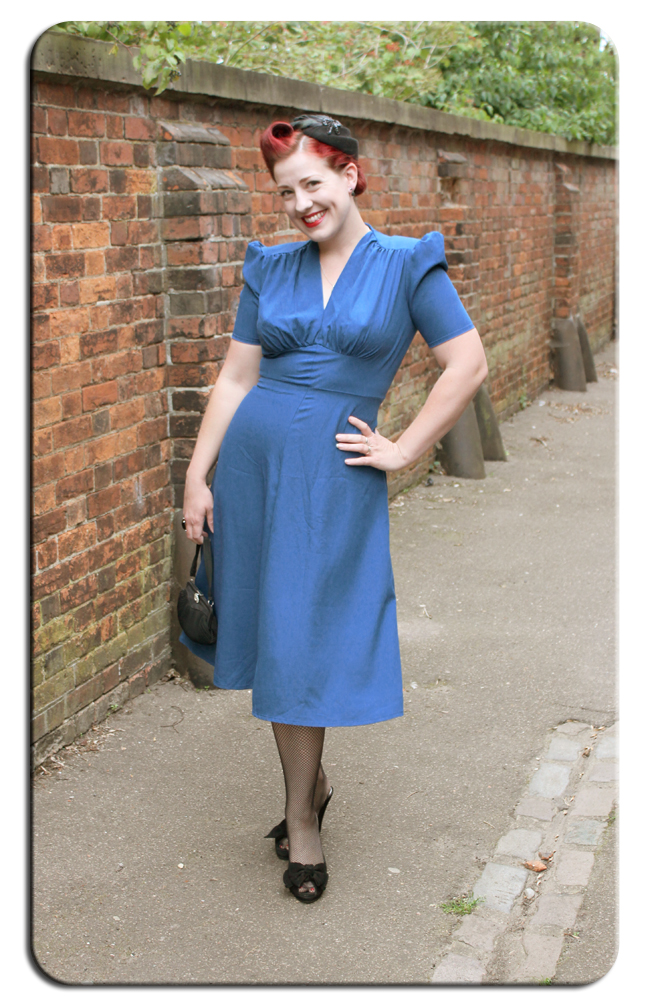 Recently, as "vintage" becomes bigger and bigger and people get more fixed ideas of what it means, I'm starting to find it quite limiting. Once people decide you dress "vintage" you feel like you're letting them down if you turn up tomorrow without setting your hair, or with stripy tights and glittery shoes under your pencil skirt and blouse instead of seamed stockings. Sometimes I want to be period perfect, other days I want to be a little more inspired. I've developed a bit of a crush on comic book prints and platform shoes.
In August 2012. More victory rolls and a touch of the tropical in an 80s vintage dress and platform shoes. This is one of my favourite outfits ever.
Terms like "vintage" (or goth, or hipster) mean that other people can develop an idea of your style that's not really yours. Do you want people to think they know exactly what you're going to look like when you turn up at a party, or do you want to keep them wondering?
From my perspective, I wonder how this fits into blogging. I write what is ostensibly a fashion blog. A vintage fashion blog. Am I obliged to wear vintage clothes? Vintage style clothes?  People might arrive here with a particular view of what they will find, am I a huge disappointment in my TK Maxx shoes and New Look dresses? Do they, much like my corner shop chap, wander off to other corners of the interweb muttering "that's not very vintage."
Vintage 2013 style. Love Ur Look Repro Dress* and TK Maxx shoes and cardigan.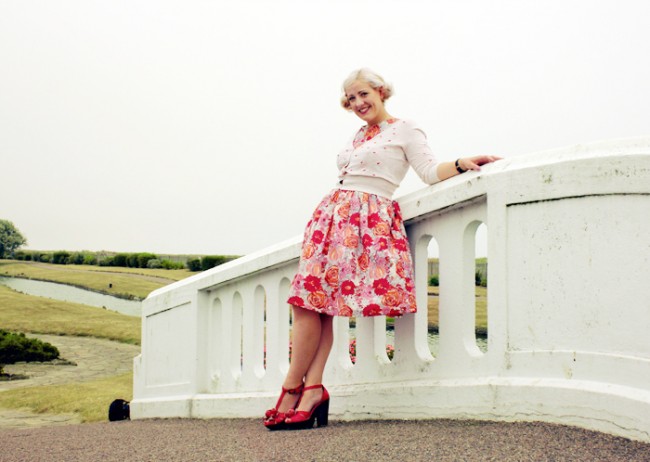 When I think of my wardrobe and the clothes I wear, my biggest fear is falling into a rut. I have outfits I wear a LOT as they are comfortable, smart and pack well, but if you never try anything new and only ever wear the same styles and outfits then where's the fun? Your clothes might not be the most important thing in the world, but I genuinely believe that a touch of experimentation in your wardrobe can bring a much needed element of joy to life. Life is largely boring, sometimes difficult and stressful and often serious, and for most of us what we wear off duty can be pure frivolity in a way that not much else is.
So I plan to carry on wearing seamed stockings with comic book print dresses, team my vintage hats with multi coloured nails and vintage dresses with platform shoes. I'll dye my hair pink, blue and aquamarine and put it in victory rolls and finger waves and confuse the chap from the corner shop (who really is just making polite conversation and doesn't really care about my hair).
Do you think you have a Signature Style, or do you like to keep people guessing?