"No7 Beautiful Skin Hot Cloth Cleanser has been created to provide tailored skin nutrition for healthy looking, bright and beautiful skin.

Enjoy the luxury of a spa facial in your own home. The combination of this rich indulgent cleanser and the gentle exfoliating muslin cloth removes dead skin cells and daily grime whilst stimulating circulation, leaving your skin deeply clean, soft and radiant."
The Pros
The first thing worth mentioning is that this product is half the price of my previous cleanser, at £9.95 for 200mls. Still more expensive than Boots Tradtional Cold Cream, but cheaper than Ponds. It come in a tall pump action dispenser which makes it easy to dispense the right amount of product, 1 or 2 pumps is plenty, so avoiding any waste. The packaging isn't beautiful or striking, but it's not offensive to the eye and will stand unobtrusively on your bathroom shelf!
The muslin cloth provided with the product is slightly rougher than others I've used, so probably a bit of a better exfoliant.
It has a nice, light texture, and left my skin feeling smooth and refreshed after use and not at all greasy.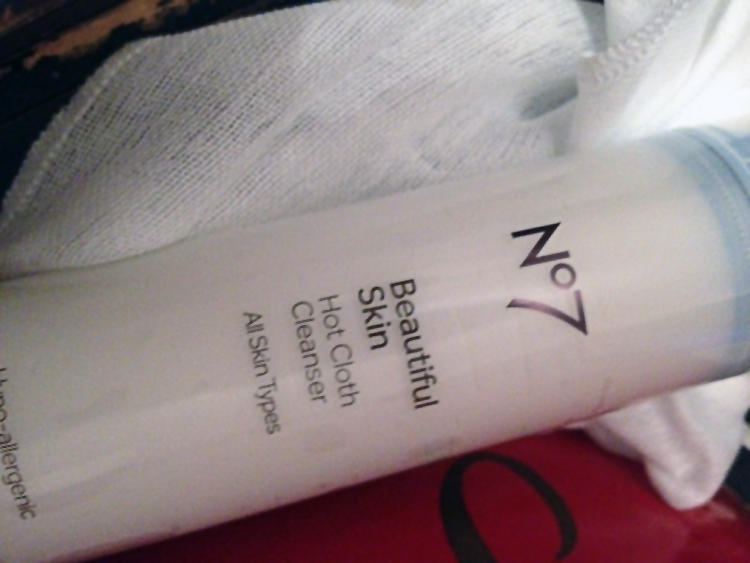 The Cons
That nice, big, solid, pump action tube is a pig to carry around if you travel, it takes up a lot of space in a washbag and might need to be decanted.
The muslin cloth provided with the product isn't the most amazing quality, if you have sensitive skin that you don't want to exfoliate too heavily you might want to switch to one with a slightly finer grain.
The Verdict
Although I am tempted to go back to Cold Cream for a bit during the winter months when a heavier cream is nice, I'm definitely going to keep using this one. My skin feels smooth and fresh, and it's half the price of my previous product, we'll just see if it solves my problem with breakouts on my chin!
No 7 Hot Cloth Cleanser is available from Boots for £9.95 for 200ml.