Do you ever just get sick of being you?
Not that I want to be anyone else, I'm talking more in a fashion sense. Like those days when you open your wardrobe and just think "Again?".
I've been having a little moment of that lately and I've been trying to mix it up just a bit, wearing things that I maybe haven't pulled out of my wardrobe for a while, or going for something completely different. Like a mini skirt.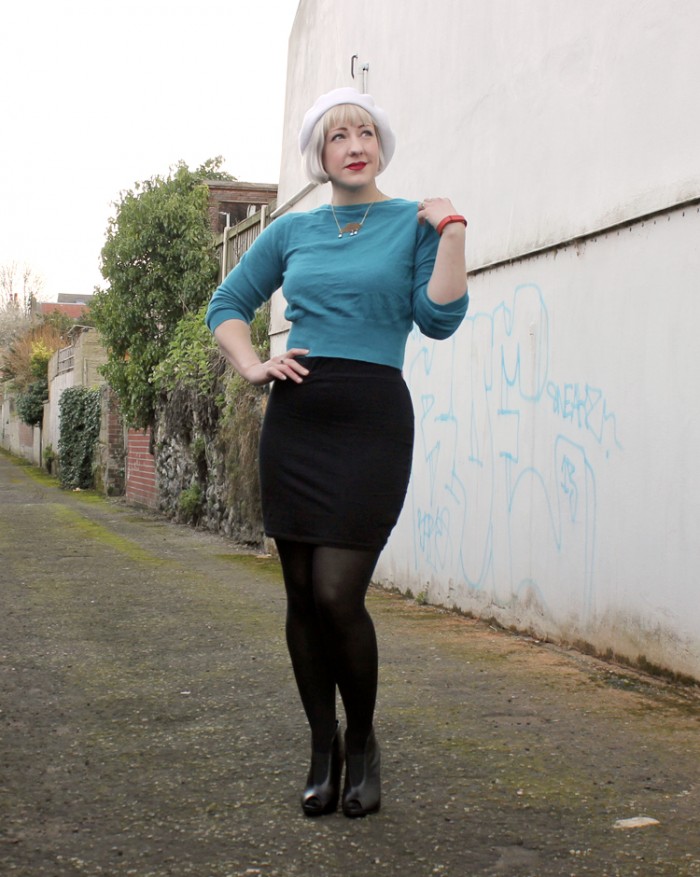 I wear a few shorter skirts, but they tend to be A Line styles like my monochrome stripes, but while I was accidentally adding this dress to my shopping basket the other day I spied this short black tube skirt, it was only £3.99 and I thought "why not?"
Of course, the reasons not are that I don't really have the legs for short skirts. I have very short, curvy legs, they're definitely not those long, lithe willowy legs that all the Pinterest outfit girls have when I'm looking for inspiration on how to wear things, but sometimes you just have to do it anyway.
What to wear with it was a dilemma. Flats make me look like a Hobbit and high heels run the risk of looking a bit Pretty Woman. Anything too tight on top is a bit skimpy, but too baggy and I look like a potato.
After much consideration I decided to wear it with those shoe boots that I bought thinking I would never wear and have hardly worn anything else since, and a cardigan, BACKWARDS. Showing off a bit of back rather than a bit of cleavage is a lot less obvious, and the cardigan is fitted enough to give me a waist and loose enough not to be too much with a short skirt.
I will tell you now, putting a cardigan on backwards isn't as easy as it sounds, every time I tried to put this over my head all the buttons popped open and I had to take it off again and re button it. Getting dressed has never been so complicated.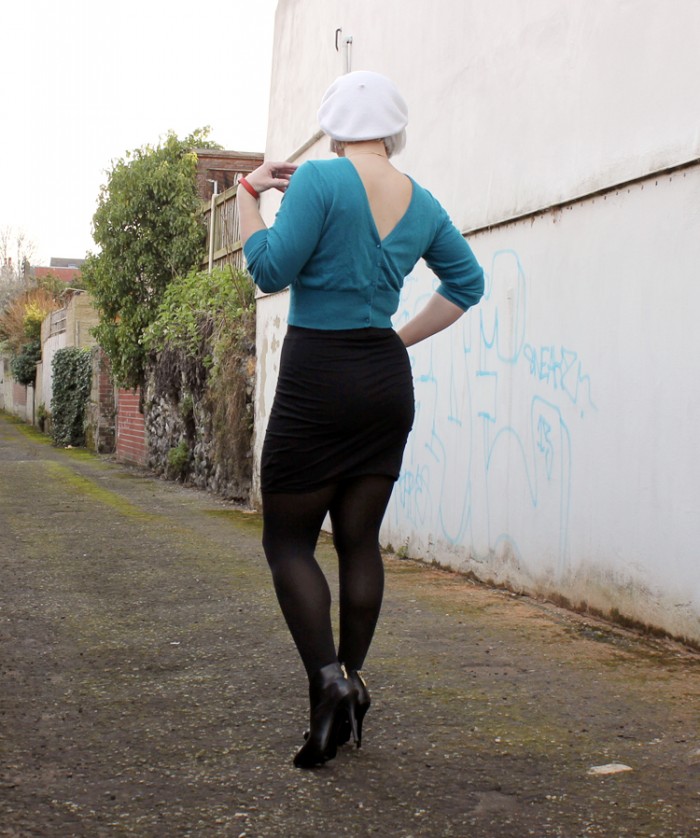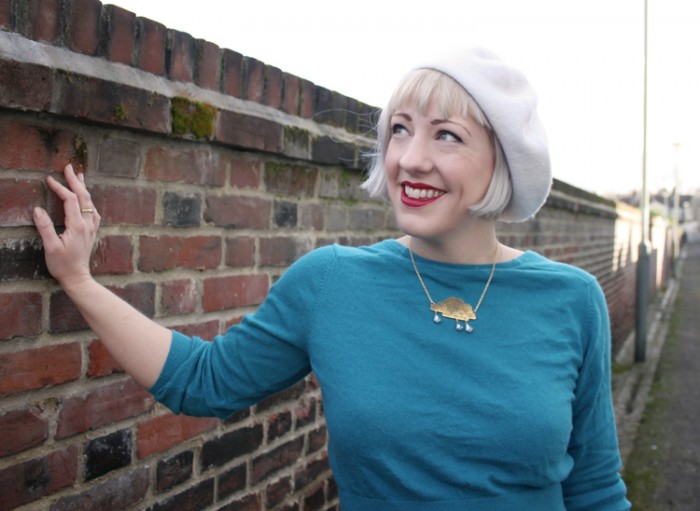 Also, just to prove I take my own advice here, as wearing the cardigan backwards makes it high necked, I added a necklace over the top. This is the You Cannot be Cirrus necklace from Eclectic Eccentricity and comes in different seasons. I was browsing their Facebook page the other day and fell in love with this version, which is Spring. I left a comment saying how gorgeous it was and they sent me an email and offered to send me one, which pretty much made my day!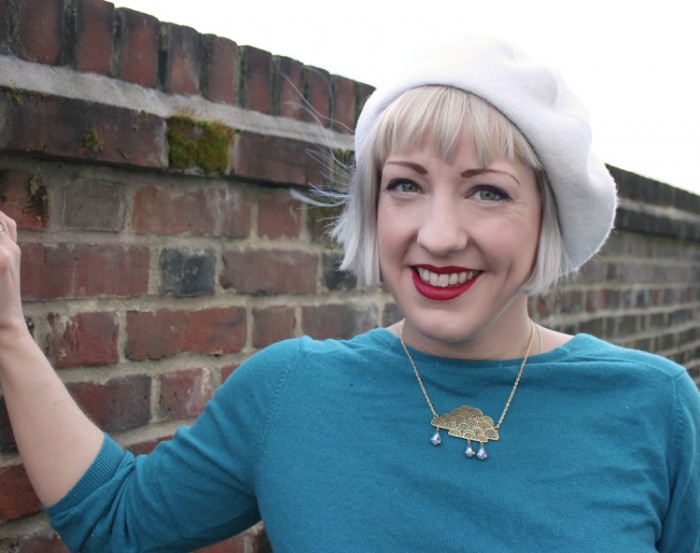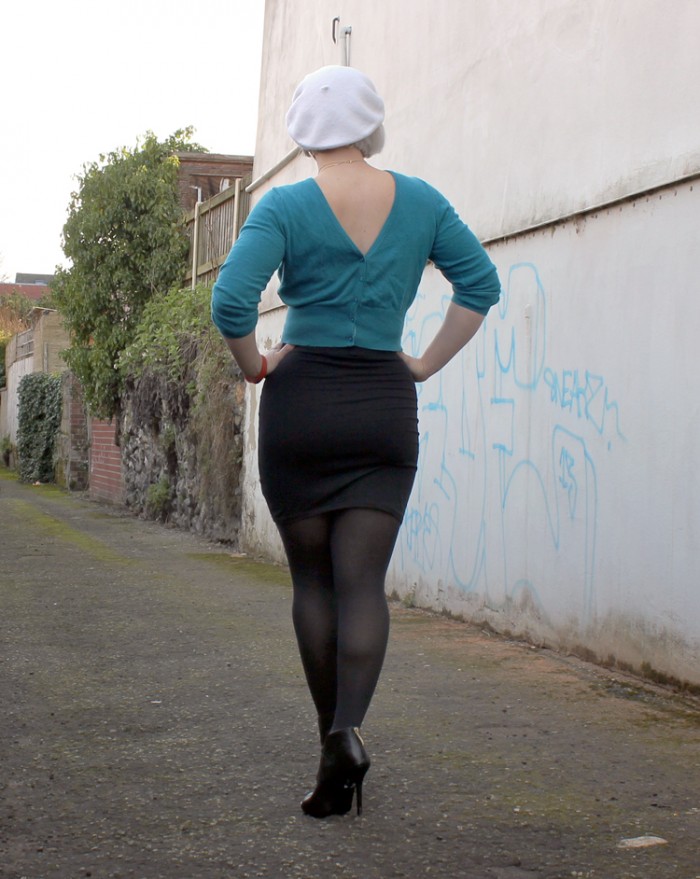 I think the key to trying something outside your comfort zone is to keep it to just one item so that it's not too much of a shock when you look in the mirror. So while the skirt might be shorter and tighter, the red lipstick, beret and heels is pretty much my staple wardrobe!
What do you think, should the mini skirt stay?
♥ High Waisted Tube Mini Skirt – New Look ♥ Cardigan – Boden* ♥
♥ Shoe Boots – Guess ♥ Beret – eBay ♥ Necklace c/o Eclectic Eccentricity ♥
Related