Or the alternative title for this would be "Awesome Weekend Pt.2"
I've worked with Old Spitalfields Market before when they had me down to judge an awards and they were really lovely people, and an amazing market. So when I got another email from them asking me to come down again I was quite excited!
Old Spitalfields have a different fair every Saturday, and on the first Saturday of the month it is the turn of So Vintage London. They wanted me to come down and they set me a challenge, to find my top 10 items at the fair from a mix of home-wares, mens & womens clothing and accessories available on the market, and for a budget of under £200. The little bit that had me pinching myself to check I wasn't dreaming was that they actually gave me £200 of market vouchers to spend. After all, what's the point of picking my top 10 items if I can't take them home and play with them, that's like a punishment!
So here I am, 11:30am on a Saturday morning, looking very spring like, and still in last nights hair do, looking excessively pleased with my vouchers.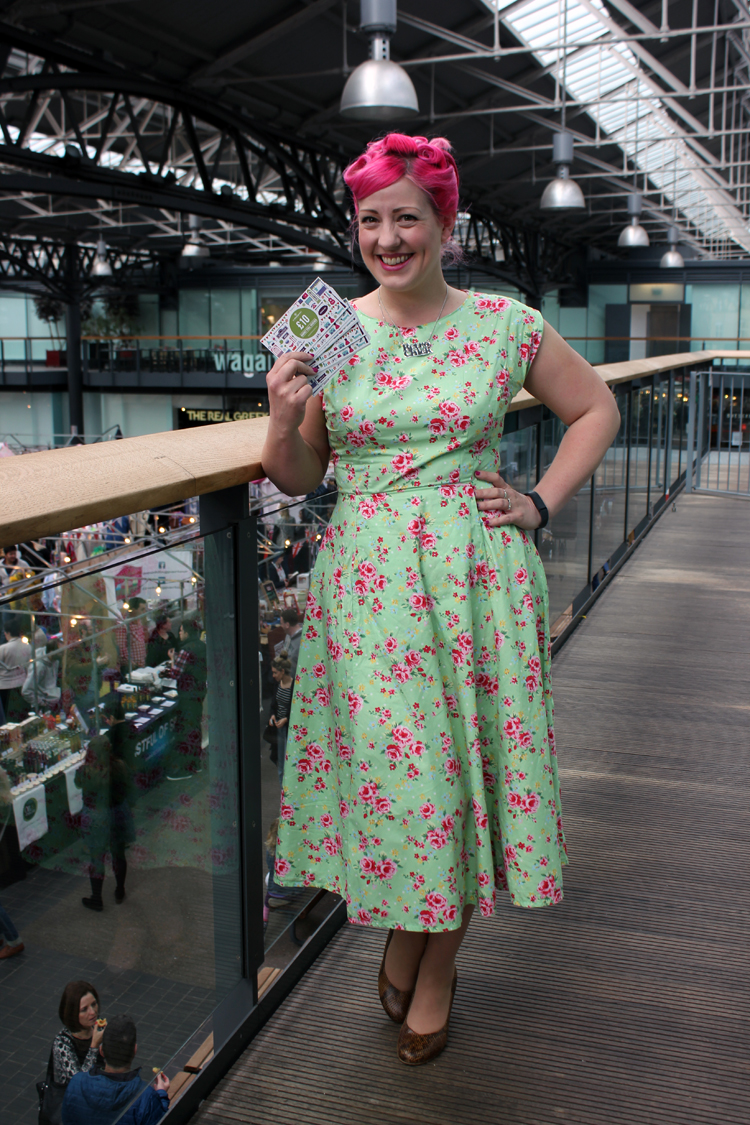 ♥ Dress – Pin Up Parade (in the sale!) ♥ Shoes – Office ♥ Necklace – Tatty Devine ♥
I had about an hour shopping time, before I was booked in to have lunch at Las Iguanas. I asked to sit outside, because Las Iguanas is on the top floor and you get an amazing view out across the market. I ordered tapas, despite having eaten it the night before, I do love tapas! I also ordered a cocktail, but I expected I might be asked to pay for it, because who gives you free booze after all?
Then my drink arrived…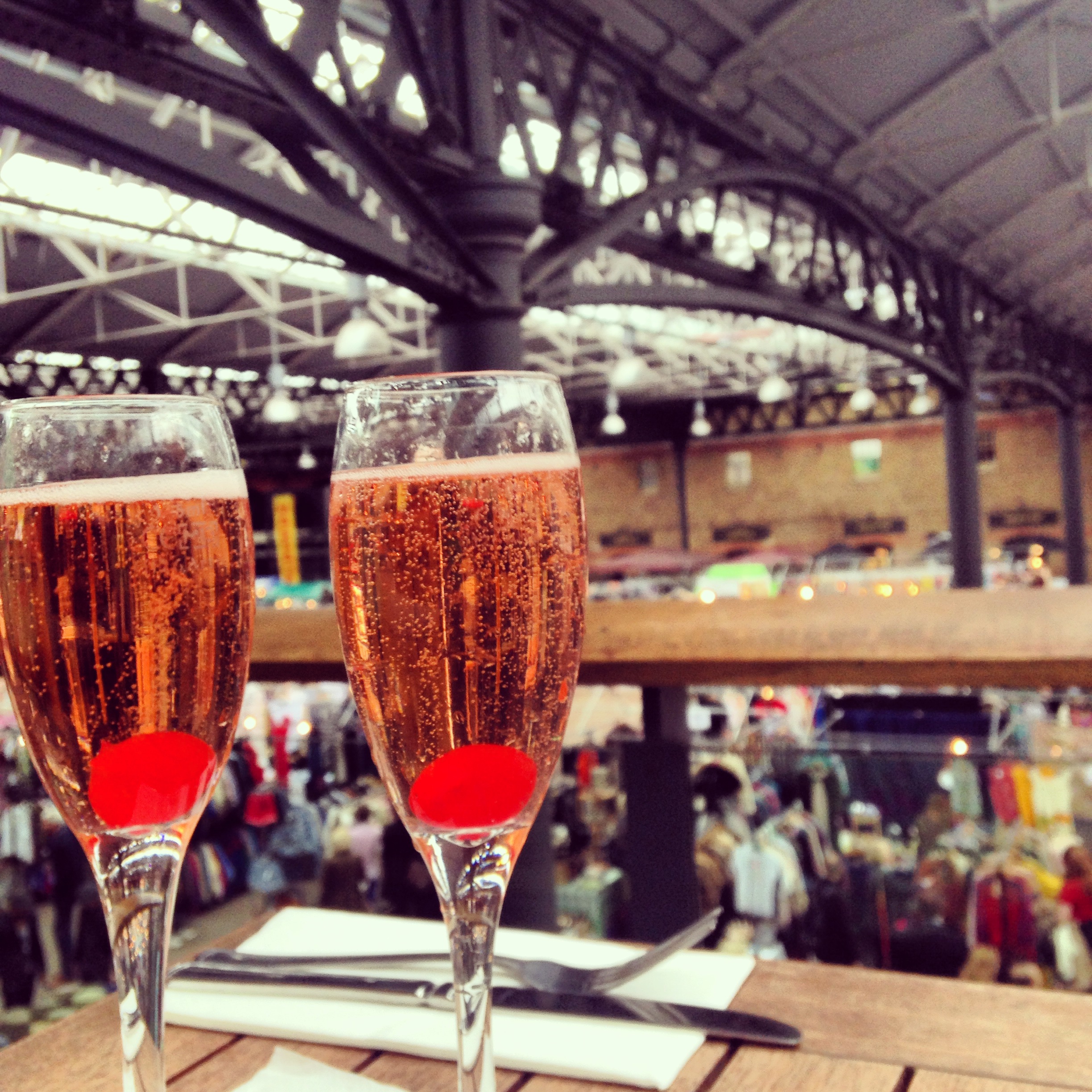 I must have looked confused, because they explained that they were 2-4-1, so I had two lunch time cocktails. I also had sweet potato fries, chorizo in red wine and gambas, and it was all delicious.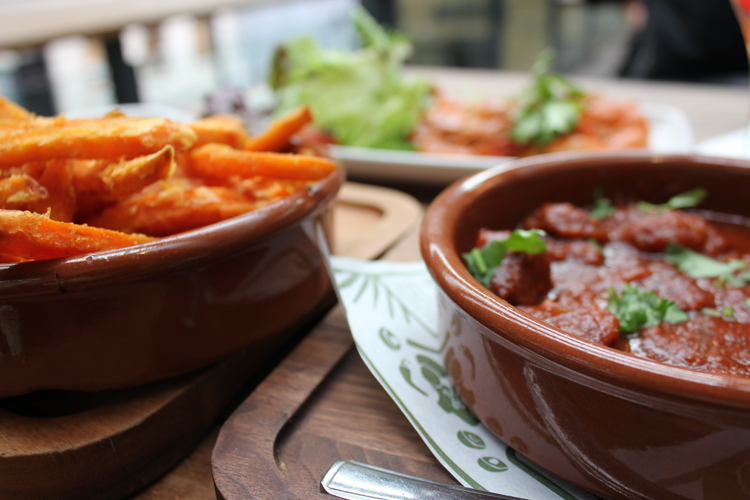 And then it turned out I didn't even have to pay for my cocktails! Feeling mega spoilt, and with a glowing cocktail induced buzz I toddled off to finish my shopping, which went much faster than to start with. It's amazing how a little drink makes parting with money less stressful.
So, what  were my top 10 So Vintage finds? At first I was a little apprehensive about being able to find things. Vintage fairs, particularly in London, can have a reputation for being a little, er over-priced, so I was apprehensive about my £20 per item budget, but in the end it was no trouble at all. The fair has a small, but excellent selection of stalls with lots of choice, and largely very reasonable prices!
No 1. Mounted Vintage Prints from Vintage in Print – I just loved all these prints, most coming in around the £20 mark. I actually bought these 2 from the sale box for £5 each.
No 2. Playing Card design Decanter & Shot Glasses from Mabel on the Table – I am nuts for cocktail paraphernalia and glassware, and the playing card design on these had me at Hello.
No. 3 Flamingo Brooch from Magpie's Attic – It's worrying how often I find myself thinking things will go with my hair now that it's pink. This flamingo just had to join my novelty animal brooch collection!
No. 4 Clip on Earrings from Magpie's Attic – They're pink, see above.
No. 5 Vintage Kimono from 5678 Vintage – I do love a kimono, and this vintage version is so heavy and beautiful. I plan to waft around with cocktail in it, and wear it as a lightweight summer jacket.
No.6 1960s Chiffon Scarf from Miss Retro – Bought because I thought the orange would contrast well with my hair. I have a problem. It was only £1 though!
No.7 Vintage Fabric Cocktail Print Cushion from Pink Elephant – I really do have a thing for cocktail paraphernalia. This is such a cool print.
No.8 Mens Duggie Scarf from Black Betty – I wanted to get some menswear in, as men so often think there won't be anything at vintage fairs for them. Black Betty had this reversible scarf, which I thought was great! It's also a lot warmer than your regular silky fringed scarf.
No 9. Pineapple Coasters from Spoiled Fox – So kitsch, I love them! Now living happily in my cocktail cabinet.
No.10 1960s Cats Eye Frames from Auntie Aviator – Technically these went over budget, as I will be paying to have them re-glazed with my prescription. But the frames themselves had clear glass in them, so if you just wanted them for the look then they were a good purchase!
All that within budget! Not a bad haul! I even had a couple of pounds left over to treat myself to a cupcake from Betty Lou's Bakery to make the trip on the tube to awesome weekend Pt.3 a little more bearable.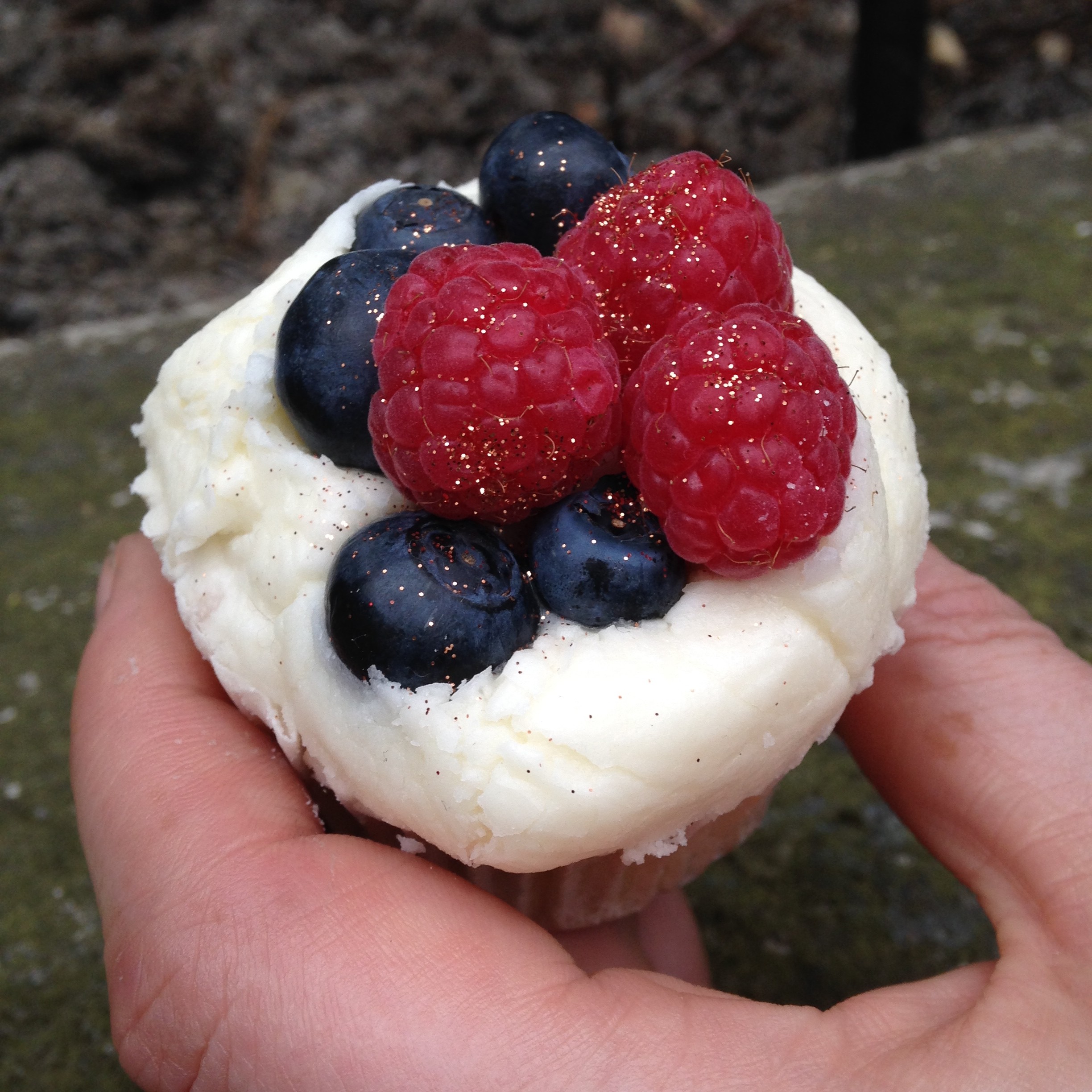 So Vintage is at Old Spitalfields Market on the 1st Saturday of every month, making it's next visit the 3rd May. It's a good one for me to get to from Norwich, being just round the corner from Liverpool Street, and I suggest checking out Old Spitalfields next time you're around anyway, if you haven't already, as it's just a lovely market place.