Behind Door 21 is what I think is a real Christmas Cracker of a prize courtesy of Wake Up Little Susie!
Susie has been running her business part time for many years and is a specialist in vintage nightwear. In the New Year, though, she will be starting an exciting new chapter as Wake Up Little Susie becomes her full time job! Good quality vintage nightwear isn't always the easiest thing to find, so Susie is worth keeping an eye on as she expands her offerings for a bit of glamorous loungewear!
Today's goodie bag is a fabulous prize for vintage lovers, featuring a pink vintage bed jacket, a new pink eye mask, a pair of vintage glass candle holders to stand on a pair of vintage embroidered dressing table mats & 2 pink candles to go with them. There is a retro Minnie Mouse mug with hot chocolate sachets & marshmallows, a vintage pink hankie & vintage dressing table mat/tray cloth & vintage 1940s romantic novel also in the goodie bag.
So you can snuggle down in your bed jacket to read your vintage romantic novel by candlelight while sipping hot chocolate and marshmallows!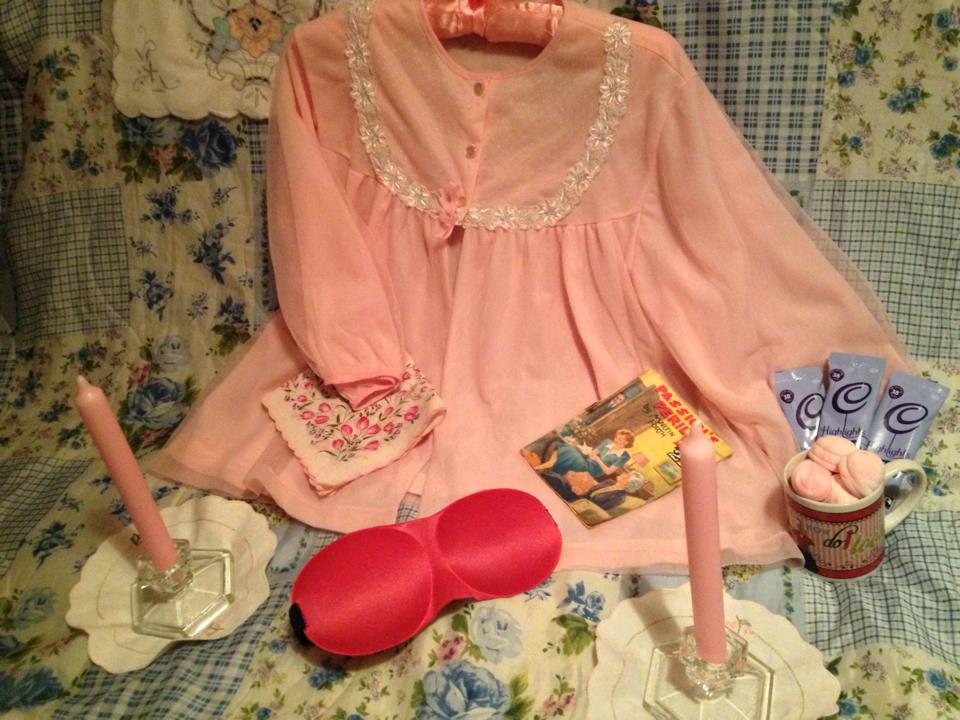 To get an entry into todays giveaway you have 3 options, you can do one, or all 3 for more chances to win! Visit Wake Up Little Susie on Facebook, Sign up to the Wake Up Little Susie Newsletter, or for a bonus Retro Chick follower option you can follow me on Pinterest!
Just fill in the raffecopter widget to make sure your entry counts!
a Rafflecopter giveaway

Unfortunately I am unable to fix any issues with the rafflecopter widget as it is hosted externally. If you have problems, please try again later or contact [email protected] for persistent issues and tell them your browser and operating system.