Can anybody hear me?
Coming up to Christmas is a notoriously quiet time on the blog, apart from people entering my advent calendar giveaway, of course, because frankly you've probably all got better things to do than read my witterings, like fighting your way around the supermarket and making sure your house is spotless so you can mess it up again over Christmas!
Still, I thought I'd stop in today to tell you about a little project that I took part in earlier this month, just for funsies. In Post UK asked me take part in a Swap Shop with some other bloggers. I love taking part in this kind of thing because it's a chance to find out about other bloggers you might not have known before and, well, it's a bit of fun and you can't be all business all the time!
The idea was that we would all post photos of things we wanted to swap using the #InPostSwapShop hashtag on Instagram and Twitter, and then interact with bloggers who were swapping something we particularly liked. I originally had a blue straw vintage boater to swap, but then found a split in the straw (the perils of vintage!) so I switched to this Pegasus pendant.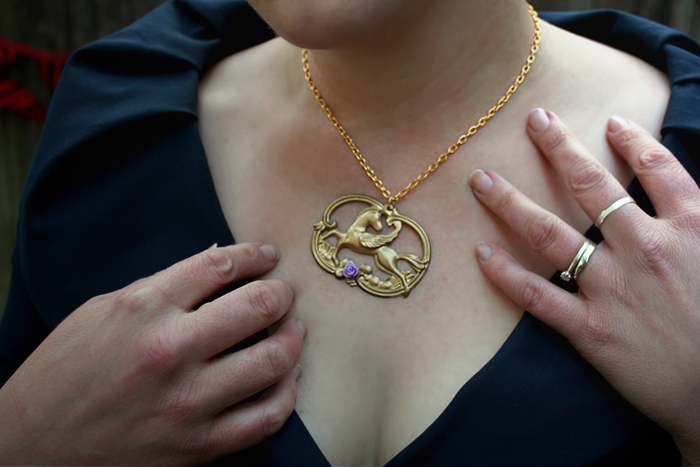 After we'd all decided on a swapper we used the In Post service to get our items delivered to our swappee. It cost me about £2 to post this necklace, and the thing I liked best about it was that you could post parcels out of hours, so it's perfect if you can't get to the Post Office during work hours.
There are lockers about a quarter of a mile from me by the corner shop, so I packaged up my necklace, printed out the label and used the self scanner and touch screen to unlock a locker of the right size and just left it in there, simples!
In return I had another necklace delivered to my door by the In Post Couriers! Apparently it's an Acanthus necklace, it's very glam and I'm planning to wear it out for unglamorous burgers for a friends birthday this evening!
Note also the fetching bruise on my shoulder which I tried to keep away from the camera and failed. I had a Roller Derby game on Saturday and took a hard hit on my shoulder. I suspect that the bruise is not from the initial hit though, but more from me demonstrating how and where I got hit to other people by punching myself in the shoulder while wearing wrist guards hard plastic plates in them. Seriously, it's a wonder I make it out of bed alive sometimes.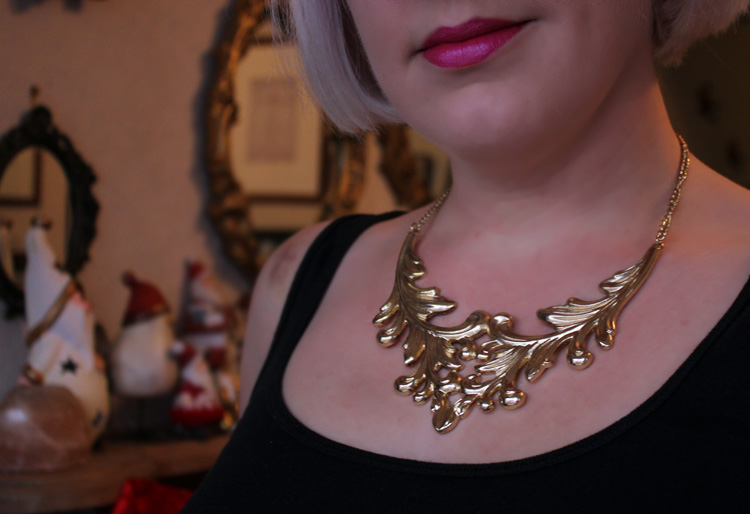 I hope you've sent all your Christmas presents by now, but on the off chance you haven't and are resigned to them arriving after Christmas, you can find out where your nearest In Post Locker is here.
On that note, I am now off to take part in the annual ritual of cleaning my house till it gleams, so that I can spend the next 2 weeks completely messing it up and start the New Year living in squalor!
This post was produced in collaboration with In Post Uk, but all opinions and necklaces are my own!
Related