Get me, I took a whole 4 days off over Easter.
Well, nearly, I did pop in on Monday to write a post about, er, fish for Lipstick, Lettuce & Lycra, but otherwise I did nothing bloggy, which is rare! It does, however, mean that I have arrived back at Wednesday with no proper pictures, pretty or otherwise of my weekend and nothing to say. There will be pictures coming, because I went actual shopping over the weekend, so soon I will be wearing new frocks and ridiculous shoe boots, but today I thought I'd ease back into work with a post about one of my new sponsors Ever Pretty, as they are having a 10th Anniversary sale.
Ever Pretty are one of those online dress retailers that I think of mostly as selling prom type dresses, but look a little further (and filter by knee length) and there are some great day and smart evening dresses and they are super cheap. I love that there are lots of measurements on the site to chose your dress, even though that already means that I know the arms will be too tight on the dress I had my eye on, and shipping is free.
My favourites…..

I picked these 3 out as potential day dresses. I have one very similar to the black and white stripes that I love to wear with a leather jacket and DM's. The middle print dress is a cute summer style and the green dress is an every day basic that comes in 10 colours!
L-R Green Dress £36.83 £20.09 ♦ Lace trim print dress £36.83 £16.73 ♦ Black & White Stripes £26.80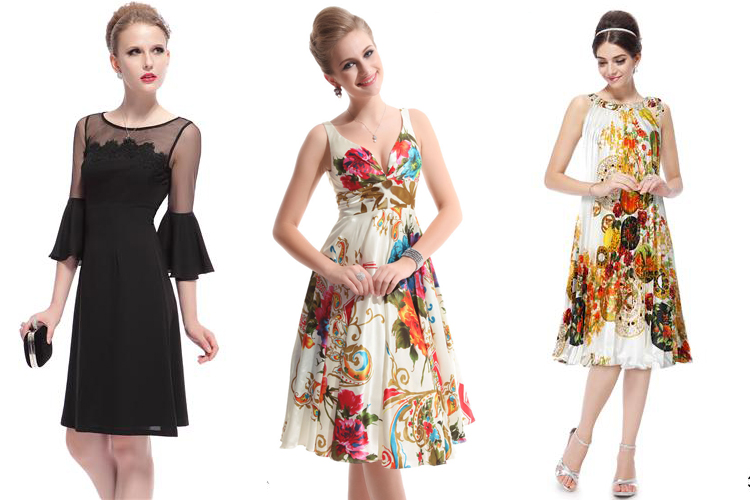 These 3 are more evening/weddingy styles. The little black dress has a perfect 60s vibe with it's trumpet sleeves, in the middle is another one for the pretty prom dress collection, and that last one I think you need the body shape and a bit of height to make it work, but it's shape reminds me of 70s styles, it comes in loads of different prints and is just a little bit Margot Leadbetter.
L-R Trumpet Sleeve Dress £33.47 £23.43 ♦ Empire Line Floral £43.51 £24.76 ♦ Gold Calf Length Dress £36.82 £13.38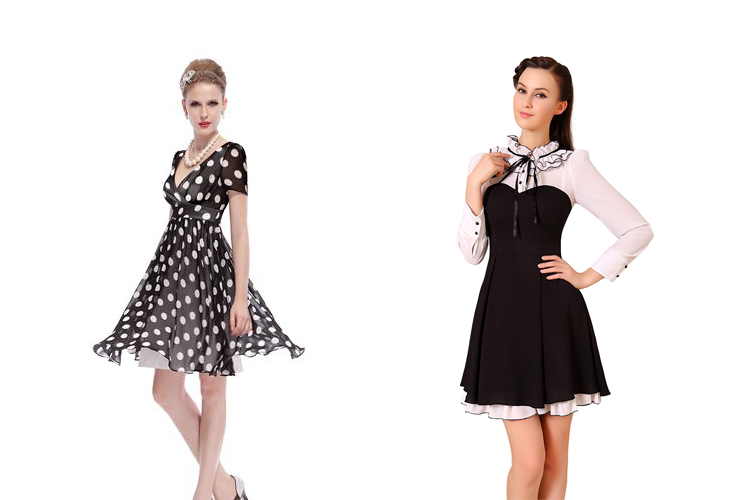 These last 2 are a little bit wild card choices! As a vintage lover I have a bit of a funny relationship with polka dots. I think they're kind of cute, but I resent their twee take over of all things vintage with polka dot bunting. Still, this is a cute dress, if a little short and if you're working that polka dot look it's great. The second dress I dismissed at first glance. Then I imagined it with black tights, very high heels and lots of eyeliner and there was something a little bit understated dominatrix about it that I kind of liked. Think vintage school mistress.
Polka Dot Dress £40.18 £16.74 ♦ Black & White Ruffled Shirt Dress £50.23 £26.78
Ever Pretty are running various promotions throughout April to celebrate their 10th Anniversary, so if you were going to give them a try, now's a good time!
This post was produced in collaboration with Ever Pretty, but all dress picks are my own!