Seriously, you can't trust the British Summer for a second.
On Saturday the weather was glorious. We went out for Cocktails and had a lovely day, so on Sunday planned to go out for a picnic.
Barbour have sent me an amazing limited edition picnic rug. There are only 250 IN THE WORLD, and I have one. They are not for sale, but they are giving 66 away (enter here!) and I thought Sunday would be an amazing day to put it to the test and enjoy a pleasant picnic lunch in the sunshine.
Except of course this is Britain, so on Sunday morning I woke up to cloudy skies and occasional rain. We decided we might risk it anyway and have our picnic on the Bandstand at the local park, but as we turned up the occasional rain decided it was time to become torrential.
Fortunately one of the things that's so amazing about the picnic rug is that it does this!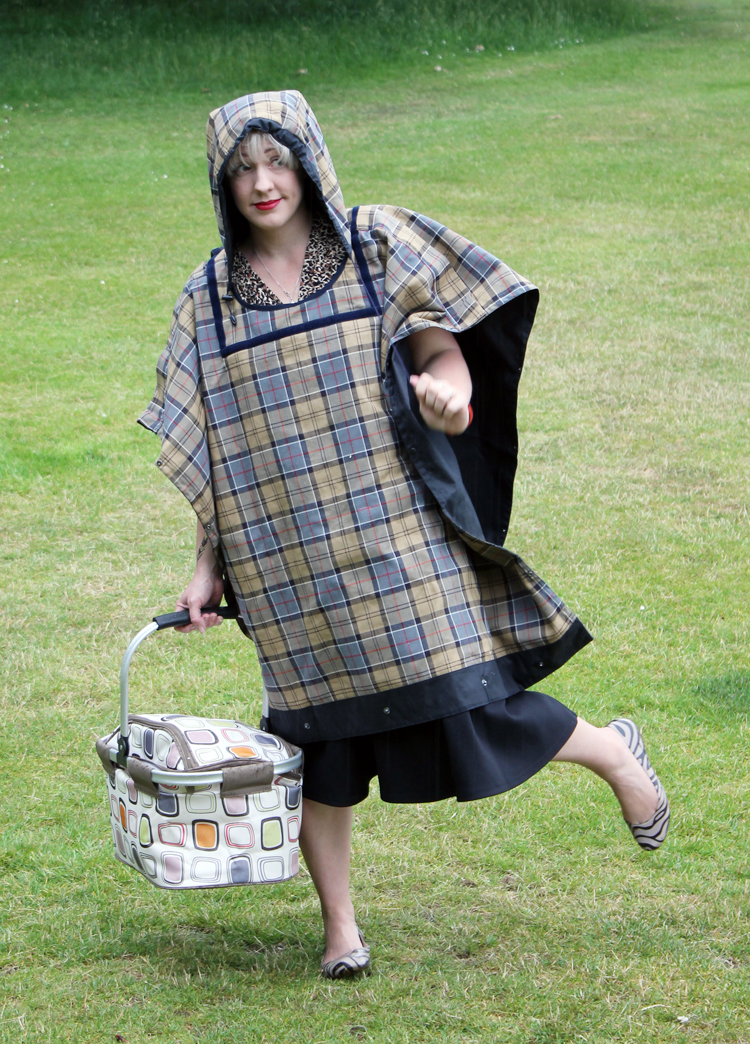 Yes, that's right, as a traditional British brand Barbour understand the unpredictable British Weather and there are two velcro panels that conceal a hood to save you from random torrential downpours.
To be fair, we should probably have given up at this point and gone home and had a picnic on the living room floor in front of Netflix, but no, we trotted off to the bandstand anyway thinking it was undercover and the rain was BOUND to stop soon.
It was undercover, but it also smelt like the council need to consider installing more public toilets in the area.
"Lets go home" I said, "No," said Mr Chick, "You can hardly feel it under the trees and it's bound to stop soon"
And that, dear readers, is how I ended up having a Sunday lunch time picnic in the torrential rain.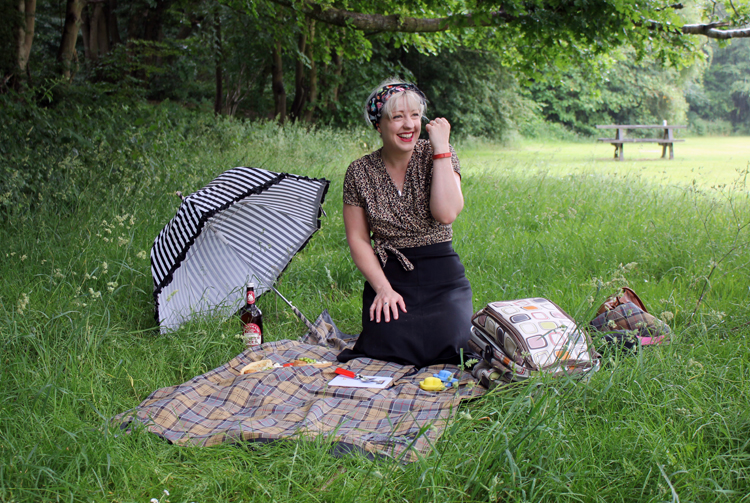 Luckily aforementioned picnic blanket is waterproof (as is its little carry bag, that you can use as a wine cooler) so damp grass was fine, and Mr Chick was right, there was hardly any rain at all under the trees.
So we had quiche, and pork pies, and potato salad and Ginger Beer and all those other lovely Summer picnic staples while people walking dogs looked at us like we were crazy.
Sadly, the rain did not "stop soon" and after a while even the thick tree cover wasn't enough to stop large drops of rain falling down the back of my neck so instead of a pleasant afternoon lounging in the sunshine reading papers and drinking Ginger Beer we decided to cut our losses and head back to our house to spend the afternoon watching TV (Edward Scissorhands, Beetlejuice AND Dirty Dancing were on yesterday!)
As this is Britain the ice cream van was still on location at the park, so we stopped for an ice cream to eat in the car on the way back. Seriously, I'm not letting a little bit of  (torrential) rain get in the way of my traditional British Sunday picnic traditions.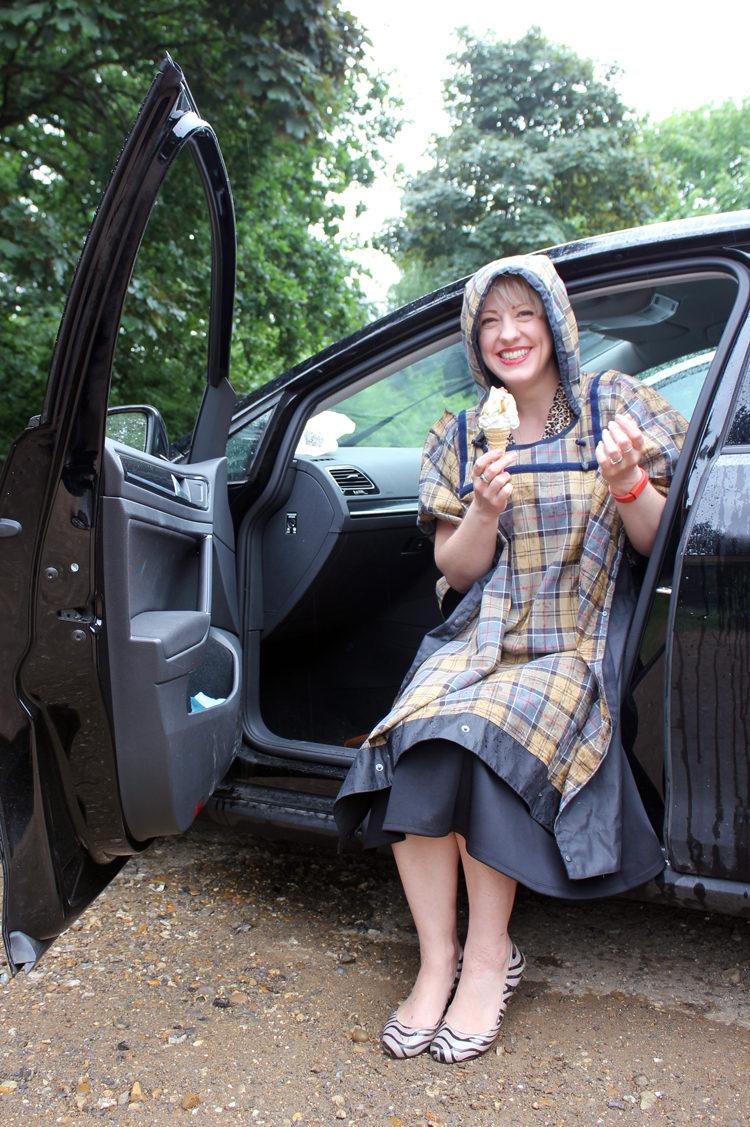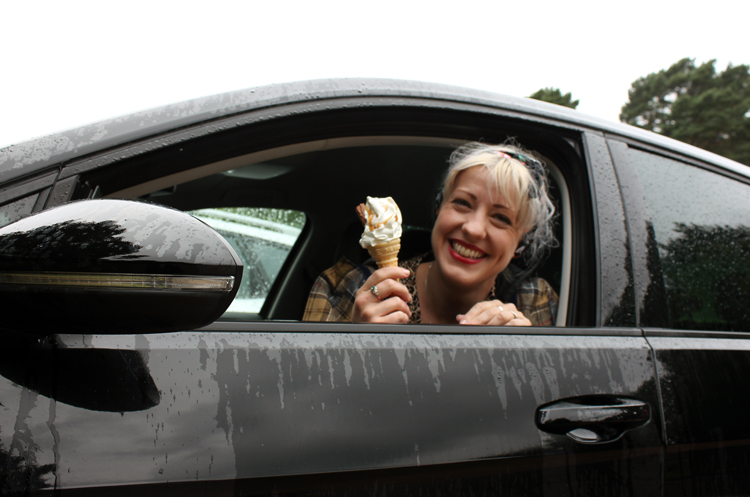 I returned home slightly damp, but it was kind of weirdly fun. I refuse to let the weather stomp on my plans! But next time I head out for a picnic I'm really hoping I need the wine cooler function rather than the poncho function!
Today, of course, the weather is divine again, and I'm stuck indoors working, but Wimbledon is on to keep me entertained!
If you fancy  a chance of winning one of the limited edition picnic rugs from Barbour then they want to hear about your summer adventures. Share via their social channels with the hashtag: #BarbourPicnicRug to enter. More information here!
You can also watch a video of  all the exciting multi purpose things it does here!
Outfit Details for those interested!
♣ Blouse (on sale!) – Heyday! ♣ Skirt – ASOS ♣ Cocktail Scarf – Bad Kitty ♣ Shoes – Mel by Melissa ♣