Did you miss me?
I bet you never even noticed I was gone. Last week I headed off on holiday, for a trip that we'd been meaning to make for years, to Munich, for Oktoberfest. This is the only holiday that I've had this year that hasn't at least partly contained an obligation for me to take pretty photos and talk about it on the blog when I got back, but I'm afraid I can't resist boring other people with my holiday photos, so you get to hear about it anyway.
So excited was I about a completely obligation free holiday that I didn't even take my proper camera (that, and the fact that I am a cheapskate and Easy Jet only let you take one piece of hand luggage INCLUDING a handbag, so there wasn't room for the chunky DSLR as I needed the space to carry my entire life.) Of course, in this world of camera phones that didn't stop me photographing everything that happened for the whole 3 days. Muhahahah!
Starting with a late night arrival at an airport hotel, and my first German beer, in a stupidly huge bottle which greatly amused everyone else in the hotel bar.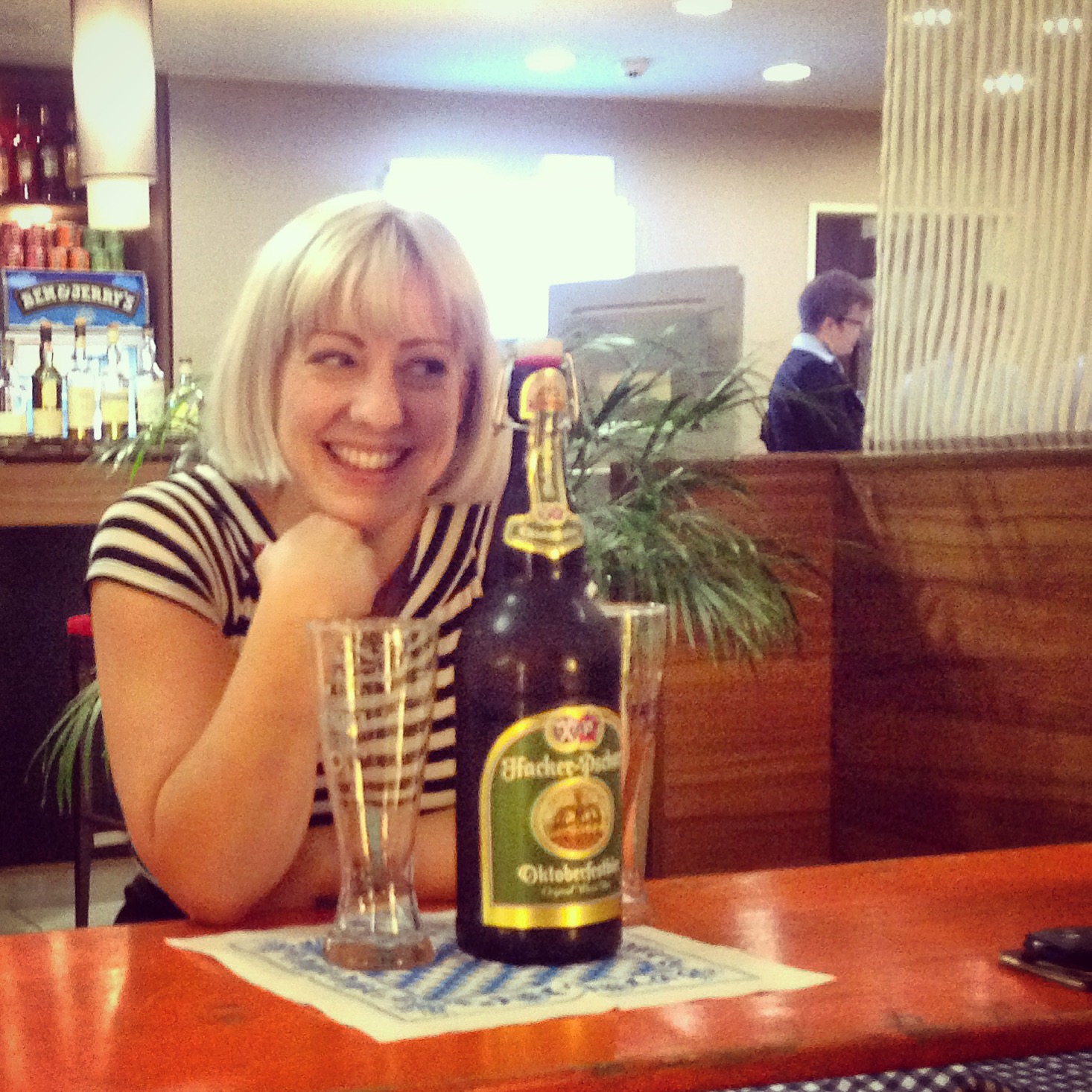 Day 1 proper in Munich dawned with a hotel breakfast and the exciting complicatedness of navigating a foreign train system to get to our hotel. Turns out it was pretty easy but that didn't stop me feeling slightly proud, and we checked into our hotel (the Holiday Inn Munich, fact fans) and headed out to explore.
I was almost instantly pretty taken with Munich, it reminded me a little of Norwich, bustling and busy with great shops and restaurants, but with a historic small town sort of feel. The hotel is within easy walking distance of the main town centre area where we first explored the Viktualienmarkt. This is a really amazing market that sells produce and artisan craft items, all of which are beautifully presented and displayed. It also had food stalls and restaurants dotted around selling fish, oysters, a champagne bar and some street food stalls at which I purchased bratwurst.
We also discovered that there was a large beer garden in the centre of the market, in which we eased ourselves in with a simple 500ml of nice German Beer. At this point I think I felt more relaxed and at peace with the world than I have done for many months now. It was just perfect sitting, watching the world go by.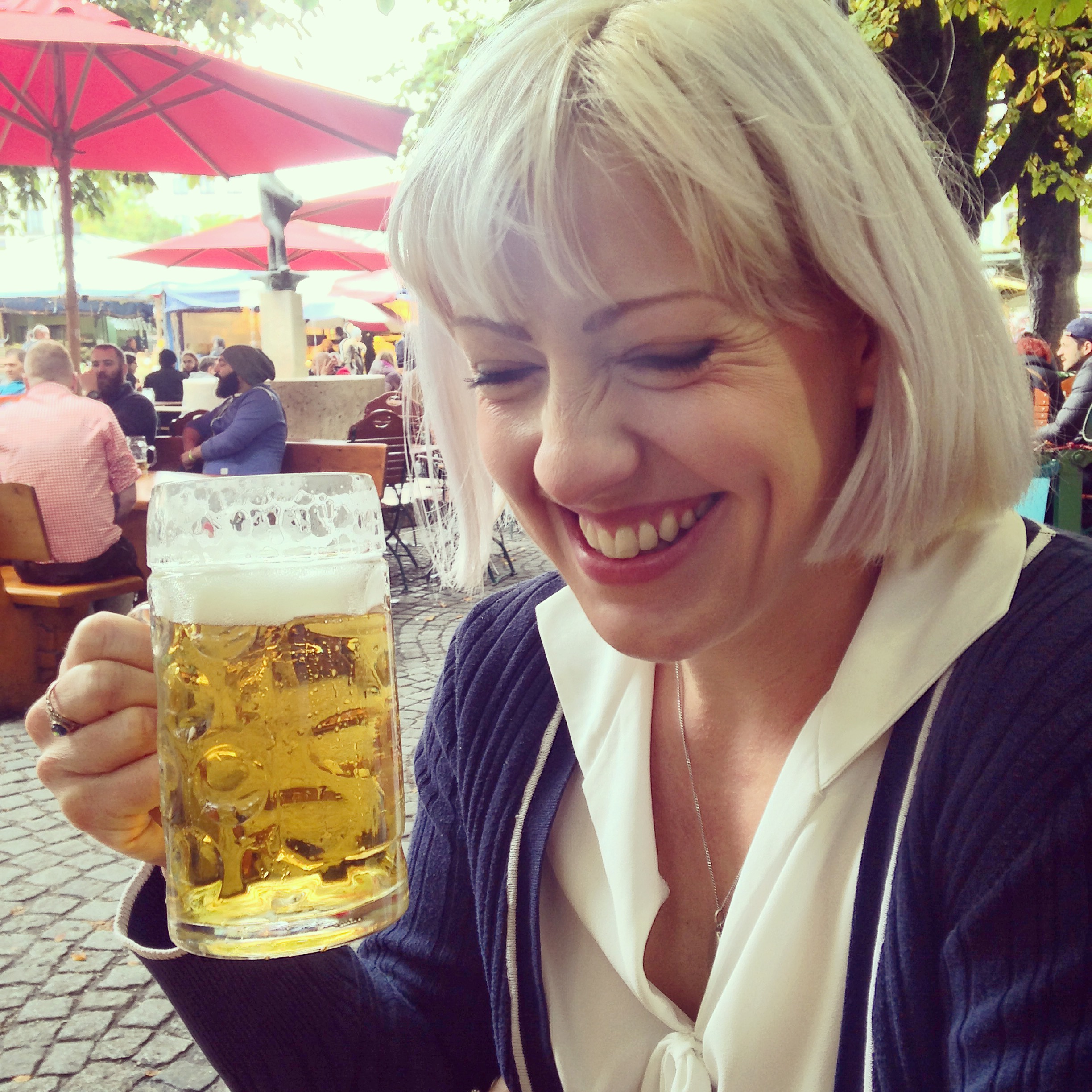 I was soon, of course, bought crashing back to somewhere near my regular permanent level of stress and social anxiety by attempting to visit the toilets in the centre of the market.
As I reached the bottom of the stairs there was a lady standing by a small tray of coins. I had no coins, having just arrived. There was no sign indicating if this was a tip, or a charge to use the facilities. I would find this situation stressful enough in the UK, but in a country where I didn't know the language I was pretty much totally incapacitated. "I have no coins!" I said and the lady spoke to me in German. I looked confused and dithered and she said more German things. "I have no coins!" I repeated and then ran away back up the stairs gradually turning an attractive shade of pink to the sound of the toilet attendant and another customer laughing heartily behind me.
At this point we thought we would have a drink in one of the bars around the outside of the square. Mr Chick lived in Germany for a while (a long time ago) and my faith in his German language skills is much greater than his own. We walked into a bar and were asked a question in German, Mr Chick replied and we were taken to a table. I used the bathroom and returned to the table to find Mr Chick with two menus and a panicked look on his face. "I think they think we want to eat" he said, and, being already full of bratwurst from a market stall and not being able to face the thought of another full meal we did what two sensible people who don't speak German could do, and we ran away, again.
Having been in Munich less than 3 hours and already having had to run away twice rather than admit we couldn't speak German, we vowed not to do it again, and headed off to a place I'd read about online. It was historic, and therefore touristy, and almost entirely guaranteed to have English speaking staff, signs and menus.
Hofbrauhaus is a brewery and beer hall dating back to the 1500s. It is huge and sprawling and amazing. The ceiling is beautifully decorated and it has lots of little corridors winding off the main hall. We took a seat at a large wooden table covered with a cloth and there were 2 menus on the table, one in German and one in English. We ordered 2 litres of beer perused the sausage menu and decided that this was definitely the place we were going to have dinner that evening.
As we left there were 2 men in Lederhosen doing forward rolls while a crowd of Japanese tourists took photos, this should perhaps of given us a clue to the evening atmosphere we would find when we returned later that night to eat.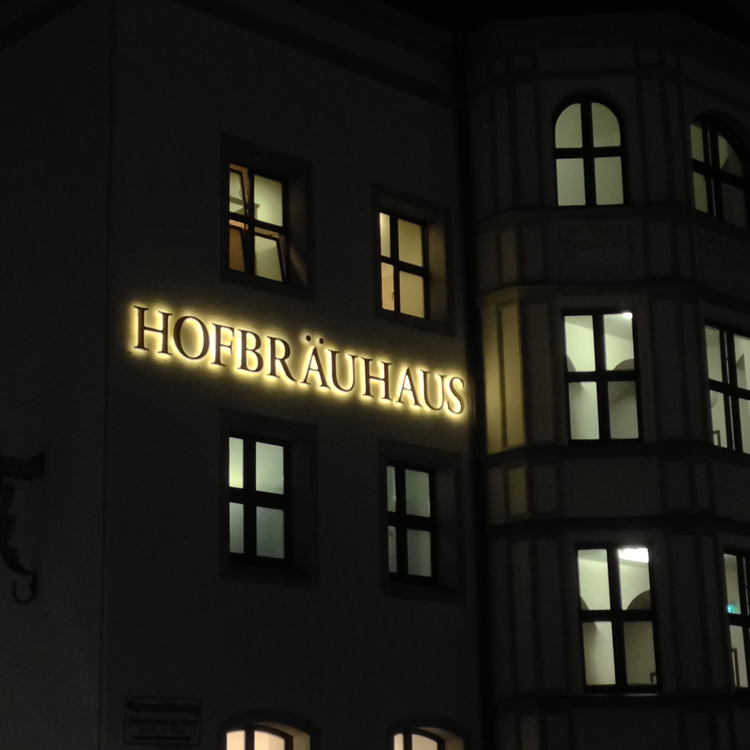 I will say that the good thing about somewhere like the Hofbrauhaus is that it's table service. That means when a lively party atmosphere is going on you can still keep yourself to yourself a little and enjoy some nice beers and a plate of sausages and potatoes in true Bavarian style. There were a group of Japanese tourists, possibly the same ones as earlier having a rather raucous time on the table next to us, but it was hard to hear them over a background of a Bavarian brass band.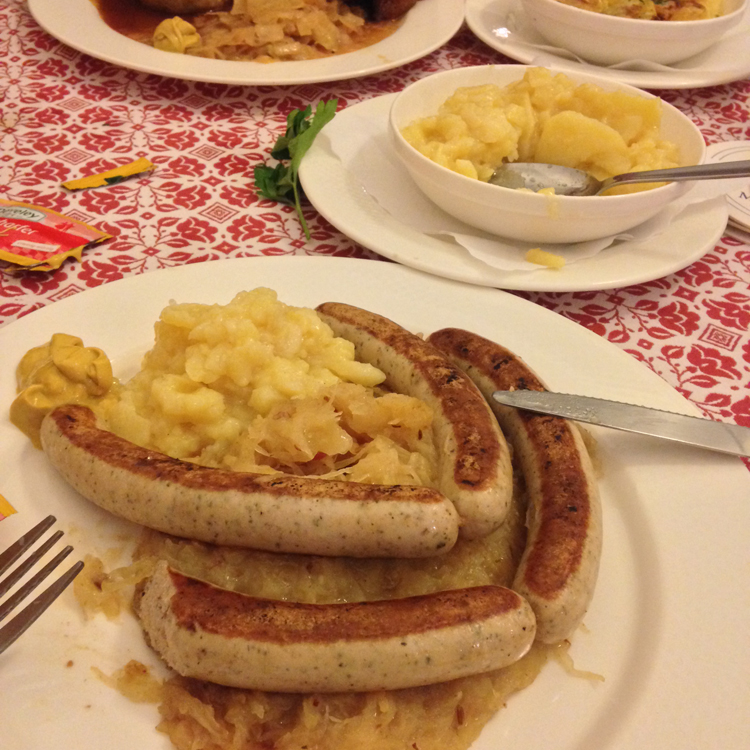 We also explored the venue a little more, taking several flights of stairs up to see the Festival Hall. Built by Duke Wilhelm V in 1589, it suffered a lot of bomb damage in WWII and was renovated in 1958. It has some pretty amazing painted walls and ceiling.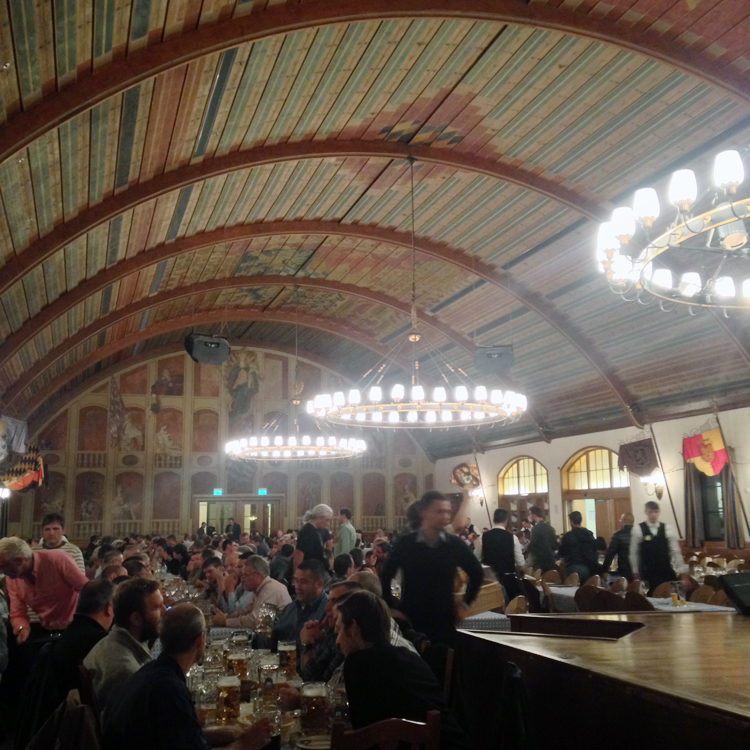 Then we would our slightly tipsy way back along back streets to the Hotel, while I congratulated myself for not having to run away from anyone for a full 5 hours and decided that my ability to translate the words HOTELPRIVATPARKPLATZ painted on a wall into Hotel Private Parking Place, meant that my German was coming on an absolute treat.
Thus ended Day 1 of my trip to Munich. Come back soon for more exciting installments in the Retro Chick goes on holiday series.