So nice to have you back for the end of my Munich adventures.
Technically day three WASN'T my last day in Munich, but it's the last day worth telling anyone about, well, without just whinging, because my actual last day in Munich involved spending 8 hours in an airport after our flight was delayed for 5 1/2 hours due to a leaky nose cone.
On our last day in Munich that wasn't at an airport we woke feeling all perky and chipper, more chipper than 2 people who spent yesterday afternoon asleep on a carpet had any right to be and decided today would be the day we would find that darn biggest park in Europe, the English Garden.
Considering our epic fail at signpost following, today we headed off in the general direction, but used the marvel of modern technology that is Google Maps to guide us right to the gate. The first thing we saw on walking into the park was something that was a marvel to me. River Surfing.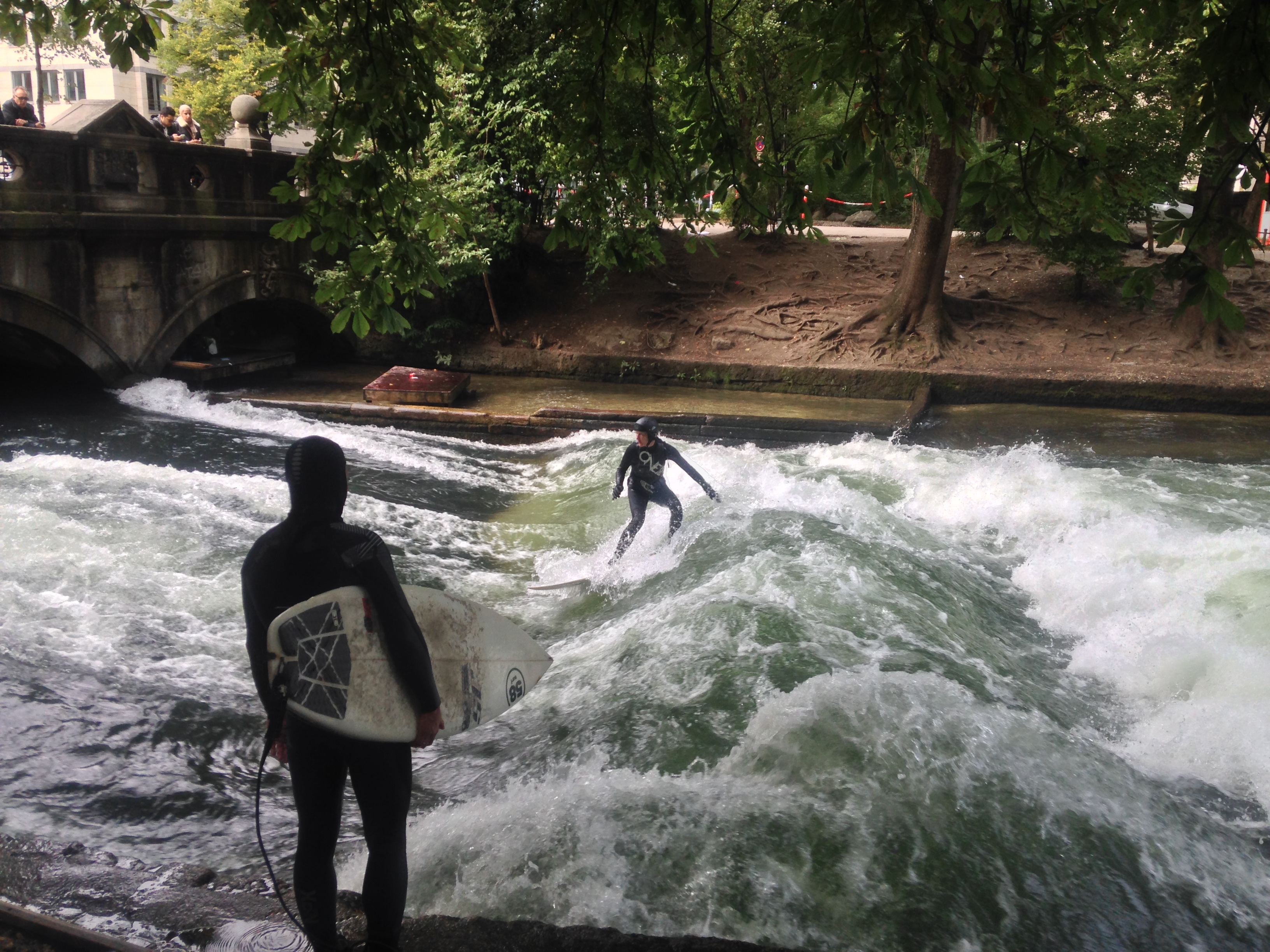 People in wetsuits stood patiently by the side of the river, waiting for the person currently surfing to fall off before taking their turn.
Is it just me? I was pretty gobsmacked, and also totally terrified every time one of them fell off and got carried away down stream in the raging water. So we left, as my nerves couldn't take it.
We wandered round the gardens for what seemed like ages, it was at least 45 minutes. We found iron bridges with the now obligatory padlocks attached, waterfalls and a Japanese tea house that carries out tea ceremonies all day, but not for 2 hours after we arrived sadly.
We'd heard there was a lovely beer garden in the centre of the park, so after a good 45 minutes wandering we found an information post and looked at the map. We'd covered approximately 1 tiny, teeny corner of the park, we'd hardly left the gate. This park is REALLY BIG. I estimated that to walk to the beer garden at this rate would take approximately 3 hours. So we decided there other beer gardens elsewhere and continued onwards towards the city.
And we were right, if there's one thing Munich isn't short on it's beer.
We wandered through the Hofgarten, a garden built in 1613-17 as an Italian Renaissance style garden, and bordered on one side by the very grand State Chancellery and sat down in a beer garden called the Luigi Tambosi am Hofgarten. This photo was mostly taken as Mr Chick wanted an excuse to take a photo of the man in a hat behind me.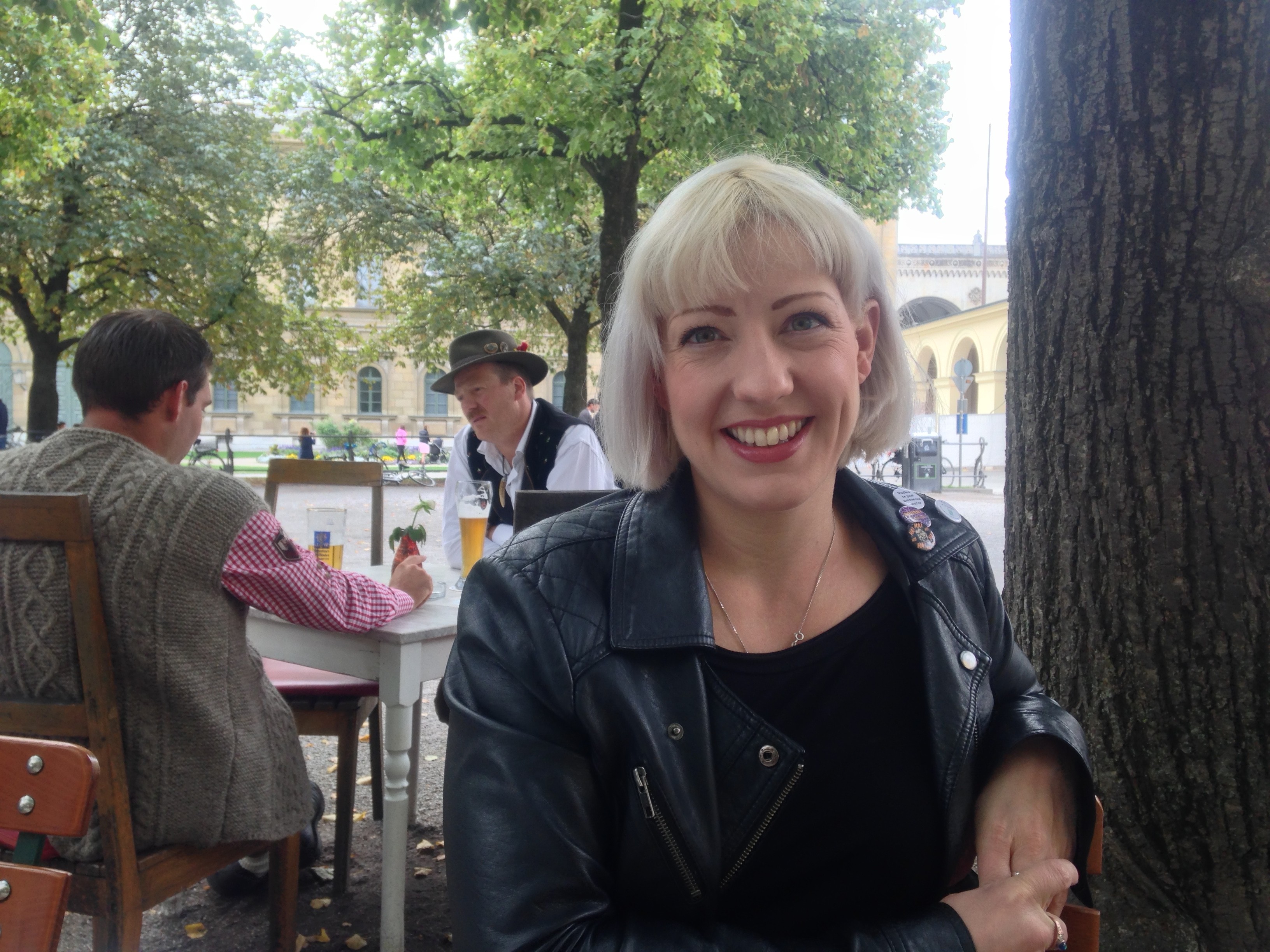 It took a little while to get served, and while we waited we whiled away the time reading reviews of the restaurant on Google. It seems we had unwittingly stumbled across the beer garden with the rudest staff in all of Munich.
I was quite disappointed that the only real rudeness we encountered was our beer mats being thrown onto the table as if we'd somehow upset the waiter. We enjoyed a beer, and an espresso, and the combination of caffeine and alcohol then led me to head off to find the bars toilets. I was once again faced with a lady with a small saucer of coins, but by now being a total expert in such matters I just tossed some coins into the saucer with panache and used the facilities without additional stress or any running away.
One of the things on my list of places to see was the Frauenkirche, or Munich Cathedral with it's iconic towers, I'd read about it, it was largely destroyed during WWII and rebuilt from the rubble. This means much of the original 12th Century interior was lost, though there was still the "devils footprint" by the front door, there are several versions of the legend of the Devils footprint, but all of them involve the Devil getting a bit cross because he thought the Church had no windows, when in fact they are just obscured from the door by the placement of columns and the altar.
It's easy to find the Cathedral, because the towers are visible from almost everywhere in the city, so we arrived (via a quick look around C&A because I've missed it in the UK since the 90s) and with some disappointment found it covered in scaffolding and seemingly closed up.
It was located in a small square that had did at least contain a brass model of the whole city, a rather natty fountain/water feature, and a bar containing some English people on a Stag do singing loudly and getting passers by to take photos of them.
The last place on out sight seeing tour was Marienplatz, the main square in Munich. In the Middle Ages markets and tournaments were held there, but now it holds the New City Hall, featuring a Glockenspiel in its tower that at 11am every day chimes and tells a story.
Obviously we were too late for 11am by now but there was still a small crowd watching what appeared to be some Spanish dancers, bizarrely.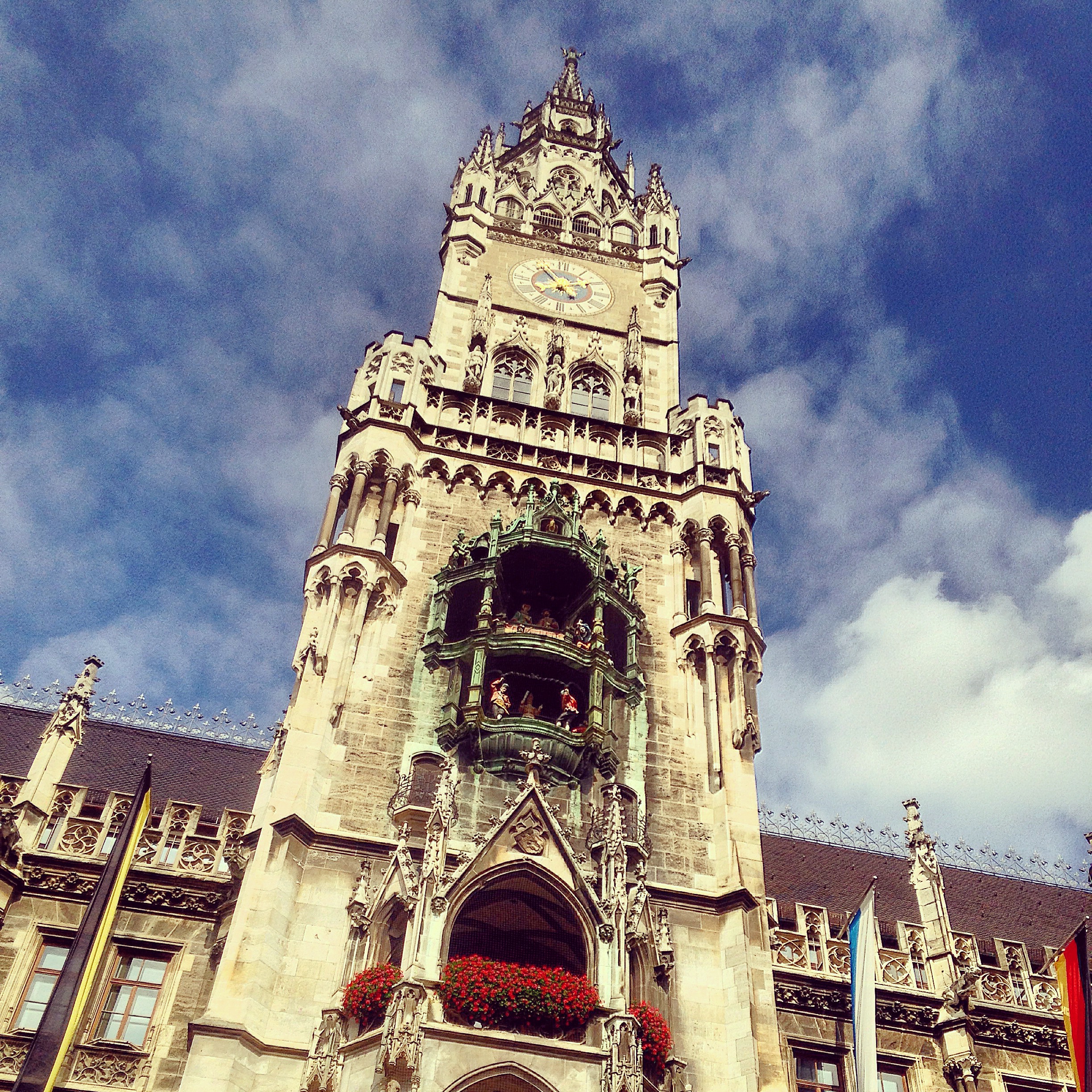 And that, conveniently, left us back where we started on Day 1 at the Viktualienmarkt with a beer in the sunshine.
Our very last visit, before we packed up and jumped on a train back to the airport to stay overnight before our early flight (which turned out to be 4pm, but who's counting?) was to head to the Augustiner am Platzl, which is opposite the Hofbrauhaus, for one last hearty German meal. The Augustiner is much more "pubby" than the Hofbrauhaus, but the food is delicious. We had goulash and pigs knuckles (I never pigs had knuckles) and watched drunk tourists in silly hats through the window.
I heartily recommend Munich as a city to visit, whether during Oktoberfest or not. It was friendly, fun, and with plenty to see, but still compact enough to walk around most of it, with easy public transport links for the bits that aren't.
Seeing as I won't be doing day 4, the airport day, I'll just leave you here with my last few snaps, which include my awesome hand luggage which was gifted to me by the Dr Martens store in Norwich and has come in endlessly useful, the meal vouchers we were given when our flight was delayed (just after I'd spent the last of my euros on socks and chocolate in the gift shop) and an obligatory aeroplane wing/cloud shot.
Related