I will start with a confession. I rarely iron ANYTHING.
When I was little our clothes went straight from the dryer to the ironing basket, where my Mum would then spend an afternoon ironing all our clothes so we could pull them from drawers fresh and ready to wear.
I, however, am incredibly lazy and I tend to shake my clothes nice and flat and then hang them flat on the drier. I find that most clothes can deal with being worn straight from the wash with this treatment. I have a very few items that won't, cotton circle skirts and dresses are some of them, a few cotton shirts perhaps, and I have to admit that those items spend an awful lot of time hung in my wardrobe all creased and never worn. Poor neglected things.
I have a few tricks. I find that spraying things with water to make them damp before I wear them sometimes drops out some light creasing, I've also tried that "hang it in the bathroom with the shower on" method of steaming as well. I really will do pretty much anything to avoid ironing.
So, when Tefal asked me if I wanted to try a handheld clothes steamer, the Tefal Access Steam I thought it might be all my dreams come true (not my actual dreams, I don't really dream about clothes steamers, the last dream I remember was that my hair was a different colour underneath than on top. I dream about important stuff)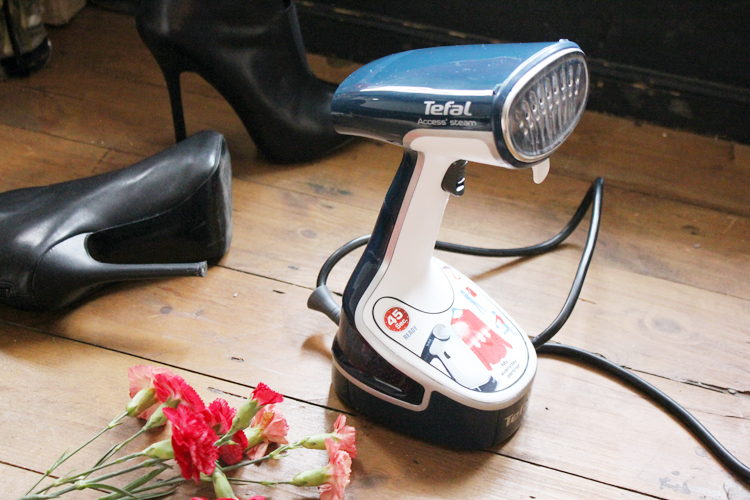 The Tefal Access Steam is pretty self explanatory, but I still read the instruction leaflet like a good girl. You fill the reservoir at the back with "no more than 200 ml" of water (note to Tefal, a "fill to here" line would be handy, I just guessed) and then you turn it on, wait 45 seconds for the light to stop flashing while it heats up, then pull the trigger and wave it at your creased clothes till they are no longer creased.
It comes with a brush that you can use to really get into the fabrics of thicker items of clothing, like wool coats and jackets, and a steam catcher than saves delicate fabrics from water drips. I promptly lost this, so my first steaming attempt was without the cover. Then I found it again, so that's ok.
First I pulled one of the items out of my wardrobe that gets about 1 wear a year as I am too lazy to iron it.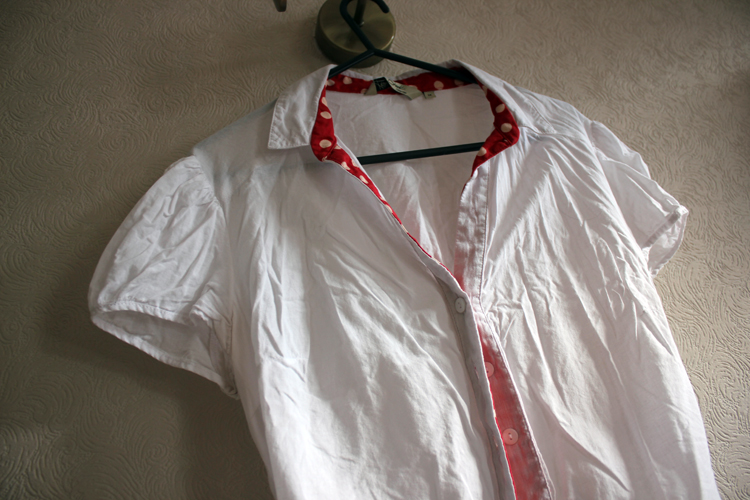 I hung it up and waved the steamer at it as instructed. I'm not sure if I was very thorough, see aforementioned note about being lazy, but I was pretty impressed with the result.
You don't get that nice crisp finish you get with ironing, but neither do you have to remember where you put the iron, find the ironing board, clear a space to put the ironing board, or most importantly, do any ironing. Although I prefer how it looks ironed I would wear this blouse like this and it took about 2 minutes, which means more wears for the blouse! It did leave the fabric damp, so leave a few minutes before you want to wear something!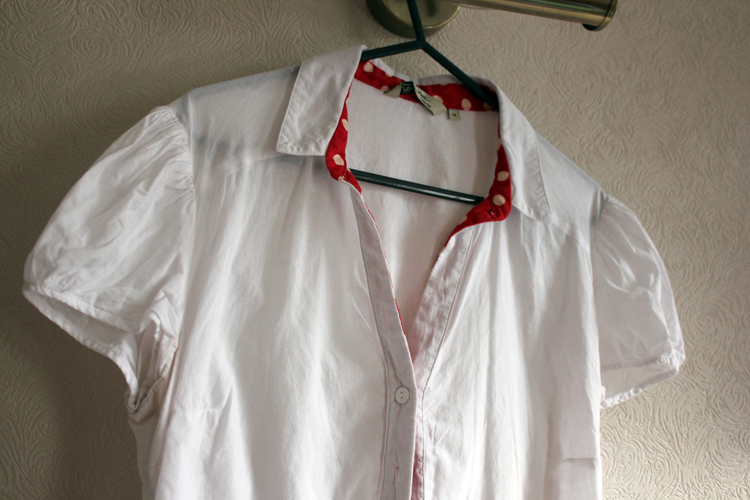 The other thing steaming is good for is to give vintage clothing that you don't want to wash too often a bit of a refresh. A lot of my vintage can be machine washed but I have a few older and more delicate items that need hand washing. I don't like to do it too often, mostly because, er, did I mention I'm lazy? But also because the more it's washed the quicker the fabric wears out. This has lead to occasions where I've got all glammed up for a night out and as I warm up after a few drinks in a crowded bar I suddenly realise that my frock is maybe a little whiffy and I should probably wash it tomorrow.
Enter the handheld steamer!
I have used it to refresh a couple of my vintage dresses and although I haven't yet worn them anywhere nice and warm to see if they are whiffy, it seemed to do the trick. Steaming is a well known way of dealing with the problem, so I don't see why it wouldn't!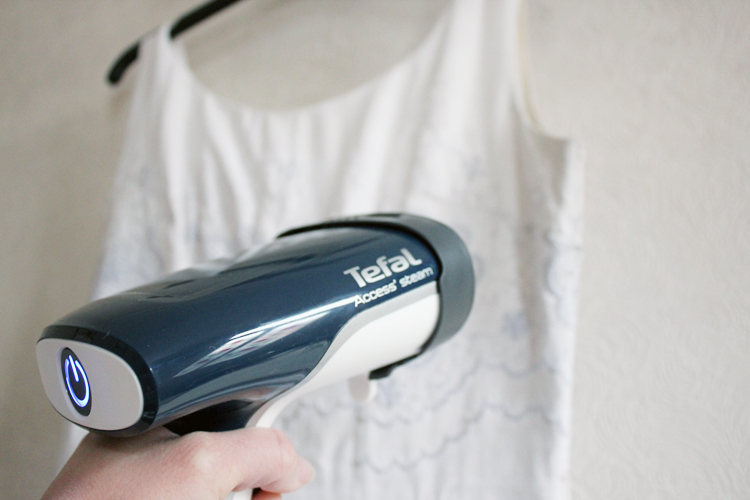 My original thought when they asked me to try the steamer was that it would be brilliant for travel. It is a little chunkier than I expected, so probably not something you would want to take where there was a weight limit or space was an issue, but if you have a big suitcase and a car it's ideal!
It also has a very handy 3m cord, which makes me very happy as I have far too many appliances in my life that require being within about a foot of my inconveniently placed Victorian terraced house plug sockets. I'm looking at you microwave, and kettle, and don't think you've got away with it either bedside lamp.
The steamer now has a permanent home in the room I grandly call my dressing room, which is the "third bedroom off second bedroom" so common in Norwich houses and more accurately described as the place I throw my shoes so I can shut the door on them.
So yeah, in summary, highly recommended for vintage lovers and lazy people who don't like ironing. But also ideal for organised people who iron their clothes before they put them away and maybe want to give them a quick refresh before wearing.
The Tefal Access Steam is available at Currys, Amazon, Tesco and Littlewoods (in order of current price, Currys was cheapest!) and starts from around £50.